Lawmaker Yul Servo will not get a vote from Arlene Muhlach and the citizens of Manila in the upcoming 2022 elections.
John Marvin C. Nieto (Servo's real name), a member of the Philippines House of Representatives since 2016), was among the 70 lawmakers who voted to deny ABS-CBN franchise renewal. People said that former Kapamilya actor does not deserve their vote.
The Kapamilya Kingdom posted on Instagram about Yul Servo's plans of running in the elections, where Muhlach herself distaste toward Servo.
The 53-year-old actress made a prohibited or banned emoji comment on social media for her non-support of the actor-politician.
Nieto is seeking a Vice Mayoralty seat in Manila with his running mate Honey Lacuna as Mayor.
Hr and Muhlach worked together in the 2005 series Kampanerang Kuba where they played as brothers and sisters.
Servo served three terms as a city councilor in Manila. Then, he got elected to the House of Representatives of the Philippines in 2016, where he represented Manila's 3rd District.
Previously, Ogie Diaz posted a reminder on facebook that people should be wary of the actor-senators, who are running for a post but were against ABS-CBN's franchise renewal.
Apart from Muhlach, Kapamilya netizens also expressed their lack of support for Servo. They said that they will not vote for the lawmaker who supported the shutting down of the ABS-CBN network.
One netizen slammed Servo saying that he did not think of the people who lost their jobs after the ABS-CBN network was shut down.
"Ay kapal face! Di nya iniisip ung mga nawalan ng work during pandemic tapos sa gobyerno prin tatakbo! NAKU HUWAG NA HUWAG IBOTO YAN…. WALANG PUSO…."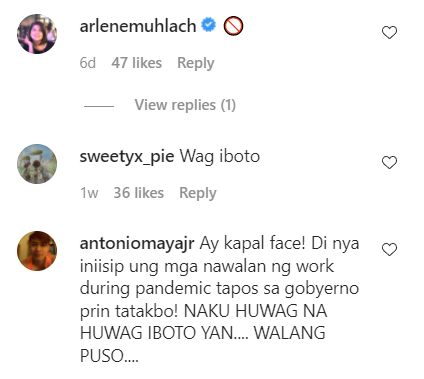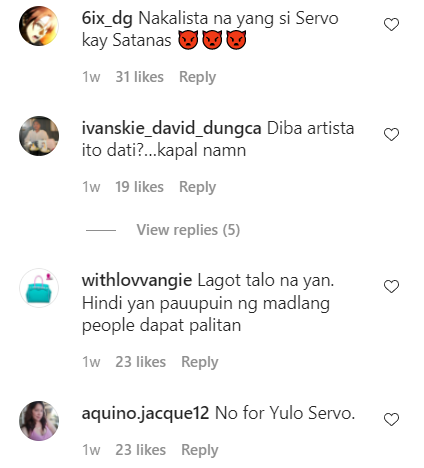 Another netizen said that Servo did not have a conscience for his home network for voting to shut it down.
"Grabe samantalang madami ka din nilabasan na shows sa ABS-CBN.nakaka hiya naman na isa ka pala sa pumatay sa franchise ng ABS.BAKIT????" said the netizen.