"FPJ's Ang Probinsyano," the longest-running action-drama series in the country, continues to be enjoyed by viewers worldwide as its second season is set to premiere in Vietnam this week.
Vietnamese viewers will be able to catch more of Cardo's (Coco Martin) adventures thrice a week – on Fridays, Saturdays, and Sundays – on the HTV9 channel beginning October 17.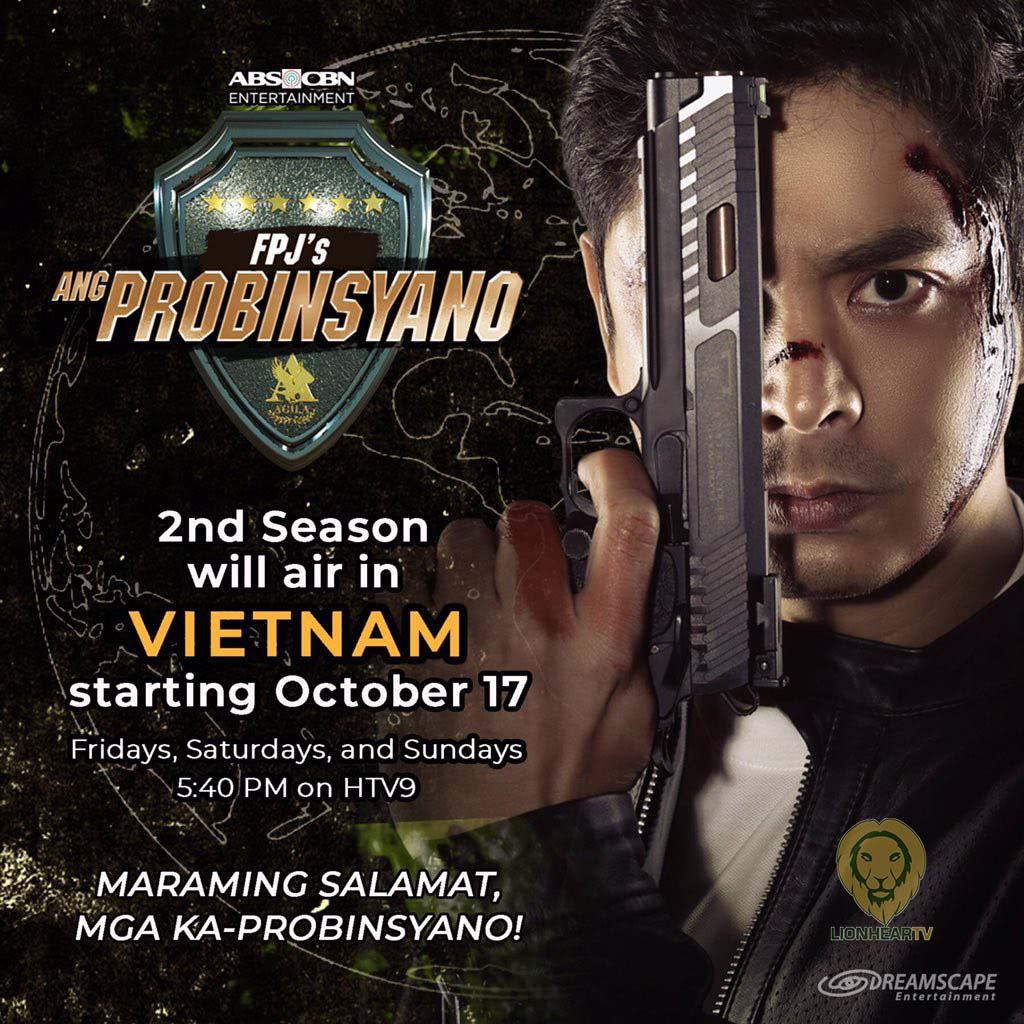 Over the last six years, the legendary show has enjoyed success overseas. Aside from Vietnam, the show is also seen in other countries via Netflix and The Filipino Channel and its TV broadcast in Myanmar, Laos, Thailand, and 41 countries in Africa.
As the story continues in its current season, Cardo's enemies have found themselves in a mire of problems that could hurt their reputations.
An anxious Lily (Lorna Tolentino) is trying to move heaven and earth to save her protégé Lito (Richard Gutierrez), who has been captured by Albert (Geoff Eigenmann) and Black Ops. Lily is also worried that she seems to have lost her hold on Arturo (Tirso Cruz) after he refused to help Lily with her ordeal. Unbeknownst to Lily, Arturo is already secretly plotting to destroy her and their powerful enemy, Renato (John Arcilla).
Renato, meanwhile, has to hastily return to the country to deal with issues of his own. After the sudden disappearance of his trusted aide Jacob, who was killed by Black Ops, Mariano (Rowell Santiago), the impostor president, got his secretary pregnant. Renato fears that if word about the situation gets out, it might hurt his campaign for the upcoming elections.
Don't miss "FPJ's Ang Probinsyano," weeknights on Kapamilya Channel, A2Z, TV5, CineMo, Kapamilya Online Live on ABS-CBN Entertainment's YouTube channel and Facebook page, iWantTFC, WeTV, and iflix. Viewers who use any digital TV box at home such as the TVplus box only need to rescan their device to be able to watch "FPJ's Ang Probinsyano" on TV5 and A2Z. For viewers outside of the Philippines, catch it on The Filipino Channel on cable and IPTV.
For updates, follow @abscbnpr on Facebook, Twitter, Instagram, and TikTok or visit www.abs-cbn.com/newsroom.