Karla Estrada aired her reaction via Instagram stories on Tuesday, October 12, after receiving harsh criticisms from KathNiel fans, who were against her decision to join politics.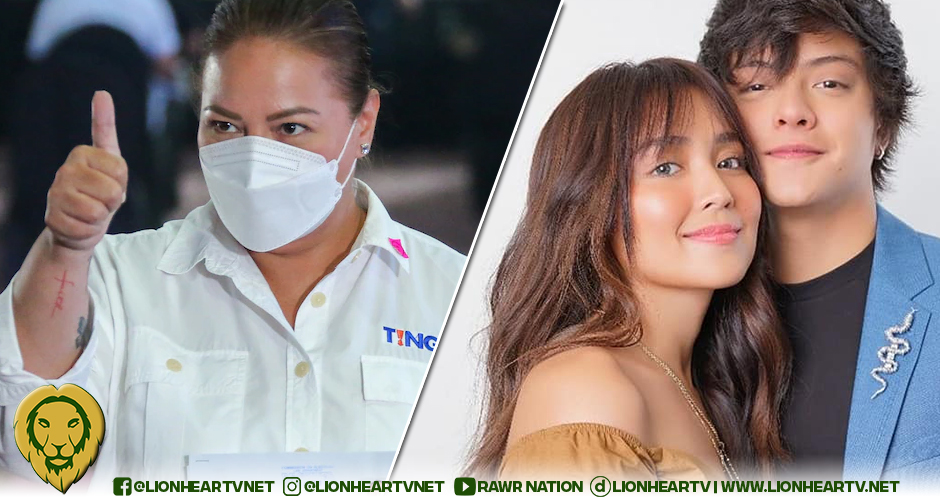 On Friday, October 8, she filed her certificate of candidacy (COC) as a nominee of the party-list group Tingog Sinirangan, whose current representative is Yedda Romualdez—one of the lawmakers who partook in the rejection of ABS-CBN's franchise renewal bid in 2020.
She gained the ire of the fans of Kathryn Bernardo and Daniel Padilla's loveteam. The hashtag #WithdrawKarlaEstrada then trended over twitter.
Estrada said she is hoping that her decision to join politics will not "destroy friendships & relationships."
Estrada wrote, "IT'S JUST POLITICS… Don't let our political preferences destroy friendships & relationships. We need to respect each other's choices."
Several KathNiel fan groups, which included dashingkathniel, balixtangi, and KB Buddies have released their respective open letters in regards to the issue.
The fan groups have called out the couple and Estrada. 
They also warned that they might cut their support for KathNiel until the issue is resolved.
Fans also noted that Estrada released a teaser on social media which they believed was about KathNiel's upcoming project. It was later revealed that Estrada's post was about a political party list. This made fans furious as they felt they were betrayed and taken advantage of by the TV host.
View this post on Instagram
"On 2020, during those times that we were fighting for press freedom, Kathryn Bernardo and Daniel Padilla bravely disclosed their stands and made a promise that they will always stand with what they think is right," it began.
"We understand that everyone has the right to run for a government seat. As KathNiel followers, we have seen how much they grow, and inspire people and the fandom truly believes that the political views of Daniel's parents are obviously against KathNiel's personal political views if we will base it on their statements and posts last year," the fans said in the letter.
"Ms. Karla Estrada has signed with Tingog party-list because she believes that she can change their stand re: ABS-CBN franchise. We think differently, if you fight for the right, you will never team up with people who once practiced oppression," they added.
"They are not aware that the image is a sign of her candidacy and it is against their political stand. We are calling out Kathryn Bernardo and Daniel Padilla to take themselves out of this, to take a stand and never allow their names to be involved in someone's political gains that they don't support and against their beliefs," the letter said.
LOOK: KathNiel fans call out Kathryn Bernardo and Daniel Padilla fan on Karla choosing to represent the partylist which said yes against giving ABS-CBN, her home network, a new franchise. 💔💚💙 @Estrada21Karla

Powerful open letter of KathNiels: pic.twitter.com/hfiZdXxLZe

— Kapamilya Online World (@kowalerts) October 9, 2021
A twitter handle posted, "Is this not a disrespect yung ipag-post ka ng teasers tapos biglang malalaman mo nalang na it's for a political partylist? If you haven't felt betrayed then goodz. Kami kasi yung nama-mock kasi kami nag-repost at sumuporta tapos wala kaming alam na para dito pala."
Is this not a disrespect yung ipag-post ka ng teasers tapos biglang malalaman mo nalang na it's for a political partylist? If you haven't felt betrayed then goodz. Kami kasi yung nama-mock kasi kami nag-repost at sumuporta tapos wala kaming alam na para dito pala. pic.twitter.com/YTpiySzt4F

— Joche (@jochendria) October 9, 2021