Following the excitement around Filipino artist Quiccs' adidas Manila Tees, as well as the widely successful Harden Vol. 5 "Manila Heritage" colorway, Quiccs is once again harnessing his creativity and artistry — this time around through the Quiccs FORUM, the reimagined iteration of the Brand's iconic FORUM Low silhouette.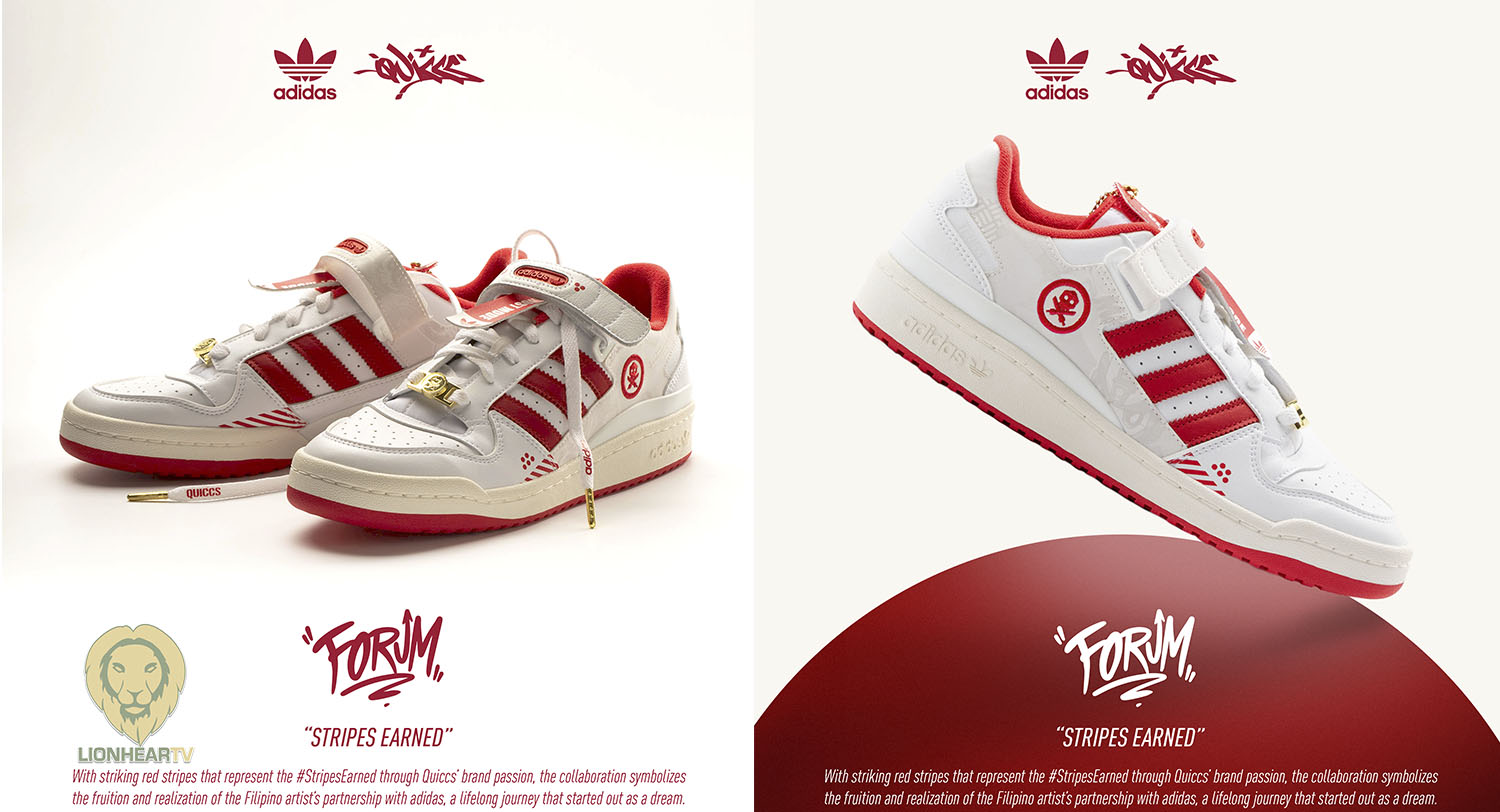 The newest iteration of the classic adidas footwear comes after the launch of the FW21 FORUM, redesigned to celebrate those unafraid to embrace an open attitude to life and redefine the style of tomorrow. An embodiment of this spirit is Filipino toy designer and visual artist, Juanito "Quiccs" Maiquez, whose Quiccs FORUM iteration marks the first time that a Filipino has designed an adidas Originals shoe, landing Quiccs a space in adidas history as he joins an elite group of global artists and athletes whose works and passions are immortalized in adidas' footwear. Through the new FORUM iteration, the renowned artist hopes to send a message to motivate the next generation of adidas icons to embrace an open forum spirit and be unafraid of new possibilities, opportunities, and experiences.
"Since the beginning of this partnership, I have said how I would like to be able to show and inspire other people that through passion, patience and hard work, one can build their dreams into a reality. 'Earning my stripes' was an opportunity I only used to dream of, and now I am living it, and I am honored to share with my fellow Filipinos— and the rest of the world— an iconic adidas Originals silhouette featuring a design that was a product of my passion and creativity," says Quiccs.
With striking red stripes that represent the "STRIPES EARNED" through Quiccs' brand passion, the new FORUM symbolizes the fruition and realization of his partnership with adidas, a lifelong journey that started out as a dream for the artist. Inspired by the iconic and bestselling Forum 84 Low OG "Blue Thread" and "Pine Green" colorways, Quiccs' reimagined FORUM infuses the shoe's classic look with his own branding – a perfect representation of the Forum's call to experiment with self-expression and new ideas.
● Quiccs fans will be quick to spot design elements that are unique to Quiccs' artistic DNA and seen in his other works, such as his crossbones logo and "TEQ63", his signature character that makes an appearance in the reflective 3M™ upper and as a logo on the gold metal deubre and the back heel.
● Adding a personal touch, the Quiccs FORUM tongue also features "IT WAS ALL A DREAM" and "01.21.20", representing the official start of Quiccs' partnership with adidas and his feeling of gratitude and disbelief in fulfilling his dream.
● A product feature unique to the FORUM franchise, the Quiccs FORUM straps come in three interchangeable strap designs, giving its wearers more options for self-expression and style exploration.
"We saw how much Filipinos and consumers all over the world from Singapore, Hong Kong, and especially the US, looked forward to seeing and owning Quiccs' work through the Quiccs Manila Tees and the Harden Vol. 5 "Manila Heritage," and so it was no question that we wanted him to have his own take and colorway for the very first adidas Originals designed by a Filipino. We hope that the Quiccs Forum is able to inspire the new generation to keep pursuing their passions until they, too, earn their stripes," says John David Cortez, Manager of Brand Communications and Sports Marketing for adidas Philippines.
The newest iteration of the adidas Forum, designed by Quiccs, will be available in adidas.com.ph, adidas App, and adidas stores in select countries starting October 15 and will retail for Php 6,500.