Simple as it may sound, TV5's tribute to Filipinos this Holiday season is no less than profound, hopeful, and inspiring.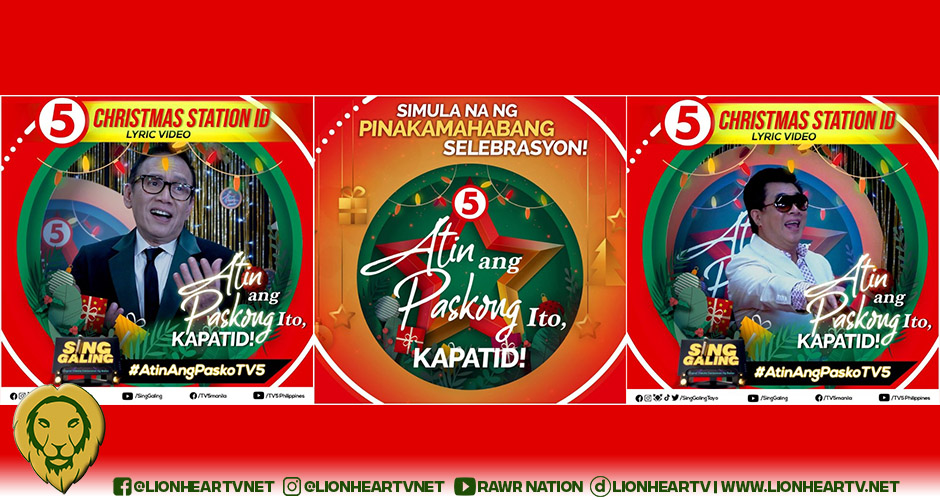 TV5 has upped its game in making good-tier station IDs in the past few years. As it moves up the chart as the new second most-watched TV network in the country, it also makes sense that it has made improvements in its national coverage and in producing anthemic station ID theme songs.
ABS-CBN and GMA Network have been more aggressive in delivering their viewers LSS-worthy station ID themes in the past several years, but TV5 has been catching-up so far. Last year, the Kapatid Network warmed hearts with its Tuloy Pa Rin Ang Pasko, Kapatid campaign, which was a heartwarming tribute to Filipinos and our resilience amid the knee-bending and heartrending challenges we confronted this pandemic. Atin Ang Paskong Ito Kapatid echoes a very similar sentiment this year, but it carries a more optimistic tune.
Penned by OPM legend Rey Valera, the words of Atin Ang Paskong Kapatid are hopeful reminders to become grateful for both the small and big blessings we received throughout the year. It's an invitation to look forward to a better year and to end 2020 with a smile on the lips and in the heart. Moreover, our resolute belief affirms that Christmas, as it has always been, is ours.
Sing Galing hosts and judges lent their voices to sing parts of the song. OPM icons, Rey Valera and Randy Santiago, lead the pack, which also includes K Brosas, Ethel Booba, Allan K, Donita Nose, and Ronnie Liang. The vocal group, Mandarhyme, was also impressed with their rapping skills and heavenly group harmony.
Atin Ang Paskong Kapatid is TV5's homage to the Filipino people. TV5's CEO and President Robert P. Galang affirmed it as the network's way of staying true to its mandate to be of service to the nation and to help ease the burden of the still prevailing pandemic. "We believe that despite the hardships that every one of us is going through, we can still own Christmas in our little ways. Kakaiba man ang Paskong ito, atin pa rin ito, Kapatid," he shared.
Watch the lyric video of Atin Ang Paskong Ito, Kapatid below: