One of the most intriguing offerings this November on KTX.ph, the leading global Filipino digital events portal, is a docu-comedy special whose title asks a question: "Happy Birthday, Ned! (sino s'ya?!?)".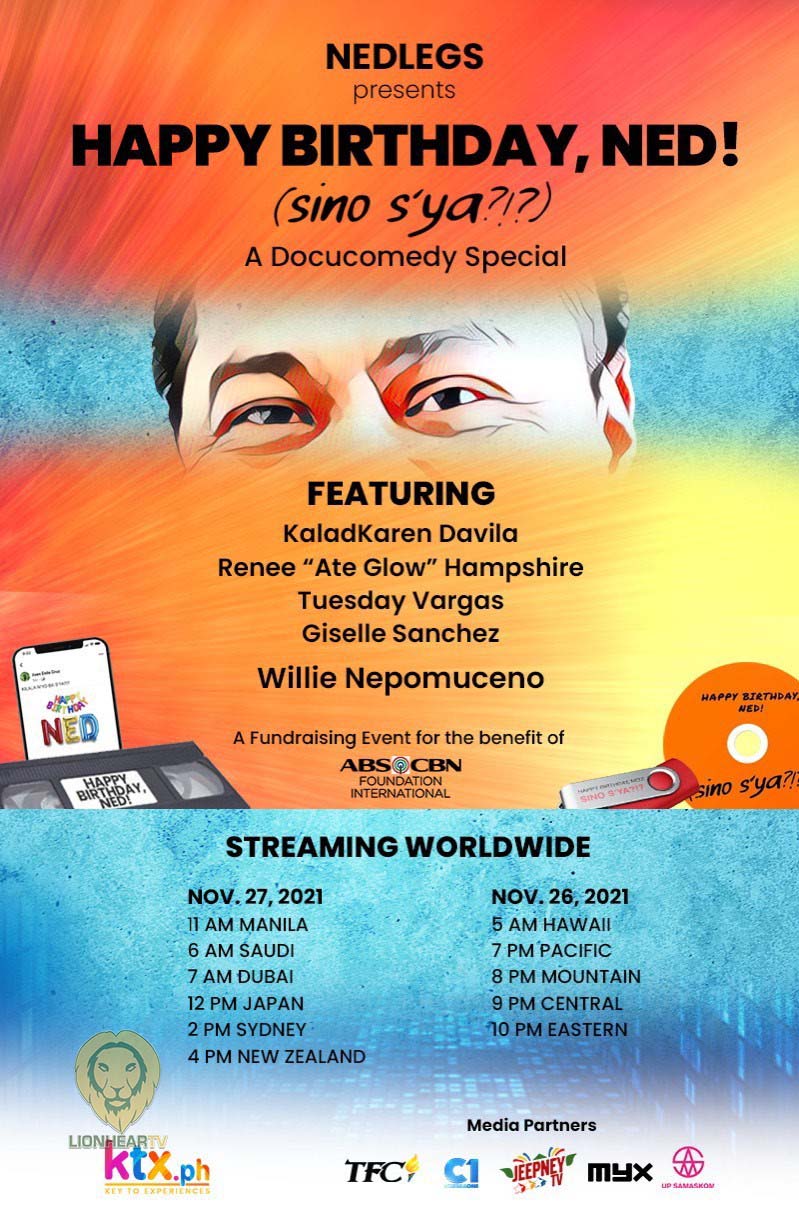 In a fast-paced but thoughtful Q&A interview, birthday boy Ned Legaspi – presently ABS-CBN Global Head of Creative Services – allowed TFC a sneak peek on what the show is about and how it drew the participation of top Filipino celebrities in the world of comedy.
TFC: What's the genesis of this unique project?
NED: The original title of this show was "Sing-Kwento, Singkwenta" to celebrate by 50th birthday. But some friends of mine said, "Ned, your supporting cast is much more well-known that you. Compared to them, sino ka? (Who are you?)" Okay, so I said let's just change the title literally to "Happy Birthday, Ned! (sino s'ya?!?).
I had a creative team and in the process of conceptualizing the show, and even with the monologue that I wrote for this one, the whole thing skewed to the comedy of self-identity. It became the theme. Who am I? What defines me as a person? Saan naka-ankla ang pagakatao ko? (Where is my identity anchored?). So, the show revolves around those questions. Why they matter and why big names attached themselves to this project, you'll find out when you watch.
TFC: What drove you to do this project?
NED: The full reason for that will be revealed in the show. But one reason I can share is because I'm sort of a creative consultant to ABS-CBN Foundation International or AFI, I got exposed to its different programs. One program is Programa Genio. Education has been my advocacy: I took my Masters, I put my siblings through school. Education is in my heart, and I have empathy for kids who want to learn through formal education but do not have the means of doing so.
When I was in my 30s, I always threw big birthday bashes. When I was in my 40s, I committed to travelling with my late mother during my birthday. Now, that I've reached 50, I told myself, why not give back to kids with a passion to learn? Hence, this show which is a fundraiser for Programa Genio of AFI. In fact, on the ktx.ph page for this show, it specifically says that "this (show) gives you access to the event and the opportunity to help poor students/scholars under Programa Genio with their need for internet/data load for 1 week and school materials."
TFC: How were you able to assemble your stellar support cast?
NED: I'm very grateful to say that I was able to gather five generations of brilliant comedians, a lot of them you'd see in surprise appearances. Most of them are my friends. I approached them by saying: "Meron akong hihinging birthday gift sa iyo, sana huwag kang tatanggi. (I will ask for a birthday gift from you and I hope you won't say no)." Of course, their response was, "Sure, kung kakayanin! (Sure, if I can do it!)". They said yes to the show and when they found out it's a fundraiser for Programa Genio, lalong yes sa kanila (the more they agreed to do it)! So, most of this is kawanggawa (charity), no TF (talent fees). When you buy a ticket for the show, you're in effect donating to Programa Genio.
TFC: What's the creative process like?
NED: This is a docu-comedy. There are two genres: there is stand-up comedy and there is also filming of performers. There are interviews and archival footages like in any documentary. I enjoyed brainstorming with the creative team. From the title, you know that there is already a story arc: sino s'ya?!? (Who is he?). The show needs to answer that question. It's a challenge because it asked a lot from the creative team. Do not just provide me with comedy; I really want to see the juice and substance but in an entertaining way because it's packaged as a docu-comedy. That's the creative challenge.
TFC: What do you see are the takeaways in watching the show?
NED: Of course, the viewers need to see the full reveal at the end of the show. But aside from enjoying this birthday labor of love and donating to Programa Genio of AFI, I hope the audience will see that Ned is a storyteller who uses comedy as a device. I will not just stand in front of a microphone and make people laugh. That's great, but that's not my goal. My goal is always to impart a message through a story, and I use comedy to keep your attention.
To watch "Happy Birthday, Ned! (sino s'ya?!?)", visit https://www.ktx.ph/events/35957/happy-birthday-ned-sino-sya