In its premiere on Nov 6 (Act 1) and Nov 13 (Act 2), M-FLIX 2021: Da Pinoy Pandemic Palabas greatly reaffirmed, in the most creative way, that music is the currency of the Filipino soul. We saw ourselves in the lyrics, melody and harmonies in M-FLIX. We found ourselves connecting with how our fellow Filipinos felt through the M-FLIX story. We felt the undercurrent of hope and the realization that hope and change for the better will come from no less than ourselves and each other.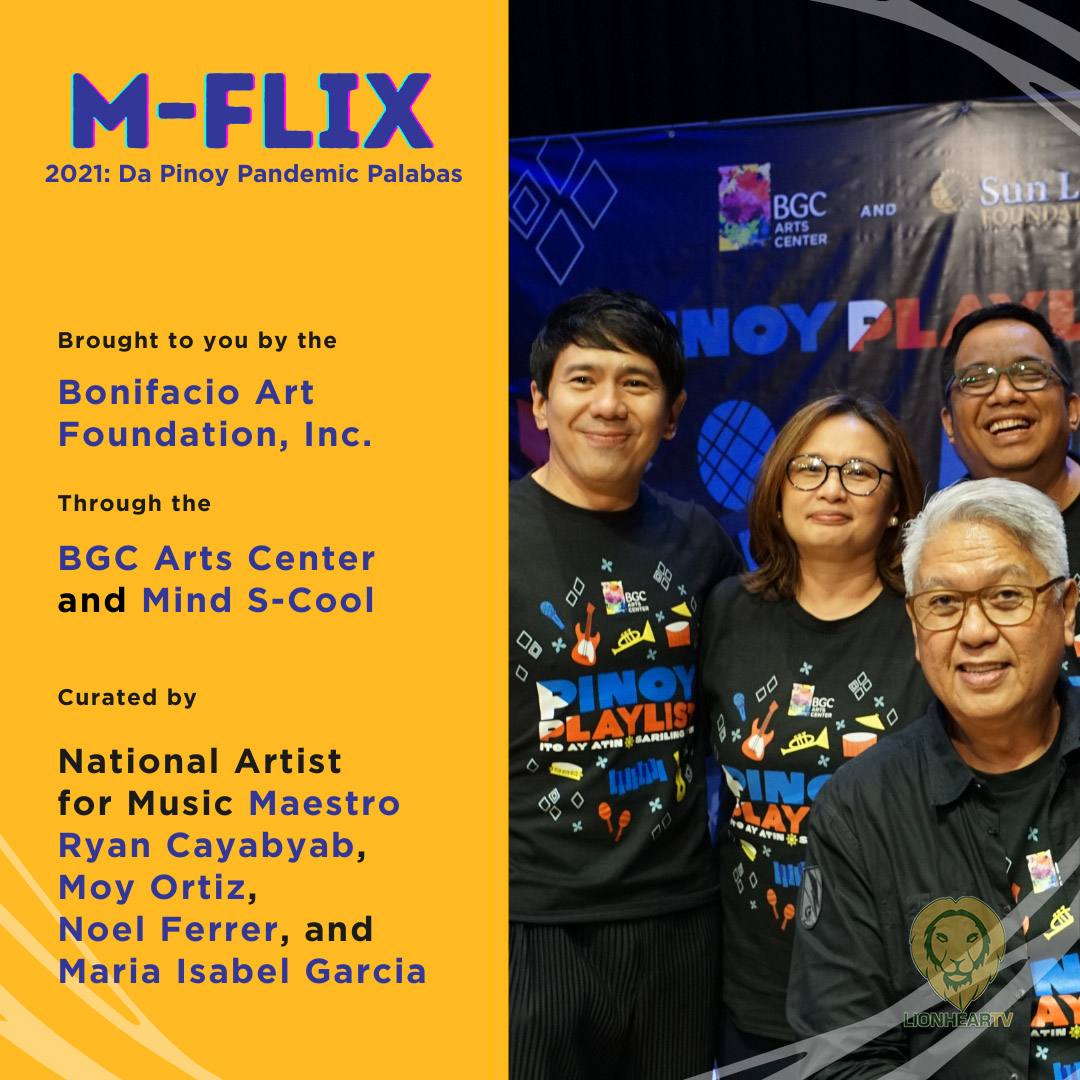 Made up of original songs by excellent Filipino musical artists, hooked on a story of our pandemic emotions threaded by short verse and animation, M-FLIX 2021: Da Pinoy Pandemic Palabas mainly consists of 12 original songs and a medley of all 12 songs.
M-FLIX 2021 is a project of the Bonifacio Art Foundation Inc. (BAFI), an art and science foundation that conceived and operates the BGC Arts Center, The Mind Museum, the BGC Public Art Program, and Mind S-Cool (online and TV (Ch. One Ph)). This year, working with the curators of its NCCA-cited flagship program, the Pinoy Playlist Music Festival (PPMF), namely National Artist for Music Maestro Ryan Cayabyab, Moy Ortiz and Noel Ferrer, BAFI produced M-FLIX as the unique online persona of PPMF. This was co-presented with the Sun Life Foundation who has been a strong believer in the essential and powerful role of the arts in nation-building and a co-presenter of PPMF since 2018.
Some viewers' comments during the premiere of the 2 acts include:
"I started tearing up while listening to the songs… tears started streaming down while I was listening to Mark Bautista's song. I was sooo touched! Then I lost it na while listening to Jed Madela's and Joanna Jo Ampil's tribute to the frontliners. Ayyyy naman talaga! Damang-dama ko! I lost so many friends and relatives to Covid that it just hit me. Then Morisette's song was so upbeat and ang ganda but I was still crying! Anubah! Is this the age thing? Then came Basil's number! Ay wala na talaga! I totally lost it! This has been a very emotional experience."
"Very poignant ang songs about the pandemic. Tagos sa puso galing sa panulat, musika at boses ng acting ng mga musikero…"
"Davey Langit's HINGA is a work of genius. Every verse starts with 2 rap lines of a person who's suffering during the pandemic then it goes into a melody. Genius music, genius lyrics, genius video."
"Thank you for sharing this. It made my day. Na pa-Thank you ako sa lahat ng frontliner friends ko."
"Goosebumps…"; "I needed this…"
"I have not recovered from this. Ang lakas! Grabe, ang galing ng mga gumanap at ang gagara ng mga bagong awitin! Ulit ulilitin niyong panoorin at click niyo ang links!" was how Maestro Ryan Cayabyab reacted during the premiere.
BAFI, with curators Maestro Ryan Cayabyab, Moy Ortiz and Noel Ferrer with Sun Life Foundation dedicate M-FLIX 2021 Da Pinoy Pandemic Palabas to all our frontliners. A solar light artwork in partnership with Liter of Light signifying "Bagong Araw" was also lit at the BGC Arts Center's Sun Life Amphitheater during the premier dates.
The Filipino songwriters for M-FLIX 2021 Da Pinoy Pandemic Palabas are Maestro Ryan Cayabyab, Louie Ocampo, Ogie Alcasid, Joey Ayala, Davey Langit, Moy Ortiz, Edith Gallardo, Krina Cayabyab Viñas, Jude Gitamondoc, and Fr. Manoling Francisco. The entr'acte was a marvelous medley by Rony Fortich. Some of the renowned composers collaborated with creative lyricists namely Noel Ferrer, Floy Quintos, Jose Javier Reyes, and Therese Marie Villarante.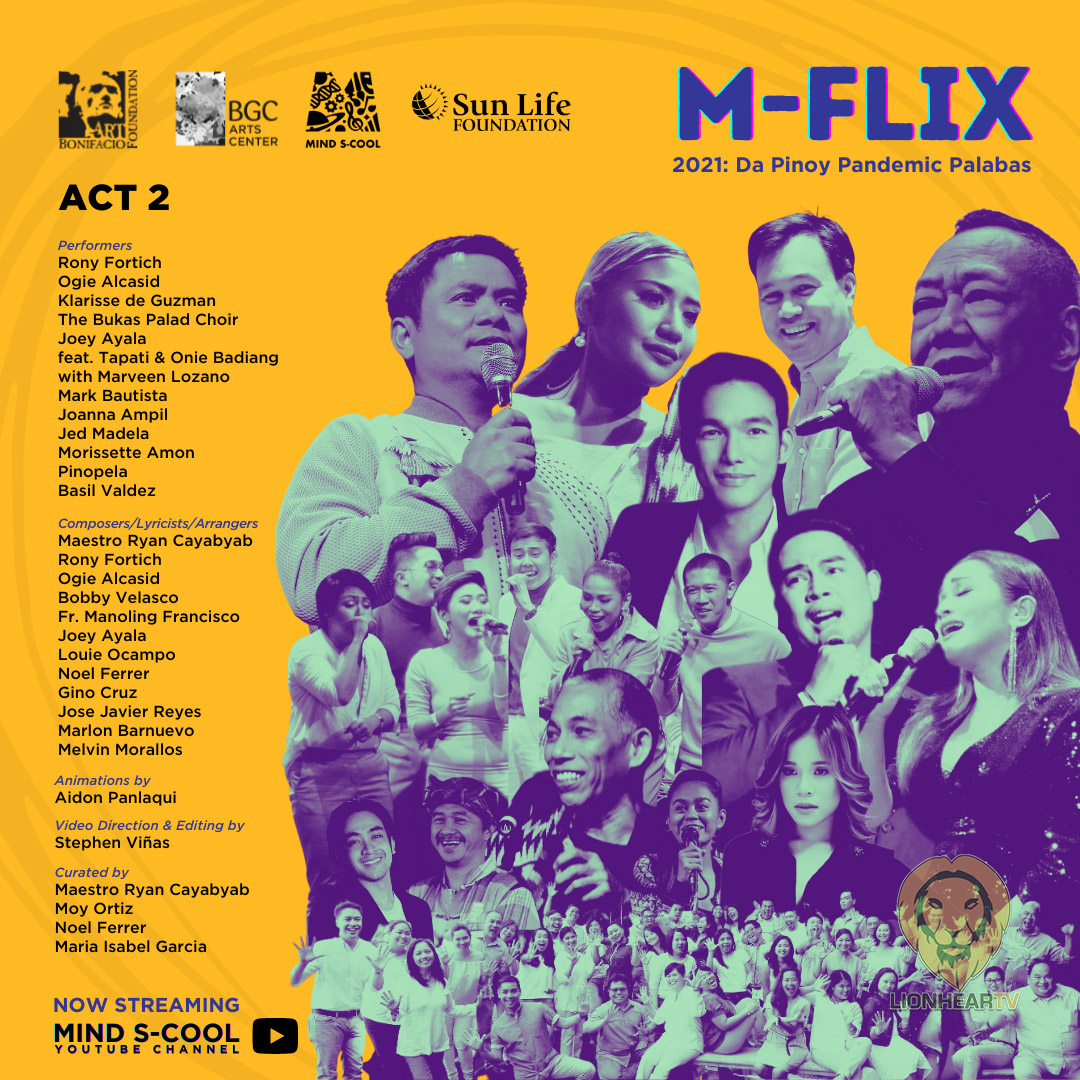 The performers include Ogie Alcasid, Joanna Ampil, Nicole Asensio, Joey Ayala, Mark Bautista, Bukas Palad Choir, Bituin Escalante, Klarisse de Guzman, Rony Fortich, The Itchyworms, Davey Langit, Jed Madela, Morisette, Tim Pavino, Pinopela, The Company, Basil Valdez and Raki Vega. M-FLIX was directed by Stephen Viñas and the powerful animations were created by Aidon Panlaqui.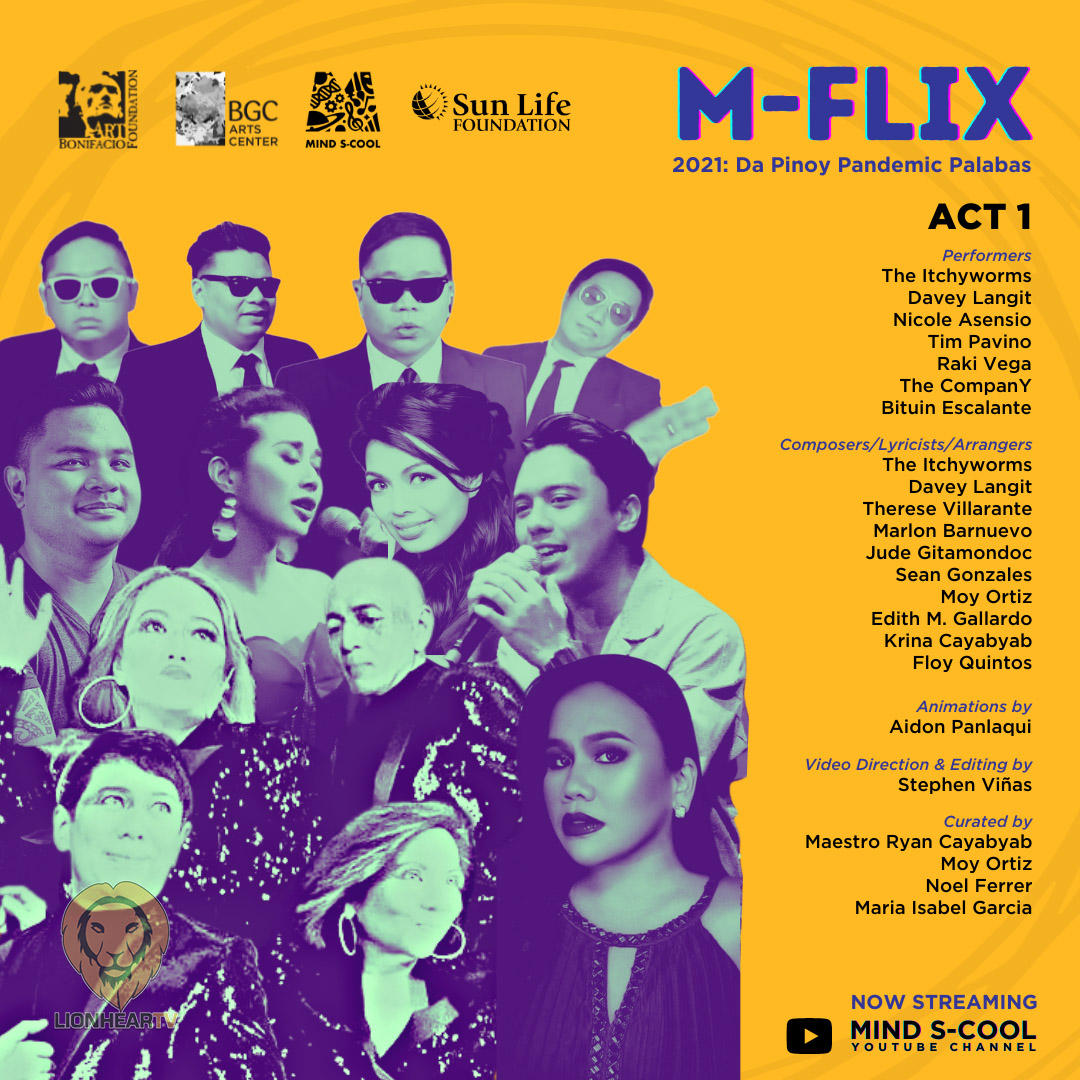 "M-FLIX 2021: Da Pinoy Pandemic Palabas, without apology or reservation, declares that music, specially to us Filipinos, is much more than entertainment, more than just 'palamuti', more than just 'pang-labas'. It is the currency of our soul because music helps us ride the ebbs and flows of our lives and helps shape collective "hu-hu" and "aha" moments." says Maria Isabel Garcia, Managing Director/Curator of the Bonifacio Art Foundation, Inc, who worked with the 3 other PPMF curators for this special project.
M-FLIX 2021 Da Pinoy Pandemic Palabas come in two acts and will be available in the on MIND S-COOL YouTube Channel for a whole year until November 13, 2022.
ACT 1: bit.ly/MFLIX2021ACT1
ACT 2: bit.ly/MFLIX2021ACT2
For updates, visit www.bgcartscenter.org/pinoy-playlist, and follow @BGCArtsCenter on Facebook and Instagram.
Get that musical fix for your soul that is M-FLIX 2021!
Comments