There's a new Italian pizza shop that is taking the city by the helm as Rodolfo Pizzeria serves up fresh and delicious Italian dishes that consumers keep coming back to. Opened just a few months ago, Rodolfo Pizzeria serves classic Neapolitan pizzas and Italian dishes that bring out everyone's love for excellent comfort food.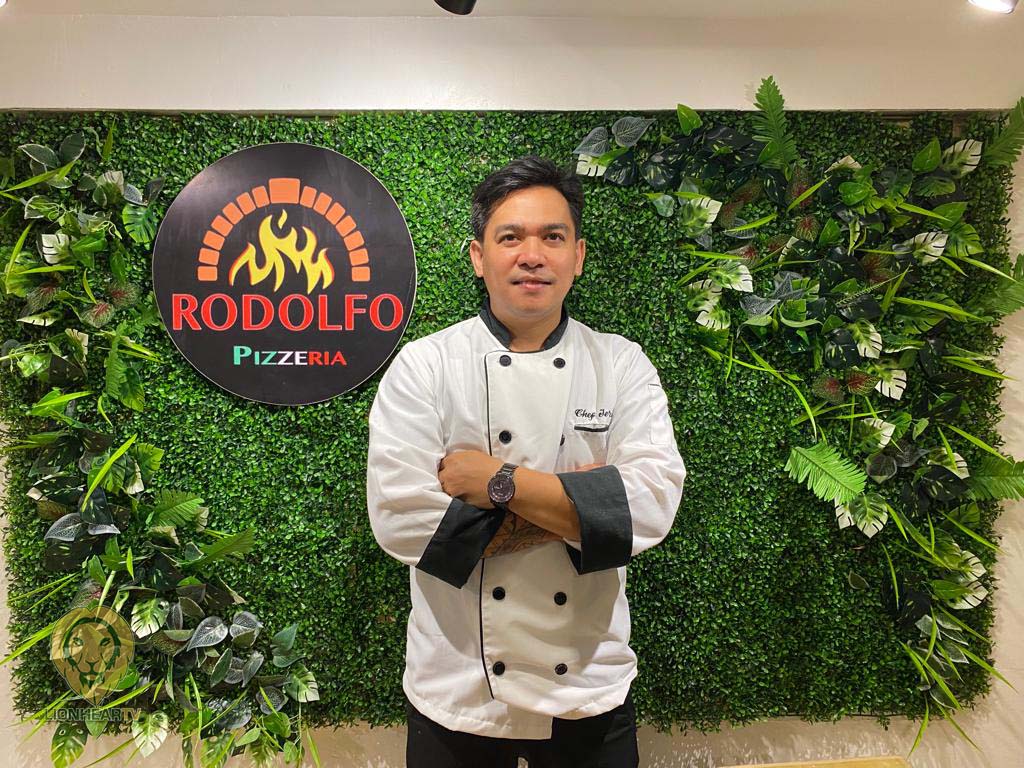 Jerick Magadia, owner and chef of Rodolfo Pizzeria, shares his inspiration in launching his pizza shop during the pandemic.
"I put up Rodolfo Pizzeria because cooking has always been a passion of mine. But more importantly, I put it up because I wanted to make handmade Italian Pizzas accessible to Filipinos. At a time where you could barely travel, having a bite of our pizza, always freshly made and straight out of the oven, will transport you to that Italian dream vacation at a fraction of the price," Magadia shares.
"So, with the help of some of my European friends, my team and I were able to get our flavors on point, but most importantly, perfect our dough that sets the foundation for a perfect Neapolitan pizza," he adds.
Before deciding on the final menu for Rodolfo Pizzeria, Magadia tried and tested over 40 recipes before selecting the ones that are simple yet bring out the rich, bright and distinct flavors of the ingredients.
Rodolfo Pizzeria chef and owner Jerick Magadia brought his Italian dream come true when he launched his pizza shop on the busy streets of Makati.
The Perfect Pizza Slice
All of Chef Jerick's goals would not mean a thing if he can't deliver on the perfect pizza slice. So Chef Jerick breaks down how he orchestrates every customer's unforgettable delicious bite of their pizza.
When consumers think of pizza, typically, three things immediately come to mind: cheese, tomato, and dough. But which one of these is the most important? "The pizza dough is what makes pizza, pizza!" Chef Jerick states.
"At Rodolfo Pizzeria, we embrace whole-heartedly the Neapolitan-style pizza dough. And the secret to it isn't the fanciest ingredients, but surprisingly, in the method of making the dough! We use the traditional Poolish method where, to improve the flavor and texture of the dough, we use equal ratio of water, flour, and yeast. Getting the right amount of these key ingredients can make or break your perfect pizza slice," Magadia emphasizes.
"The next key to the perfect dough is having an oven capable of incredibly high heat—a level standard home ovens can't reach—to get that crispy, slightly charred crust outside. That high heat also infuses the pizza with that distinct smokiness that hits you at first bite. What makes Neapolitan pizzas wonderful is how that crisp outer crust then cracks open to an incredibly soft and chewy dough. Whatever sauce or topping you then put on is elevated."
Whatever flavor customers choose from then on, whatever taste or craving they may fancy—whether from the simple quintessential Margarita to the flavorful Burrata, it's all bolstered by that perfect pizza dough.
"We want our customers to get that crispy first bite loaded with our pizza's aromatic toppings. Then, the chewy dough takes them on a journey, every succeeding bite exploding with the flavor of the cheese, marinara, and cured meats—until the very end, with that satisfying swallow. Then you start all over again with another bite, and another, and another—and before you know it, you've finished the whole thing."
Italian flavors made accessible.
Discover different Italian flavors with Rodolfo's bestsellers:

Simplicity at its best. With Rodolfo Pizzeria's Margherita Pizza, savor homemade Marinara sauce and cherry mozzarella drizzled with an infusion of garlic, basil, and olive oil.
If you love more texture and more robust flavors, then Italian Sausage & Pepperoni with Mushrooms is your perfect choice. Enjoy slides of homemade Marinara sauce, mozzarella cheese, bits and pieces of Italian sausage, pepperoni, and mushrooms, all topped with basil and oregano.
Cheese lovers are in for a treat with Rodolfo Pizzeria's Quattro Formaggi that can't get any cheesier than this—made from scratch with homemade marinara sauce and a combination of four kinds of cheeses – mozzarella, cheddar, cherry mozzarella, and shaved parmesan cheese. So bite into this gooey, cheesy slice.
An all-time favorite, Rodolfo Pizzeria's Pepperoni Pizza is your classic take on the favorite, made with homemade marinara sauce, mozzarella cheese, and pepperoni slices garnished with oregano. Fresh, simple, flavorful.
We are taking creamy pasta to the next level. With Rodolfo Pizzeria's Mushroom Truffle Cream Spaghetti, revel in that creamy, buttery pasta made with olive oil, mushroom, black truffle paste, and parmesan cheese.
Enjoy local flavors infused with Italian tradition. The Italian Tomato Basil Pasta brings out the freshest flavors of butter, garlic, cherry tomatoes, homemade marinara sauce, basil, parmesan cheese, and topped with local Kesong Puti.
The story behind Rodolfo Pizzeria
What was once a dream has become a reality for Magadia. Intending to bring authentic flavors and Italian traditions to the Philippines, he sought to create a brand that could make Italian flavors more accessible and affordable to the public.
"I opened Rodolfo Pizzeria a few months ago, and it has become a great hit among our customers. I am overwhelmed with the positive reviews and our repeat customers over the past few months. Try our Italian dishes for yourself. We've got your perfect pizza slice covered," Magadia closes.
Find Rodolfo Pizzeria at A. Bonifacio Street, Brgy. Bangkal, Makati City, or call +639560254686 to place orders for pickup or delivery. The pizza shop is open daily from 12:00nn to 9:00 pm. To learn more about this new hit in town and for exciting updates, visit their website at www.rodolfopizzeria.com and follow Rodolfo Pizzeria on Facebook and Instagram.
Comments