In a pandemic-ridden world, scientific innovation, and initiatives are only as good as the compassion of the people behind them—because, at the end of the day, humanity is key to rebuilding the health of the global community.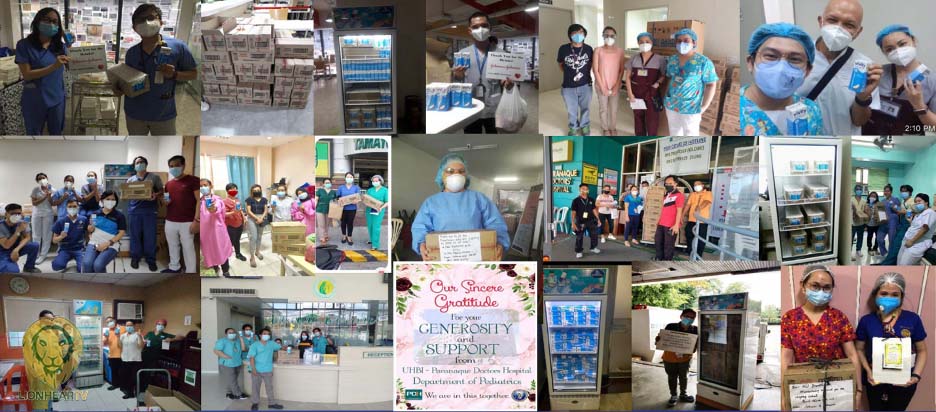 This is the guiding principle of Johnson & Johnson (Philippines), Inc., as it continues to cultivate a "culture of care" among its employees and the communities it serves through its various healthcare solutions, strong partnerships with both government and nongovernment organizations, and other outreach initiatives that have been rolled out because of and despite the Covid-19 crisis.
"At J&J Philippines, we believe it's our responsibility to improve the communities where we live and work," says communication & public affairs lead, Ana Ysabel Ongpin. "We continuously strive to find ways to enable better community access to healthcare solutions."
For over 60 years, J&J Philippines has been supporting their communities through consumer health products, medical equipment, pharmaceutical products, and health-related advocacies. Amidst the pandemic, however, global healthcare giant Johnson & Johnson's most important initiative is the mobilization of its resources—a $1-billion investment—to quickly develop a Covid-19 vaccine, which is now being used all over the world.
On its homefront, J&J Philippines has rolled out its vaccination program, which has so far seen the inoculation of its 4,000 employees and contractors, as well as their family/household members. "We led the forging of partnerships with key players such as Ayala Health, the Parañaque local government, and the Covid-19 Inter-agency Task Force for the Management of Emerging Infectious Diseases to bring the earliest possible vaccine access to the J&J community," says Sean Zantua, HR director.
Focusing on the needs of Covid-19 patients and the medical frontliners who care for them, J&J Philippines has also donated 30,000 care packages, over 140,000 pieces of personal protective equipment, and more than 10,000 Johnson's Baby soap bars. Nurses and doctors have also been kept hydrated by almost 15,0000 bottles of the hydrating Vivity Drink.
Even Filipinos' mental health have been at the forefront of J&J's programs, with the company providing, through the Philippine Mental Health Association (PMHA), mental health and psychosocial support for frontliners, Covid-19 Patients and Survivors, OFW Repatriates, and other vulnerable groups.
Moreover, P8.5 financial donations from J&J Philippines have been put to good use by various organizations, and have directly benefited causes supporting children's welfare, mental health awareness, hygiene improvement, community-building, and Covid-19 protection. When community pantries started sprouting across Metro Manila, for one, J&J Philippines swiftly partnered with World Vision Foundation Philippines to provide assistance to 20 such initiatives in the region. The two groups, along with the ABS-CBN Lingkod Kapamilya Foundation, Andres Soriano Foundation, and Save the Children Philippines, also donated N95 masks to displaced individuals, schools, and rural health units.
More hygiene kits were likewise distributed to Covid-19 patients in Metro Manila through the Philippine General Hospital Medical Foundation, and Operation Compassion. On the aspect of mental health, the Philippine Mental Health Association, Inc. provided virtual webinars focused on helping all Filipinos in coping with the pandemic, especially those battling the virus, the frontline health workers, and OFWs unable to come home.
Additionally, through NGO partnerships, J&J Philippines contributed to disaster response efforts during last year's Taal eruption, and Typhoons Rolly and Ulysses; and scaled up the Save the Children Philippines' Maternal, Newborn and Child Health and Nutrition (STEP UP MNCHN) through the provision of around 500 newborn kits to pregnant and new mothers, and 15 early childhood care and development (ECCD) kits to affected child development centers to replace the learning materials which were damaged by the eruption of Taal volcano and the subsequent series of destructive earthquakes experienced by the country.
"Guided by the values in Our Credo, we at J&J are called to put the well-being of the people we serve first—and it's an opportunity that we fully embrace," says Ana Ongpin. "As a global community of people blending heart, science, and ingenuity, our aim is to profoundly change the trajectory of health for humanity."