American TV personality Carson Kressley has received numerous backlash after not including Catriona Gray in his favorite candidates during the 67th Miss Universe.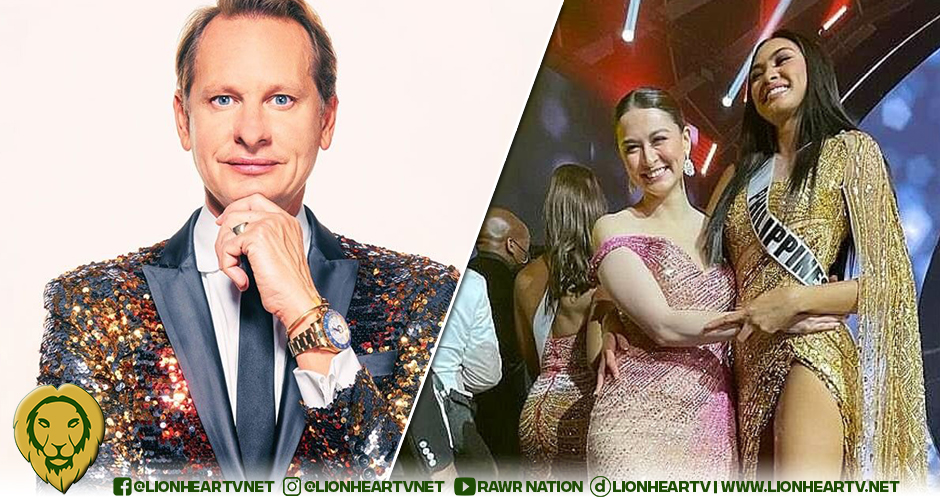 Now, he has shown his support for Miss Universe Philippines Beatrice Luigi Gomez.
Both Kressley and the American supermodel Lu Sierra were the pageant analysts during the Miss Universe 2018 that was held on December 17, 2018, in Impact Arena, Bangkok, Thailand.
The two received a lot of bashing after Filipino pageant fans speculated that they were not in favor of Gray winning the Miss Universe title.
During the recently concluded 70th Miss Universe, Kressley, and Miss USA 2019 Cheslie Kryst were the pageant analysts for the Miss Universe 2021 that was held in Eilat, Israel.
Instead of receiving backlash, Kressley was much-admired by Filipino pageant fans after showing his support for Gomez.
Kressley praised Gomez's tattoo and the Francis Libiran gown she was wearing:
"All the gold showing off and that tattoo as well," Kressley commended Gomez, picking the latter's evening gown as one of his favorites among the 10 finalists.
Netizens say that Kersley rooting for the Philippines is a form of character development—learning from his experiences with Gray.
Bumabawi si baklang Carson.

— AltGMA🌈 (@KafosoMo) December 13, 2021
"And Philippines! She answered well." — Cheslie

"Yeah! Philippines, crowd favorite. Shocked she's not in the Top 3." — Carson

Wala. Tinype ko lang. 🤣 Pero totoo, may laman ang sagot ng dalawang di nasama ha! #MissUniverse #70thMissUniverse

— 🐝 جيمس بريان (@jamesxbryan) December 13, 2021
Carson, bakit parang mabait ka na sa delegates ng #Philippines. haha. #MissUniverse

— Rexieboy (@YoRexieBoy) December 13, 2021
Carson: "everyone is loving the Philippines"

Girl u have no idea the no. of Filipinos based in Israel. We're everywhere miss maam. #MissUniverse #MissUniverse2021

— MessMinchin evicted Sebo fan (@MessMinchin3) December 13, 2021
https://twitter.com/harbi_bi/status/1470213166592184321
Finally! Nabetan na din ni Carson ang Philippines sa evening gown. Nilaban naman kasi ni ate mo #BeatriceLuigiGomez ang pa-gold! Hahahahaha! I miss @ashleygraham in #MissUniverse. Sya lang may favorite kay Philippines lagi. 🤣

— Precious MICA Summers 🎀 (@TheMICATalks) December 13, 2021
Wow Carson mentioning PH in her favs thoooo the Character development chnz #MissUniverse

— Jesus (@gszfrs) December 13, 2021
I'm glad tho, Carson Kressley has already appreciated our Candidate. Hindi puro Nega Hshs#GoMezUniverse 🇵🇭❤️#MissUniverse

— 𝐋𝐀𝐍𝐂𝐄𝐘𝐘𝐘🌸 (@Lanceyyy_07) December 13, 2021
Miss Universe Philippines 2021 Gomez ended her Miss Universe stint with a spot in the Top 5.
Comments