We have arrived at the final chapter of the year, and truly, we've gone through a lot – you have braved through a long list of things that you've worked hard for – and success you did get. That is why in the spirit of gift giving, Toyota Motor Philippines unwraps just the most exciting deals you could get as a present to yourself or to your family.
With light payment plans, savings, coupled with free services and more, who's to say this isn't the most wonderful time of the year?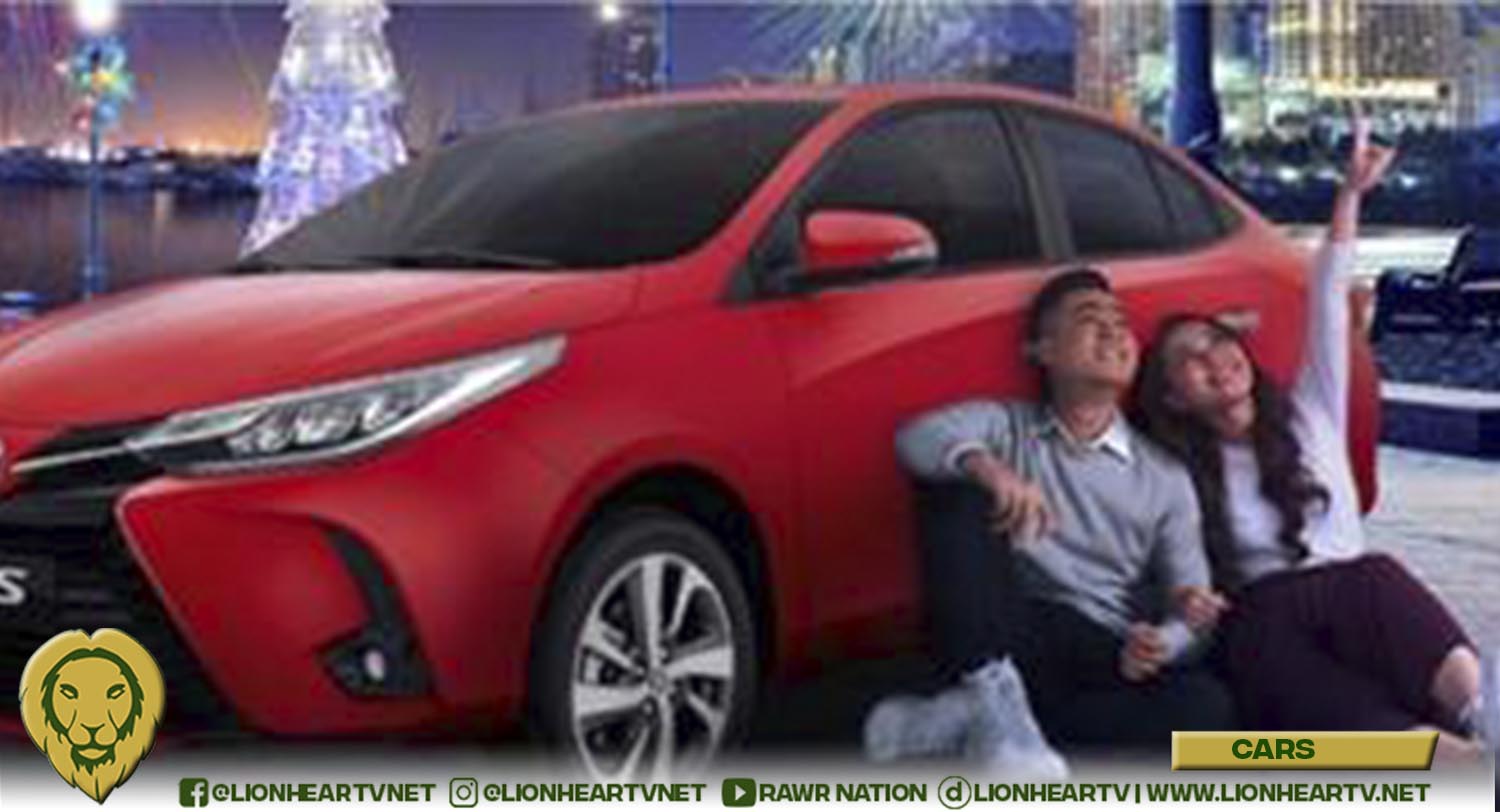 Give the gift of new beginnings with the Toyota Wigo for only PHP6,359 per month for the 1.0 E MT variant – a Pay Light option at 50% Down Payment, 60 months to pay. Wigo makes it easy to go for style and comfort, wherever your destination is. Even more, you can definitely go for value with a fuel-efficient engine that delivers practical performance from under a compact hood.
Give the gift of elevation with the Toyota Vios. Yours to drive home for only PHP8,395 per month for the 1.3 XE CVT variant for the Pay Light scheme. Or get it for a Pay Low All-in Package at 15% Down Payment, 60 months to pay, with Free Insurance on the first year, Free 3-Year LTO Registration, plus a 5-Year Warranty on participating models, all for PHP112,950 for the 1.3 XE CVT variant.
How about giving the gift of new tales of adventures with the Toyota Innova? Get it this holiday season for only PHP12,586 per month for the 2.8 J Diesel MT variant via the Pay Light option. Or get it via the Pay Low All-in Package at PHP192,750, or even get up to PHP45,000 of savings for outright cash transactions for participating variants.
The gift of power and bravery comes naturally with the Toyota Fortuner, available for PHP18,080 per month for the 4×2 G MT Variant via the Pay Light option. Or get up to PHP45,000 of savings for outright cash transactions for select variants. Loosen the ribbons and wraps of uncharted roads as your venture with sleek and precision with this well-loved SUV. Above from this, as Toyota promises, you'd be driving with the bounds of protection with the Fortuner's passive and active safety features that allows you to travel in confidence.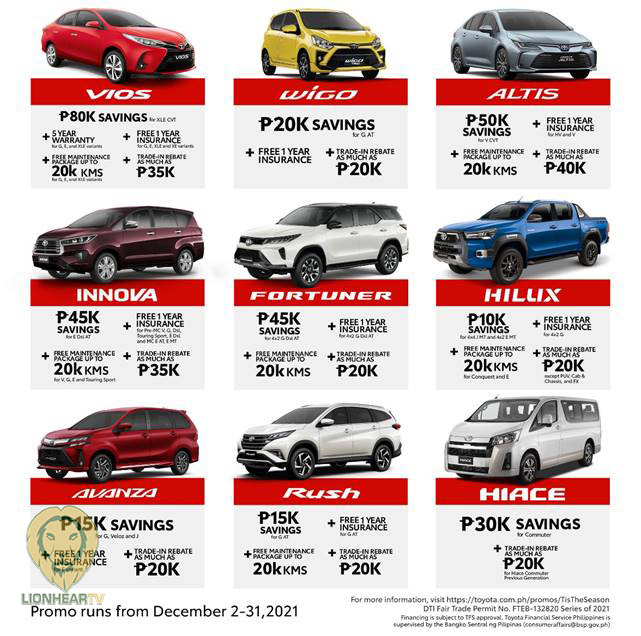 Discover more vehicles under good deals by visiting http://www.toyota.com.ph/promos/tistheseason.
Drive with peace of mind because aside from discounts and exclusive deals, TMP also offers Free Periodic Maintenance Service of up to 20,000 kilometers for participating variants of Vios, Corolla Altis, Rush, Innova, Fortuner, Hilux, and Hiace.
Plus, customers are entitled to Free 1 Year Insurance for participating models and variants which includes 24/7 personal accident insurance, passenger auto personal accident insurance, 3-year compulsory third party liability insurance, and more.
On top of these offers, customers looking to trade in their old vehicle for a Toyota can get up to a P40,000 rebate which can be used to purchase accessories or availed with other existing offers.
Check all other deals for more Toyota vehicles on the official website toyota.com.ph or contact any Toyota dealership near you. Follow TMP's official pages – Toyota Motor Philippines on Facebook and Instagram, toyota.com.ph, Twitter (ToyotaMotorPH), and Viber (Toyota PH) – for regular updates on products and services, dealer operations, announcements, and events.
You can also check out your preferred Toyota model and inquire online at toyota.com.ph/showroom and choose your preferred dealership so they can revert to you on your product inquiry. Download the myTOYOTA PH app for Android and iOS for all your Toyota needs, from car selection to car care, maintenance, and upgrades.
Comments