The Philippine Department of Trade and Industry's (DTI) Expo 2020 Dubai Business Events Committee on Wednesday, December 15, 2021, held an online forum that tackled executed programs and projected developments in the construction and information technology and business process management (ITBPM) sectors to reel in more foreign investments to the country.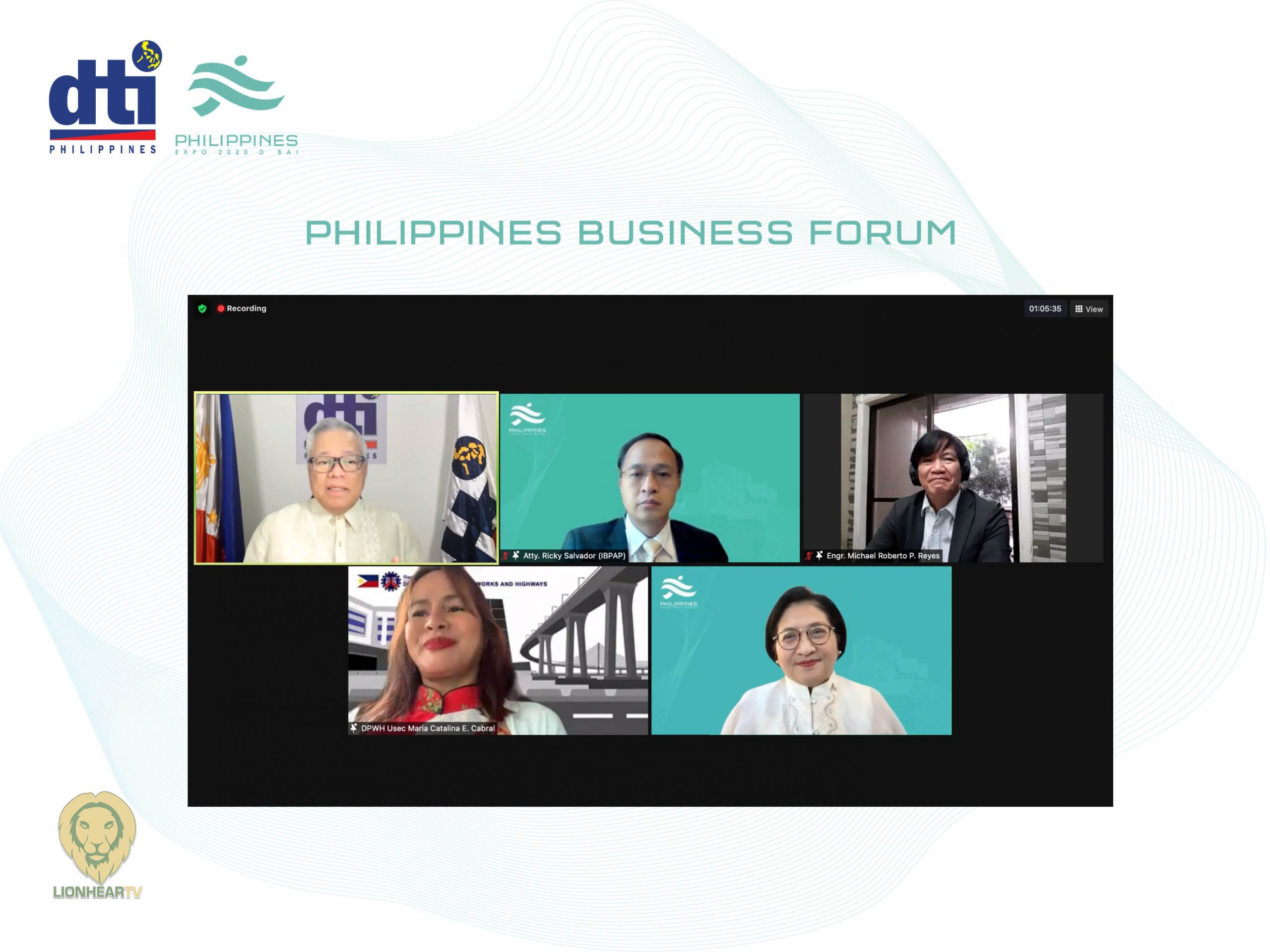 The forum is a prelude to a series of online business matching (B2B) meetings for the sectors that happened on December 16 and 20, 2021, spearheaded by the Export Marketing Bureau (EMB), the Philippine Trade and Investment Center in Dubai, the Board of Investments, the Center of International Trade Expositions and Missions, and the Philippine Overseas Construction Board (POCB).
Leaders from the construction and ITBPM sectors shared their insights and the various projects and initiatives that will accelerate the country's economic rebound. Present during the online forum were DTI Secretary Ramon Lopez, DPWH Undersecretary Dr. Maria Catalina Cabral, DCCD Engineering Chairman and CEO Engr. Michael Reyes, IBPAP Executive Director Atty. Luis Salvador, and Philippine Ambassador to the United Arab Emirates Hjayceelyn Quintana.
Lopez said that the country is still one of the best investment destinations in the world amid the pandemic. "The Philippines has risen from 6th rank prior to 2016, to 4th rank in 2016-2020 period among our fellow ASEAN countries in terms of FDI (Foreign District Investment) levels. Our annual average level of FDI actually more than doubled from 3.5-billion dollars in 2010-2015 to 8.7 billion dollars in 2016-2020."
Cabral, meanwhile, said that the infrastructure and construction industry is one of the greatest economic stimulus, because in the short term, it generates employment and income, directly rescuing the unemployment problem of the country and accelerating the circulation of income, which help in hurdling the Philippines' unemployment and other economic recession problems.
"The construction industry can generate at least 4,000 employees for every one billion pesos worth of spending because of the many industries attached to it," said Cabral.
Cabral also champions other sectors of the government through collaboration — the tourism sector by creating bypasses leading to tourism destinations; the agriculture sector through the construction of farm-to-mill roads; and the Department of Education by providing facilities that benefit public schools nationwide.
"What we have learned from this COVID-19 pandemic is that countries have increasingly become interdependent," added Quintana, who spoke on the workability of the Philippines with other countries now that the former is close to achieving herd immunity against the virus.
"The Philippines is ready to do business with the different regions. The Philippine economy has proven to be resilient amid the political and economic implications of the global health crisis," added Quintana.
PH construction sector projects P130-trillion worth of project value
For the construction sector, DCCD Engineering Chairman and CEO Engr. Michael Reyes said that the construction industry has a promising growth forecast as it could generate as much as P130-trillion worth of project value from 2020 to 2030 through expansion of investments, participation in the global market and a well-plotted construction roadmap for the stakeholders' discussion.
Reyes added that collaborating with foreign industry partners through an efficient outsourcing of Philippine talents and workforce can also improve its alliance with other countries especially in dealing with various construction projects abroad.
"As of 2018, there was just around 2.3T construction value. Without the road map, we will just be attaining up to 4.3T construction value by 2030," shared Reyes during the Philippine Business Forum. "The Philippine construction industry is embarking on improving the work force of the construction industry. If I'm not mistaken, in 2016, we were at 3.9 % of the work force and we are by 2020 7.1 and you can see a very big increase as far as highly skilled workforce. The professionals increased a bit and unskilled decreased a bit. For us to achieve this construction industry road map, we need to really do a lot of capacity building and improve the talents and the technical know-how of our workforce."
Meanwhile, ITBPM Executive Director Atty. Luis Salvador said that despite the global recession brought by the pandemic, the sector still managed to post a modest gross domestic product growth of 1.8 percent and a 1.4 percent or 23.7-billion USD increase in total revenues in 2020.
According to global research firm Everest study group, the country's IT-BPM 2021 growth is projected at 7.1 percent and a 8-12 percent increase in revenues with its driving force being the positive enterprise sentiments, vaccine rollout, digital acceleration, pent-up demands, fiscal stimulus across multiple geographies, and the need for cost optimization.
Salvador added that there had also been numerous driving factors that have contributed to the uptick in the sectors' future growth which includes the emerging business process sub-industries such as insurances, BPOs, HR outsourcing, customer experience management, and others.
"Deeper server penetration is also driving growth, we see opportunities in IT oriented and complex services such as cloud and data center services, finance and accounting and IT applications maintenance. There are also emerging business process subsegments such as insurance and health, BPOs, HR outsourcing, and customer experience management," he said.
"The Philippines' IT-BPM industry is constantly growing and proves to be an ideal investment destination for foreign companies, Salvador ended.