The Philippines' leading airline, Cebu Pacific (PSE: CEB) continues to enable everyone to fly juans more across its widest domestic network as it launches its special JUNEdependence sale this #CEBSuperSeatFest.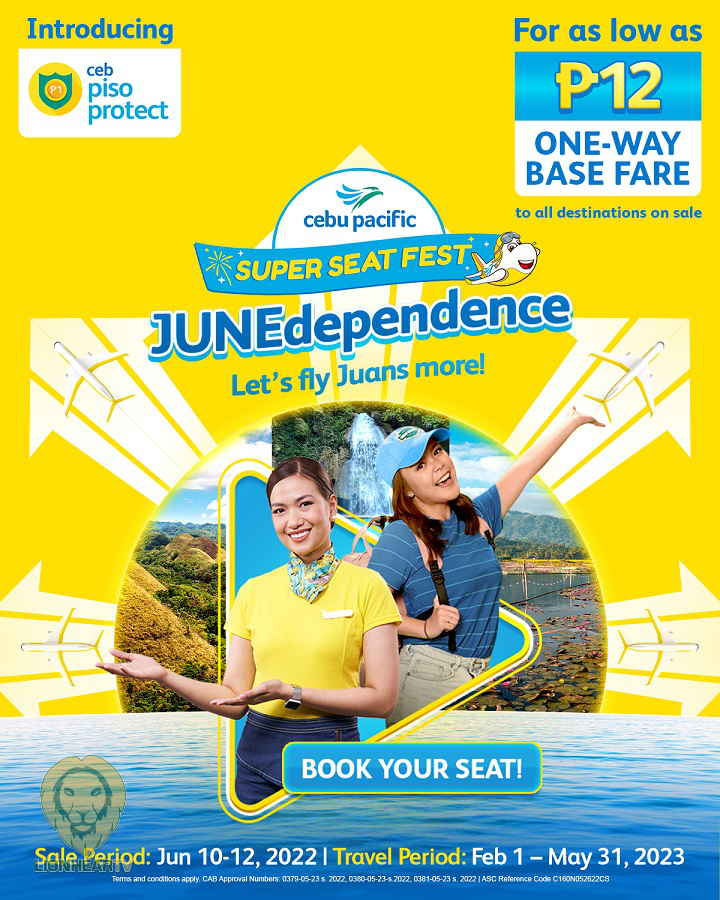 From June 10 to 12, 2022, everyJuan can take advantage of booking tickets for as low as PHP12, one-way base fare, with a travel period from February 1 to May 31, 2023.
As the airline that continues to lead the domestic travel recovery through its trademark low fares, CEB's newest sale encourages everyJuan to keep looking ahead and enjoy the freedom of travel as it gives SUPER low rates to all Philippine destinations in its network – both iconic and off-the-beaten path destinations. Passengers may choose to go on vacation to famous leisure destinations such as Cebu, Bohol, Siargao, Boracay, and Davao; or reunite with their loved ones in General Santos, Ozamiz, Surigao, Zamboanga, and Calbayog.
"Time and time again, we have always strived to keep our customers at the heart of our business. We remain committed to keep enabling everyJuan to move forward together from the challenges of the recent years, and remain hopeful that skies will continue to clear, so they can rekindle their love for travel and enjoy the freedom that this experience brings," says Candice Iyog, VP for Marketing and Customer Experience.
This sale gives passengers many things to look forward to as they book with very low fares now, and travel at a later time. This also gives them plenty of room to plan their itinerary way in advance to make sure they make the most out of their trip in 2023.
Aiming to go further, this #CEBSuperSeatFest also includes SUPER low rates to some international destinations as the airline ramps up its network outside the Philippines. Promo fares to Seoul, Singapore, Kuala Lumpur, and Japan, among others, are also up for grabs during this three-day sale. Book now via www.cebupacificair.com
CEB continues to offer its guaranteed low fares to stimulate travel across its widest domestic network, with multiple flights to top Philippine destinations, such as Boracay and Cebu, both of which are operating 16x daily from Manila. It continues to implement a multi-layered approach to safety, while it operates with a 100% fully vaccinated crew, 95% of whom have been boosted – all to ensure every Juan flies safely and conveniently on Cebu Pacific.
Comments