The record-breaking episode teased the viewers of Cardo Dalisay finally getting killed in an encounter between Task Force Agila and the combined forces of Lito Valmoria (Richard Gutierrez), Renato Hipolito (John Arcilla), and Lily Hidalgo (Lorna Tolentino).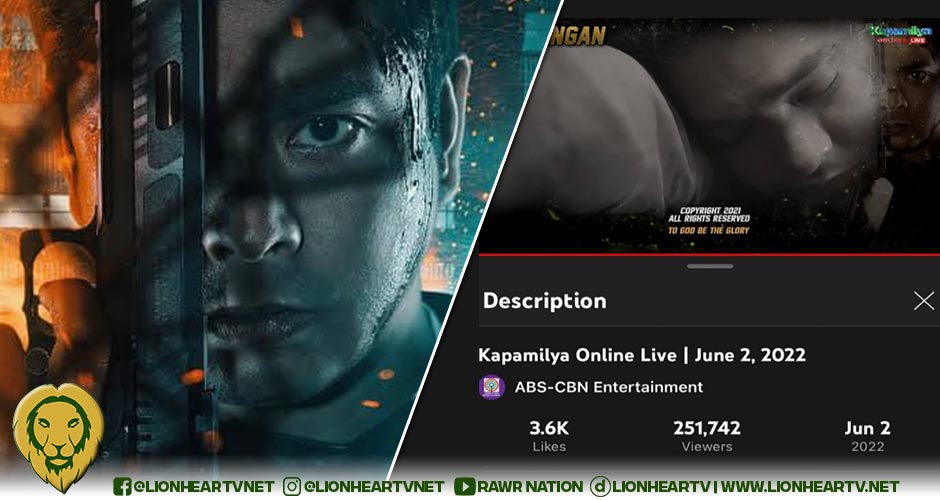 ABS-CBN's longest-running action-drama teleserye FPJ's Ang Probinsyano looks poised to have another record-breaking spree again, as concurrent live viewers, last night, June 3, saw yet another peak.
On Kapamilya Online Live, more than 250,000 Kapamilya audiences were glued to their gadgets and screens, as Cardo Dalisay finally faced his greatest adversaries.
Last April, the six-year-old drama soared past 230,000 concurrent live viewers, making it the only Filipino TV series to perform such a feat on the streaming and video-sharing platform, YouTube. Last night's episode obliterated that record. 
FPJ's Ang Probinsyano remains ABS-CBN's most-watched TV show and one of local television's top-rated dramas. The massive attention it generated this week, can be attributed to the exciting developments in the story, that led to the thrilling and intense confrontation in last night's episode. It can be noted that the last time Task Force Agila and Lily Hidalgo's group had a bloody encounter, was when the former retrieved the fake President (Rowell Santiago). That episode notably also set a record-breaking milestone, with 233,000 concurrent live viewers, on April 20.
Last night's record-setting feat is expected to get crushed immediately, as viewers become fully invested again in whether Cardo Dalisay will survive his enemies again. The showers of bullets he received last night, suggest he should be dead by now, but given that Dalisay has survived similar situations before, it won't be surprising if he bounces back quickly and proves Lily Hidalgo, Lito Valmoira, and Renata Hipolito wrong.
FPJ's Ang Probinsyano streams from Monday to Friday on Kapamilya Online Live, right after YV Patrol. On free TV and cable television, it can be watched via A2Z, TV5, Kapamilya Channel, and Cinemo.