On Tuesday, June 14, the K-pop supergroup BTS made its fans sad after announcing an unexpected pause during their annual celebration with fans.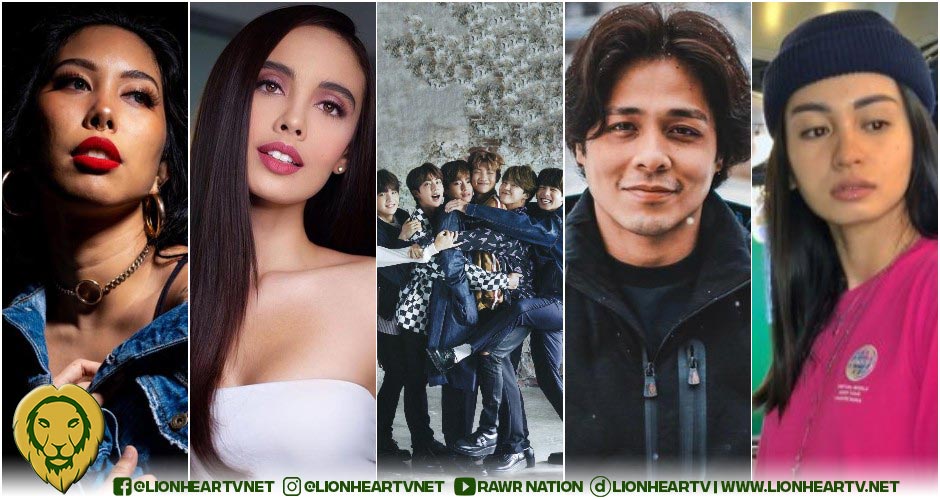 While holding their "Festa Dinner with BTS", leader RM confessed that the band has lost its "overall identity" and has no idea how to tell their fans the bad news.
"For me, it was a big deal that I didn't know what we're going to do as a group from now on. I don't know what kind of direction our group has to take," RM said. "[R]ight now, we've lost our direction, and I just want to take some time to think and then return, but that just feels rude to our fans."
Their announcement devastated netizens, especially on Twitter, as it became a trending topic on social media sites.
Megan Young had mixed emotions upon hearing the news. On her Instagram story, she said, "I was crying so hard then I saw Jin prepare for the toast at the end. Then I started laughing while crying."
On her Twitter account, the beauty queen wrote, "Bangtan" along with a crying emoji.
Bangtan 🥺😭💟

— Megan Young (@meganbata) June 14, 2022
Professional volleyball player Dennise Lazaro was heartbroken, too, as she is yet to see the group perform in a live concert.
It might hurt a little less to share this here. But i rly regret not seeing BTS live in concert. It's bittersweet to hear that they'll go on a hiatus. I always found comfort in their music&content. I will love them forever no matter what. It's a see you soon not a goodbye ryt? 🥺

— Dennise Lazaro (@denniselazaro) June 14, 2022
This unexpected news from the supergroup also saddened netizens.
Awww shet bad news for me :((( https://t.co/TquDSBAd6x

— Typical Juan  (@thistypicaljuan) June 14, 2022
i think i've seen this film before, and i didn't like the ennddinngg https://t.co/AzFlyHV506

— تالا (@jeonjeol) June 14, 2022
A fan believed that this decision of BTS was due to being burned out.
RM even said that being an idol does not give them "time to mature", but keeps them contained in a "cycle where you keep producing music, leaving no room for growth."
but honestly, I feel so sad for BTS rin, I watched some clips of the live, they got burned out, these happens to all KPOP idols. and as a BP stan, I know in one way or another the girls experienced this also. its the silver lining of the 2yrs hiatus —

— abi (@itsmejoyceabi) June 15, 2022
However, not everyone took it as bad news. Kapuso actress Bea Binene, on her Instagram story, did not want to say goodbye to the K-pop group.
"No goodbyes, just see you soon," the story read.
Voice talent Inka Magnaye was glad that BTS finally got the chance to "take a breather."
So happy BTS get to take a nice break 💜 thank you for all the happiness you've brought us so far ✨

— Inka (@inkamagnaye) June 14, 2022
A Twitter personality wanted the group to "have a blast" during their hiatus.
@BTS_twt is taking a break. Have a blast, guys! You deserve it. Come back together soon. We will wait.

— Ma'amSyj🇵🇭 (@MaamSyj) June 14, 2022
Meanwhile, despite grieving over the news, a netizen was thankful that BTS told their fans about their decision rather than leave them wondering why they started "doing solo schedules."
https://twitter.com/S0LOSONG/status/1536751776174587906
Another wanted the group to "take your time" and said ARMYs would wait for their return.
Reminds me of Gerard Way (MCR) after The Black Parade is Dead interview. Same vibe… okay, but I guess we'll just have to wait. I will wait (for the nth time, I sure will).

Thank you BTS! We love you so much! Take your time (but please, don't take too long) 💜 https://t.co/O2cSExZxfX

— AC₇ 🌌 | (wandering) (@helena_astro) June 14, 2022
Recording artist Reb Atadero shared his take on the group's hiatus. He said that BTS really deserves a break after keeping the world entertained for so many years.
Thank you. See you soon. Borahae. #bts pic.twitter.com/MIZ24pdbxj

— Reb Atadero (@rebranger) June 15, 2022
Meanwhile, singer Bituin Escalante is already excited for the comeback of BTS.
Excited for the comeback. #BTSFESTA2022

— bituin escalante (@gobituin) June 14, 2022
BTS celebrated its 9th anniversary with an anthology album, "Proof." The group consisted of RM, Jin, Suga, J-Hope, Jimin, V, and Jungkook, known for its hit songs such as Butter Dynamite, Mic Drop, DNA, and Fake Love to name a few.
Since its debut in 2013, the K-pop group has received 43 Mnet Asian Music Awards, 34 Melon Music Awards, 28 Golden Disc Awards, 23 Seoul Music Awards, 7 Korean Music Awards, 27 Gaon Chart Music Awards, 12 Billboard Music Awards, 9 American Music Awards, and 9 MTV Video Music Awards. BTS also is the first-ever group to win the Top Song Sales Artist at the Billboard Music Awards and earn five consecutive wins for Top Social Artist.
The group members, in the meantime, will be focusing on their solo ventures.