Exciting times are ahead in the local media and entertainment landscape as ABS-CBN officially announced its plans to invest in TV5 – a move that is seen to spice up competition among major industry players.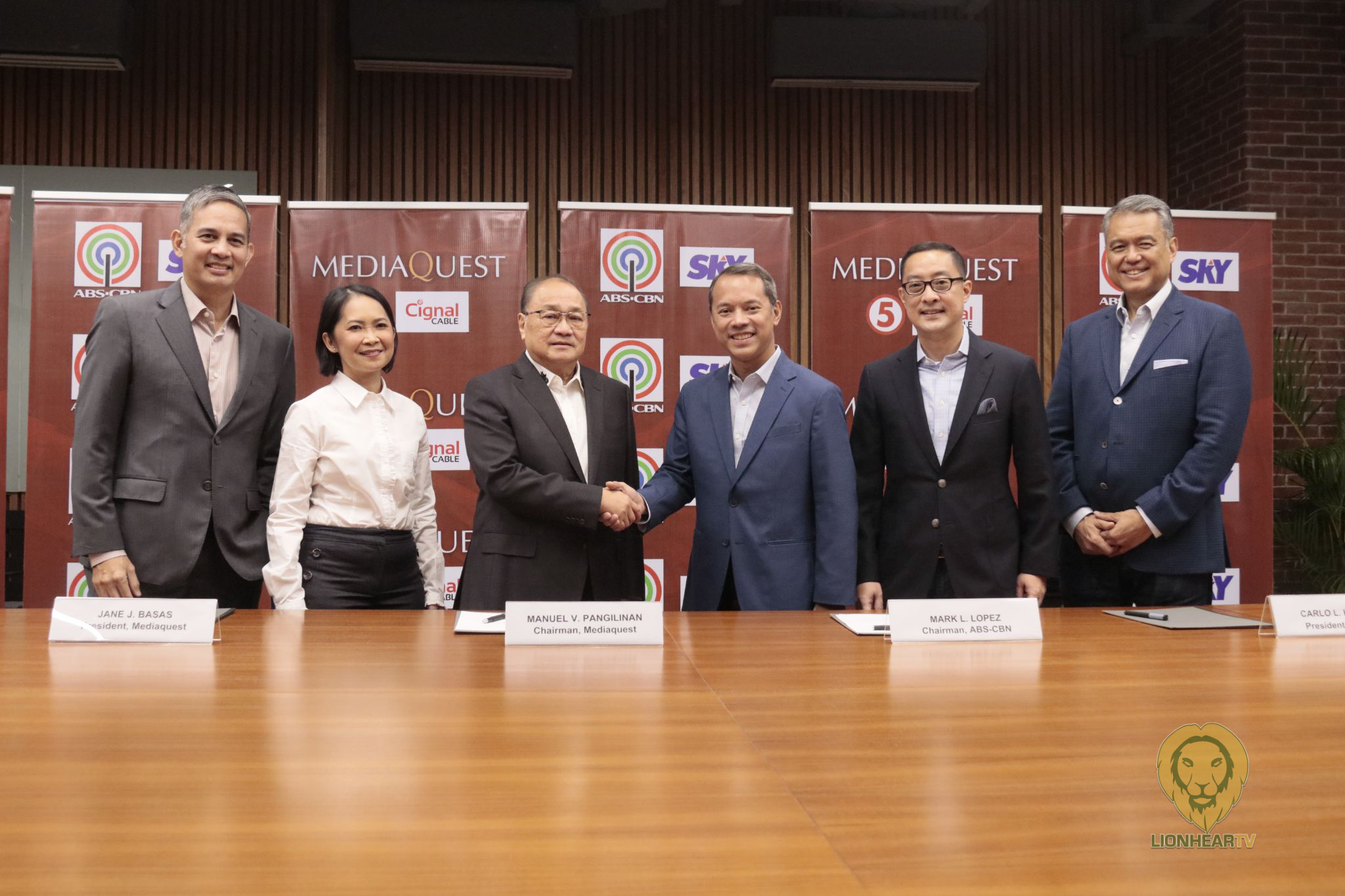 Manuel V. Pangilinan, Chairman of Mediaquest Holdings said, "We welcome the entry and investment of ABS-CBN in TV5, as ABS-CBN has always been the leading developer and provider of Filipino-related entertainment content not only in the Philippines but overseas as well."
Meanwhile, ABS-CBN Chairman Mark Lopez describes the partnership as 'exciting' saying, "We are excited with this partnership as we see the opportunity to help TV5 grow and strengthen its free to air network. For ABS-CBN, it presents a fantastic platform for us to achieve synergies in production content and talent management as well as maximizing our content delivery."
As for ABS-CBN President and CEO Carlo Katigbak, the partnership is aligned with the company's intention to be a 'storytelling company.'
"This partnership is consistent with the strategic intention of ABS-CBN to evolve into a storytelling company whose goal is to reach as wide an audience as possible. In partnership with TV5, we look forward to reaching viewers both on owned platforms and through other broadcast partners, thereby enriching the Philippine creative industry. We hope the industry evolves from being highly competitive to increasingly collaborative, which benefits all stakeholders in the long run."
Healthy competition is always welcome as it pushes players to give their best. With this new development, ABS-CBN, GMA Network, and TV5 will definitely bring their A-game, creating more top-notch content for Filipino viewers. This is good news for viewers as they will have access to more quality entertainment from the country's leading media entities.
It will also open more doors for collaboration. We may just see our favorite Kapamilya stars doing projects with Kapuso or Kapatid stars.
ABS-CBN and TV5's joint venture will also inspire new players like Manny Villar's AMBS (Advanced Media Broadcasting System, Inc) to think of creative ways to entertain the Filipino audience.
Moreover, the landmark deal will definitely bolster interest in local entertainment. If these players continue to delight audiences with exciting shows, the local TV industry will shine and live on. The comeback of Popstar Royalty Sarah Geronimo on "ASAP Natin 'To" and Anne Curtis' return to "It's Showtime" are proof of this as social media went abuzz when they staged their TV comeback.
Another proof is the "Mars Ravelo's Darna" TV series. Viewers are already eager to watch Jane de Leon and Janella Salvador give justice to the iconic roles based on the reception of the poster and teaser reveal.
ABS-CBN's minority stake in TV5 will also make the advertising industry happy. More viewers will translate to high TV ratings, leading brands to place more ads that will reach more people. A thriving industry will knock out worries on job security in the middle of a pandemic.
This new era in the TV industry where competitors have achieved unity is a refreshing sight and echoes the call of the current administration to unite for a better Philippines.
The recent warning of the Philippine Competition Commission (PCC) for TV5 and ABS-CBN to conduct due diligence to ensure fair market competition seems ironic. The organization suddenly issued a statement when news broke out earlier that a deal was in the offing. PCC, whose job is to prevent monopolies, should welcome the development as it will bring competition to the industry, create jobs for people, and give choices to audiences. After all, they were initially wary about the effect of ABS-CBN's shutdown back in 2020 and its effect on the TV industry.
May everyone, including the PCC, see this partnership in a positive light as two companies unite in their common goal to serve the Filipinos better.