This year's festival's opening film is a delightful ride that finds its hooks in its thrilling world filled with magical realism.
Actors: Shiela Francisco, Rocky Salumbides, Allan Bautista, Bong Cabrera, Anthony Falcon, Ryan Eigenmann, Rea Molina
Genre: Drama
Premise: A retired film maker gets transported to her self-conceived  action-film-inspired world, when a television set lands on her head and sends her into a coma.
Running Time: 101 minutes
Direction and Screenplay: Martika Ramirez-Escobar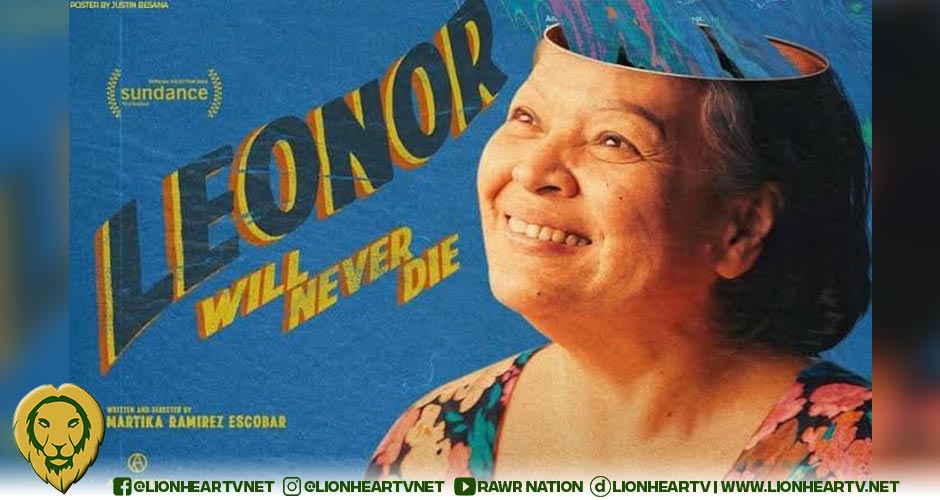 Why You Should See It:
Fantasy and reality intersect vividly in this Martika Ramirez-Escobar's gleeful and twisty feature, whose plot is seemingly designed to pay tribute to lovers of films, especially of the '80s, where cheesy action flicks rocked the local box office.
It is easy to hop on the ride that Escobar is offering with Leonor Will Never Die, which focuses its lens on a retired female filmmaker, whose scandal years back, abruptly halted her once flourishing career. The fun homage to her heydays, which is essentially a look back to our nearly-extinct action film industry, pretty sets the mood; it is a glimpse of a riveting ride that anybody who accepts Escobar's invitation, will surely get.
Gone are the days when Leonor (Shiela Francisco) was a constant figure in the limelight. Although she remains popular, the affluence bestowed to her by her former job is no longer with her. She is, on the brink, of losing her home. Her son, Rudie (Bong Cabrera) constantly reminds her of the rent, which has already piled up from three months ago.
Escobar's curious design of her film is reflective of Leonor's self-made world that firmly resides in her imagination. She sets the blur between fantasy and reality, by shrinking the definition of her film to resemble that of movies in the '80s. That said, some choices completely mock such a design. The ghost of her opinionated favorite son, Ronwaldo (Anthony Falcon), intermittently appears, and no one seems bothered by it, especially his mom who finds solace in talking to him.
Leonor's eagerness to redeem her glory days is manifested when one day, a falling TV set hits her head, and sends her into a coma. The tragedy promptly transports her to the own world she created, which is a virtual representation of an unfinished film she intended to complete. 
Francisco blazes like a ball of breezy warmth in this film. You can see and feel her commitment to her role, and that's maybe thanks to Escobar's beautiful direction. But that may be because of her enthralling script, too. Leonor is chuckle-worthy, especially at moments when she plunges back and forth, from her fantasy world to the real world. 
Escobar's magical realism gets much of the spotlight in Leonor Will Never Die, but she blends it beautifully with realistic, tangible worldly truths that make Leonor's immersive journey to redemption, more relatable and affectionate.
5 – Excellent
4 – Very Good
3 – Good
2 – Tolerable
1 – Terrible
Leonor Will Never Die is the opening film of Cinemalaya 2022. Official entries to the festival are having a commercial run on select Ayala and SM Cinemas, starting August 10. Watch the official trailer of Love Will Never Die, below:
Comments