The country's first athletic collegiate league – the National Collegiate Athletic Association (NCAA) – inspires everyone to "Achieve Greatness Every Day" as it formally kicks off Season 98 this September 10 via its official broadcast partner GMA Network.
Live from the Araneta Coliseum and simulcast at 2:30 PM on GMA and GTV, the "NCAA Season 98: Achieve Greatness Every Day Opening Ceremony" welcomes back the ten member schools led by Season 98 host Emilio Aguinaldo College (EAC).
This season marks the return of more exciting collegiate sports events. On top of the Men's Senior Basketball and Women's Volleyball tournaments, NCAA Season 98 welcomes back the Cheerleading Competition, Swimming, Track and Field, Juniors' Basketball, Men's Volleyball, Beach Volleyball, Taekwondo, Chess, and the All-Star Basketball and Volleyball games.
Season 98 Policy Board President Dr. Jose Paulo Campos of Emilio Aguinaldo College underscored the importance of inspiring student athletes to be great in everything they do.
"For the past two seasons, we have seen the resilience of our member school communities and student-athletes. As we begin Season 98, the Philippines' first collegiate athletic competition remains steadfast in instilling values in our students: 'Achieve Greatness Every Day.' We continue to inspire everyone to do their best in everything they do, every day. And we are honored and grateful that our new home, GMA Network thru GMA Synergy, is with us every step of the way," said Dr. Campos.
In full support of NCAA Season 98 are the members of the Policy Board namely Francisco Paulino Cayco of Arellano University; Fr. Rector Clarence Victor Marquez, OP of Colegio de San Juan de Letran; Br. Edmundo Fernandez, FSC of De La Salle-College of St. Benilde; Dr. Vincent Fabella of José Rizal University; Atty. Roberto Laurel of Lyceum of the Philippines University; Dr. Reynaldo Vea of Mapua University; Fr. Aloysius Maranan, OSB of San Beda University; Fr. Rafael Pecson, OAR of San Sebastian College-Recoletos; and Dr. Anthony Jose Tamayo of the University of Perpetual Help System DALTA.
NCAA Season 98 Management Committee Chairman Estefanio Boquiron, Jr. of Emilio Aguinaldo College likewise shared how this season will further allow NCAA to showcase the greatness every student-athlete possess.
"Having adapted to the New Normal, our student-athletes are better equipped this season. They have been training since Season 96 and 97 and are excited to showcase their talents on court. And with GMA Network's continued support, we look forward to an exciting season with more sporting events to be staged and broadcasted by GMA," added Boquiron.
Boquiron is joined by members of the NCAA Management Committee: Pedro Cayco (Arellano University); Fr. Victor Calvo, Jr., OP (Colegio de San Juan de Letran); Manuel Raymund Castellano, Jr. (De La Salle-College of St. Benilde); Efren Jose Supan (José Rizal University); Hercules Callanta (Lyceum of the Philippines University); Melchor Divina (Mapúa University); Atty. Jonas Cabochan (San Beda University); Fr. Virigilio Paredes, Jr., OAR (San Sebastian College-Recoletos); and Francisco Gusi, Jr. (University of Perpetual Help System DALTA).
"In Season 96, we all Rose Up Stronger. Then in Season 97, we were Stronger Together. Buo ang Puso. Now, as we usher in NCAA Season 98, we all aim to Achieve Greatness Every Day," said GMA Network Chairman and CEO Atty. Felipe L. Gozon in his message. "This season also highlights inspiring stories from the different teams and looks to grow the NCAA community beyond the games thru various grassroots developments of the NCAA sports. To our student-athletes, we wish you the best as you all aim for greatness in your respective sports. Rest assured that GMA Network – as the proud home and partner of the country's first athletic league – fully supports the NCAA in showcasing your world-class talent on all our platforms," he added.
Through the wide reach of the GMA Network, viewers across the Philippines and around the world are able to have more access to NCAA via free-to-air channels GMA and GTV, as well as the Network's flagship international channel, GMA News TV International. The games will also be streamed on the NCAA Philippines website (www.gmanetwork.com/ncaa), NCAA Philippines Facebook page and YouTube channel, and GMA Sports' Facebook and Twitter pages. Kapuso abroad can catch all the action via GMA Pinoy TV and GMA News TV.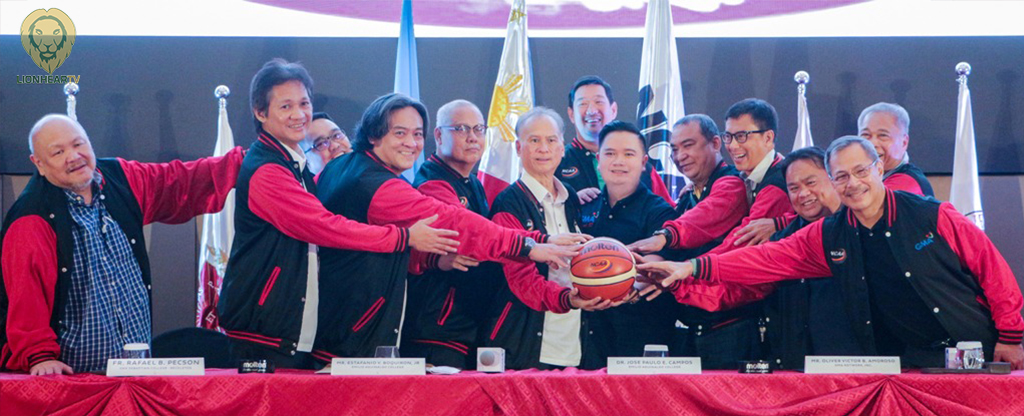 "We, at GMA Network, especially your Synergy, are very excited to show you the fruits of our meticulous planning and preparation for Season 98, starting with our Opening Ceremony on September 10 at the Araneta Coliseum, where we will be presenting the teams in a fiesta vibe, showcasing the best of and in the Philippine regions. I invite you to join us as we celebrate greatness every day in NCAA Season 98," said First Vice President and Head of GMA Regional TV and Synergy Oliver Victor B. Amoroso.
Star-studded opening day
The "NCAA Season 98: Achieve Greatness Every Day Opening Ceremony" treats viewers and sports enthusiasts with a star-studded Saturday afternoon.
Hosting the event is no less than 'Game-On!' Host, NCAA Season 98 Sportscaster, and GMA Sparkle artist Martin Javier with Manolo Pedrosa and Ms. Universe Philippines 2020 Rabiya Mateo.
Joining the 10 NCAA teams are their beautiful muses Pam Prinster, Lianne Valentin, Gabrielle Hahn, Caitlyn Stave, Arra San Agustin, Angela Alarcon, Tanya Ramos, Sophia Señoron, Roxie Smith, and Pauline Mendoza. Rallying behind the student-athletes are the NCAA Season 98 Cheerleaders.
The start of the much-awaited NCAA Season 98 Men's Basketball tournament follows after the Opening Ceremony on GTV.
This season's host school Emilio Aguinaldo College Generals face the Arellano University Chiefs at 3:30 PM. The second game sees Mapua University going up against San Beda University at 9:30 PM on GTV.
Pumping up the opening ceremonies are electrifying performances from Mark Bautista, Rochelle Pangilinan, Jessica Villarubin, Anthony Rosaldo, Thea Astley, Jeremiah Tiangco, Sean Lucas, Mannex Manhattan, Ken San Jose, the Gueco Twins, and XoXo.
Tickets for the September 10 games are available via www.ticketnet.com.ph or on-site at the Araneta Coliseum Ticket Booth.
Don't miss the NCAA Season 98 action as GTV airs the live games every Tuesday, Wednesday, Friday to Sunday at 12:00 NN.
Catch 'Game On!' starting September 5 to 9, 10:30 AM, on GTV with regular episodes in-between games during the entire NCAA Season 98. The five-episode NCAA primer is hosted by Martin Javier, Anton Roxas, and Martin "Coach Hammer" Antonio.
On free-to-air, GTV can be seen on Channel 27 in Mega Manila and various parts of the country.
For more updates on NCAA, visit its official website www.ncaa.com.ph. Follow @ncaaphilippines, @gmasynergy, and @gmasportsph on social media.
Comments