Netizens complained about a question asked in the Maritest segment of Tropang LOL in an episode aired on Tuesday, September 13.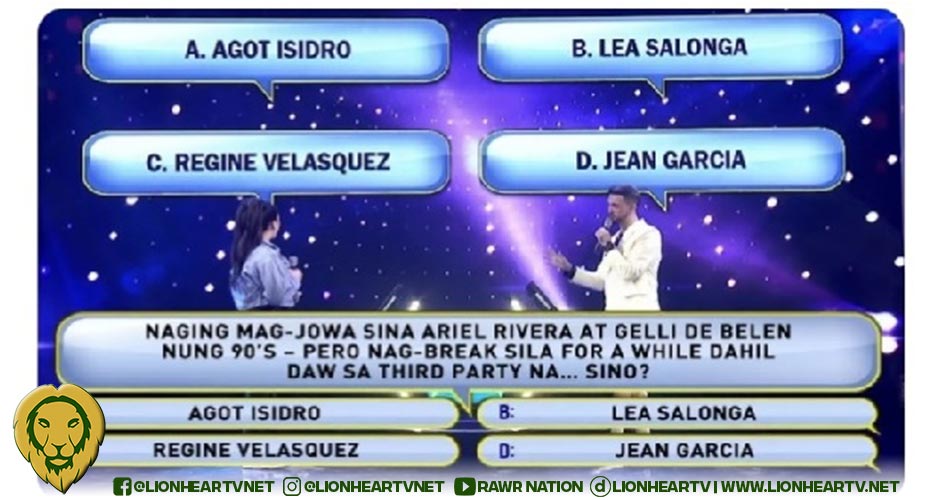 The controversial question talked about the past issues of Ariel Rivera, Gelli De Belen, and Regine Velasquez-Alcasid.
"Naging mag-jowa sina Ariel Rivera at Gelli De Belen nung 90s—pero nag-break sila for a while dahil raw sa third party na…sino?"
The choices given were A. Agot Isidro, B. Lea Salonga, C. Regine Velasquez, and D. Jean Garcia.
Many netizens were dismayed with the show's segment as they deemed the question "insensitive".
A netizen on Twitter posted a video of Boy Abunda's interview with Regine Velasquez-Alcasid. In the video, it was clarified that Rivera courted Velasquez before. Abunda managed  Rivera as his talent.
Another netizen claimed that Rivera asked the permission of Velasquez's parents before courting her. The video showed an interview with Velasquez's dad.
Dun sa researcher ng show na ito mahiya ka naman sa pag fake news mo si Regine niligawan nung guy at nagpaalam pa sa magulang ni Regine at sinabing break na sila. Eto mismo ang proweba. https://t.co/crMB6RBKhx pic.twitter.com/9u1Y4wJupq

— . (@datskingkylie) September 13, 2022
whoever thought of this question, i hope mang gerry haunts you in your sleep pic.twitter.com/nMysPGsasQ

— ʟɪʏᴀʜ (@NlCOLEKIDWOMAN) September 13, 2022
https://twitter.com/deffonot_judyy/status/1570080259642630145?s=20&t=DOoKUqsqMoKfvfdfZe2rNw
Yung segment producer or writer ang dapat sisihin dito, talagang sinasadya nila mag trending kahit nega sila sa tao.

Pano struggling sa ratings, online engagements at pagiging relevant overall. Kapal ng mga mukha nyo, mag tae sana mga anak nyong mga kupal kayo @tropang_LOL! https://t.co/nmx6BmHlS9

— I'M THAT GIRL (@imthatkween) September 13, 2022
The show does the stupidest, most insensitive things for popularity. Sad to say, the SHOW is TRASH @tropang_LOL https://t.co/Nf6Qx1goS7

— Maxvii (@a_xiann) September 13, 2022
@tropang_LOL if you can't think of better questions, might as well consider ending the show. Stop giving us more reasons to hate the hosts, the writers and the show itself. #CancelTropangLOL https://t.co/MQ7DPFHIEY

— JaeI (@StanQueenRegine) September 13, 2022
Aside from this, Tropang LOL was involved in other controversies before.
Currently, Tropang LOL casts Ariel Rivera, Gelli De Belen, and Regine Velasquez did not respond to the issue.
Comments