The HUAWEI nova Series has always exuded a distinctly youthful vibe among Huawei's entire slate of cutting-edge devices. From aesthetics, to performance, and of course imaging, the Huawei nova line is set to be put into greater heights with the launch of the new HUAWEI nova 10 Series.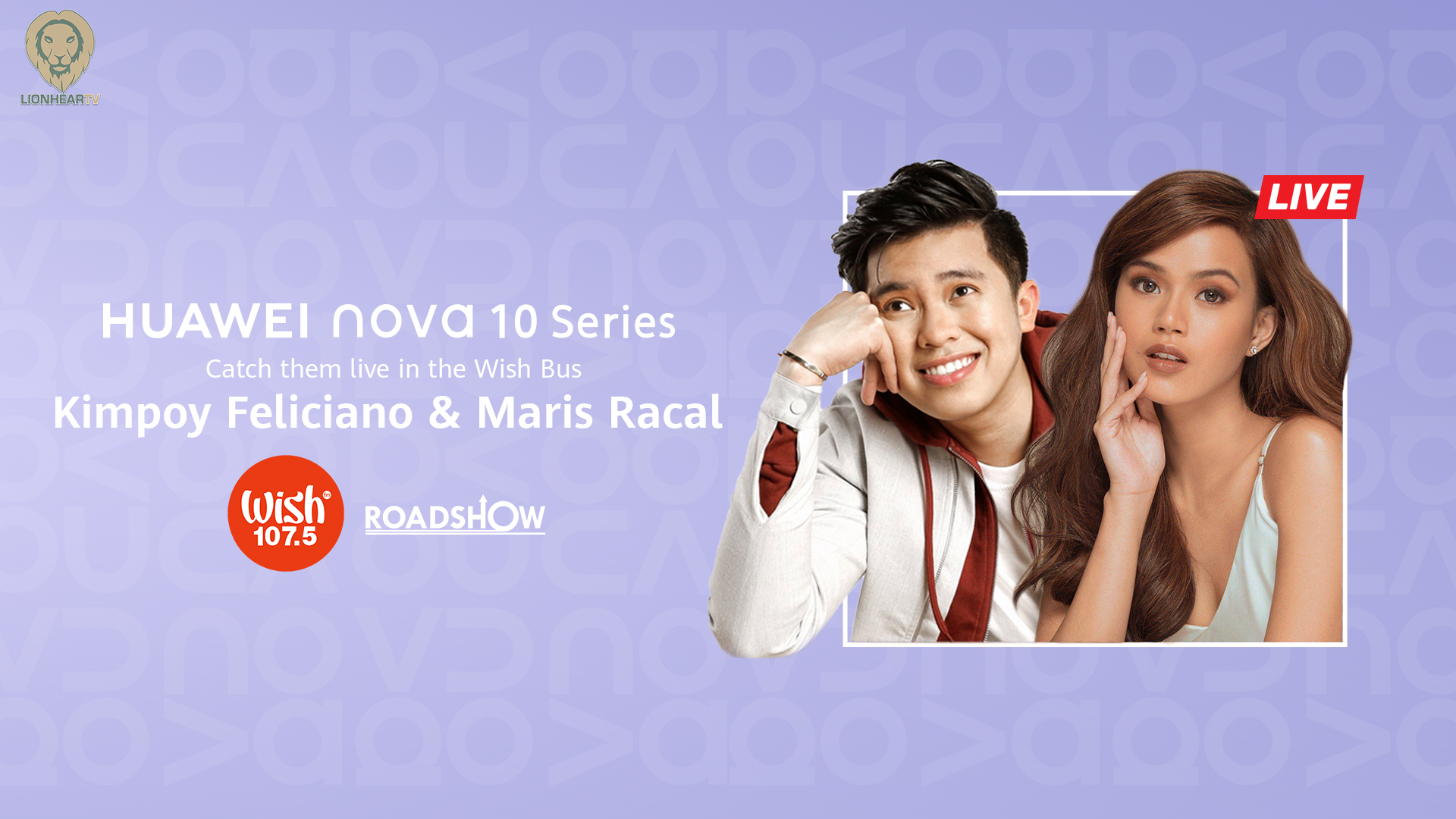 Behind the new series is the HUAWEI nova 10 Pro and HUAWEI nova 10 that boast of the biggest front camera megapixel in the market, as well as ultra-vision camera system, and ultra-wide front solutions making it an industry first in the selfie and vlogging department. Joining in the amazing line up is the HUAWEI nova 10 SE that houses over 100MP main rear camera making it ideal for pixel-perfect zooms and impeccable night portraits.
The HUAWEI nova line has always been HUAWEI's gift to the youth — with technologies and innovations tailored fit to the needs and interests of young generations as they evolve. HUAWEI engineers owe their best innovations to young people after all, whose ideas and feedback keep the tech brand in touch with the way the world is changing. With the HUAWEI nova 10 Series being the accessible flagship smartphone for the young generation, it has carried out the line's winning formula even more by putting its paces in partnership with WISH FM. WISH FM is the first and the only Mobile Radio Booth in the Philippines that continuously takes the traditional radio experience beyond the four-walled booth as it brings pure amazing local music right where most of the listening public are — streets, roads, and parks. In this partnership, both brands come together to celebrate and empower even more youth's passions and interests by creating an avenue where all voices are heard, and encouraged. The famed touring radio show will have two of the hottest vlogging stars in the Philippines today, to demonstrate just how capable the new nova smartphones are.
Featuring musical sensation Maris Racal and vlogger extraordinaire Kimpoy Feliciano, the WISH Bus web show includes a mobile video booth, and a dedicated nova booth that will showcase live displays of the units where the audience can test drive the HUAWEI nova 10 series, as well. What better way to capture the magic of the event than with a powerful selfie vlogging smartphone, right?
A bop discourse with Maris Racal
The first guest on WISH FM's Huawei special is pop singer and vlogger Maris Racal, whose YouTube channel hosts videos on her hauls, home improvement, and even cooking exploits. That's just on top of her music-centric content such as music videos, dance practices, and random slice-of-life vlogs.
With the goal of encouraging and empowering youths to explore their passions and interests with the best equipment available, Maris will help the WISH DJs unbox one of the HUAWEI nova 10 Series phones, taking its large front camera megapixel in the market for a spin to see how well it fares in a variety of lighting environments.
Of course, Maris will grace WISH listeners and audience with a moody pop performance live, with live recordings filmed straight out of the HUAWEI nova 10 Series for optimum fidelity.
For someone like Maris who thrives on reproducing smooth vocals alongside crisp videos, the HUAWEI nova 10 Series surely fits her needs like a glove.
Kimpoy Feliciano and the art of vlogging
For the second webisode, Kimpoy Feliciano boards the WISH Bus with his trademark pep and everyman humor to unbox and examine a different HUAWEI nova 10 Series smartphones. Kimpoy's YouTube uploads range from the frequent travel escapade, to shopping vids, to the occasional prank vlog for maximum entertainment coverage.
The webisode will center around Kimpoy's "How to be a nova Vlogger" tutorial, which entails leveraging the power of the nova HUAWEI 10 Series phone at their disposal. With features like Ultra Vision unit camera system, and Ultra Wide solutions for its front camera, every road trip, gastro-adventure or shopping spree can be documented in ultra-high quality.
Show off skills by joining HUAWEI's #novaStarVlog Challenge
In partnership with Bilibili, one of the largest video platform for anime, comics and gaming (ACG) content in Southeast Asia, the #novaStarVlog Challenge opens its doors again to all creators, vloggers, and rising nova superstars! All aspiring content creators of today can rise up to the challenge and upload their original video with the hashtag #novaStarVlog! Creators who contribute high-quality videos will have a chance to win the all-new HUAWEI nova 10 SE and other great prizes! Entries will be accepted on Bilibili's official website and app starting from October 21-November 4.
Explore possibilities with AppGallery
Completing the HUAWEI nova 10 Series' toolkit for the essential vlogging experience is the HUAWEI AppGallery that provides a trove of apps that top creators swear their subscriber counts by.
From creative apps like Canva, CapCut, and FilmoraGO, to social/chat titles like Viber, WhatsApp and Telegram, down to productivity software like SHAREit, Microsoft Office, and WPS Office — there's no shortage of apps to expand one's horizons with.
Explore the AppGallery with the nova 10 Series and discover a unique lens into that millennial/gen Z lifestyle!
Much like the youthful generation that inspired it, the nova 10 Series oozes trend-setting hardware design and tech-powered creative freedom in one stylish package. To see what the future of vlogging looks like, check out more at Huawei and WISH FM's social media pages for the special web shows to be telecasted on October 21and October 28, 2022.
Exclusively for you: HUAWEI nova 10 Series Early Bird Surprise
Don't miss out too on the Early Bird Vouchers that will be offered in the HUAWEI Online Store, as well as in e-commerce platforms Lazada, and Shopee. To all aspiring nova users out there, all you have to do is visit the official HUAWEI Store homepages starting from October 10-20, 2022 to collect PHP 400 vouchers — that could be redeemed as soon as the HUAWEI nova 10 Series opens its pre-orders on October 20-22, 2022.
Visit these product info pages to know more about the HUAWEI nova 10 Pro, HUAWEI nova 10, HUAWEI nova 10 SE, and make sure to stay tuned at Huawei Philippines' official pages on Facebook, Twitter, and Instagram.
Comments