Through the years, Twitter has become the go-to place for real-time trends and insights around important discussions on entertainment, current affairs, and pop culture.
That's what happened with the latest historical drama #MariaClaraAtIbarra.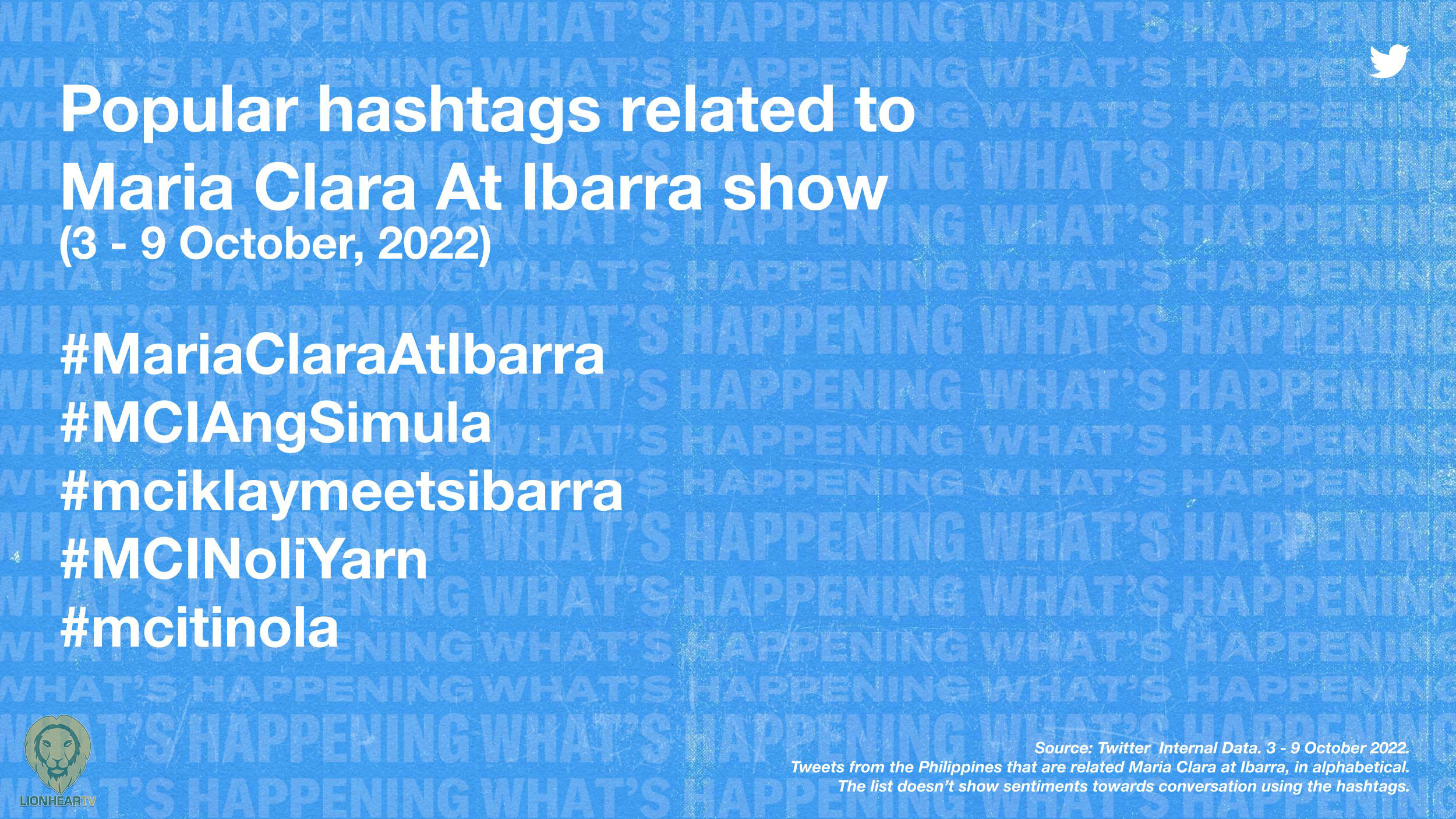 Over 200,000 Tweets related to the show were generated during its first week (3-9 October 2022). Starring leading Kapuso artists Barbie Forteza (@dealwithBARBIE), Julie Anne San Jose (@MyJaps), and Dennis Trillo, the historical drama revolves around a young female student who gets transported to the world of Jose Rizal's novels Noli Me Tángere and El Filibusterismo.
The Noli and Fili are set in turn of the century Philippines, during the Spanish colonial era.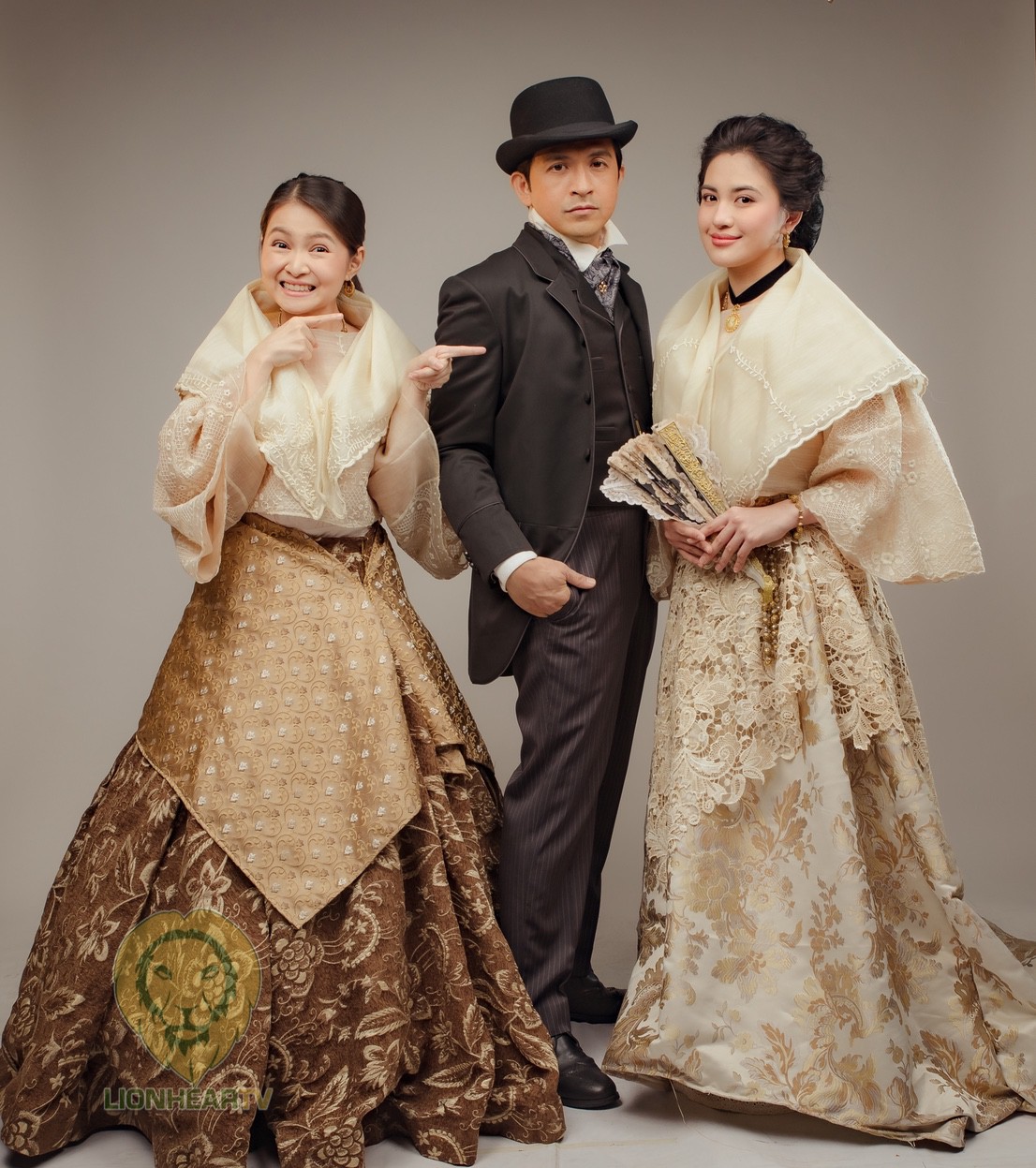 The show's unique story line and educational theme were commended by viewers as it offers something new on Philippine television.
As seen on the Twitterverse, Filipinos also showed appreciation for the show's overall production including its script, setting and cinematography on Twitter, arguing it qualifies as a Netflix-quality production.
Finally a show that is so worthy to be put on Netflix #MariaClaraAtIbarra ✨ not gonna lie this is really good!

the lines, the actors, the cinematography and the humor what a fresh series from the Philippines 🤍🇵🇭

— kai (@imnotkaiii) October 5, 2022
#MariaClarraAtIbarra's pilot week left me in awe. It screams perfection – great casting (including extras), PLOT, dialogue, cinematography, setting, AND addressing social issues which exist in the past and still relatable in today's time.#MCIAngKaaway pic.twitter.com/2ZLAa6UyED

— Cheon Seo Jin (@drama_stantwt) October 8, 2022
Appreciation for arts and culture
Filipinos love entertainment and flock to Twitter to unite and converse on #whatshappening around pop culture. Twitter easily gets flooded with comments–good or otherwise–when a new show runs on television. Some people took to Twitter to share their admiration for the show's cinematography, production, and the show's attention to detail.
Wow! Can we just appreciate this scene in the 4th episode of #MariaClaraAtIbarra! What an effort!

A continuous shot for about three minutes!

Kudos to the whole production! The art, dedication, cinematography, & direction!

How many hours of practice and takes it took? 😱 pic.twitter.com/I31hUFPfxU

— Gelo Medina (@GeloMedina23) October 7, 2022
Small details 👏✨#MCIKlayMeetsIbarra pic.twitter.com/eRmCunBcFk

— //bry// (@sehunfoot) October 5, 2022
Filipinos on Twitter also praised the drama's plot, stating that the social issues highlighted by Rizal's work continue to be relevant. In a Tweet with more than 4,000 Retweets and 25,000 likes, @TRAHEDYAGAYS also took note of the progressive and relevant takes on social issues including labor, feminism, and mysogyny among others.
maria clara at ibarra discussing education, labor, feminism, misogyny, ethnocentrism and etc. only three episodes in. they're having a STELLAR first week pic.twitter.com/z9H2d2fR17

— C | taking a break ! (@TRAHEDYAGAYS) October 5, 2022
Emojis speaks louder than words
The top emoji related to the series is the 👏 which expresses the viewers' collective awe. The character Maria Clara was the most talked about character, followed by Ibarra, Klay, and Padre Salvi. Julie Anne San Jose and Barbie Forteza also garnered the most mentions among the cast. Aside from #MariaClaraAtIbarra, #MCIAngSimula and #MCINoliYarn also trended.
Here are the top hashtags related to Maria Clara at Ibarra show (in alphabetical order)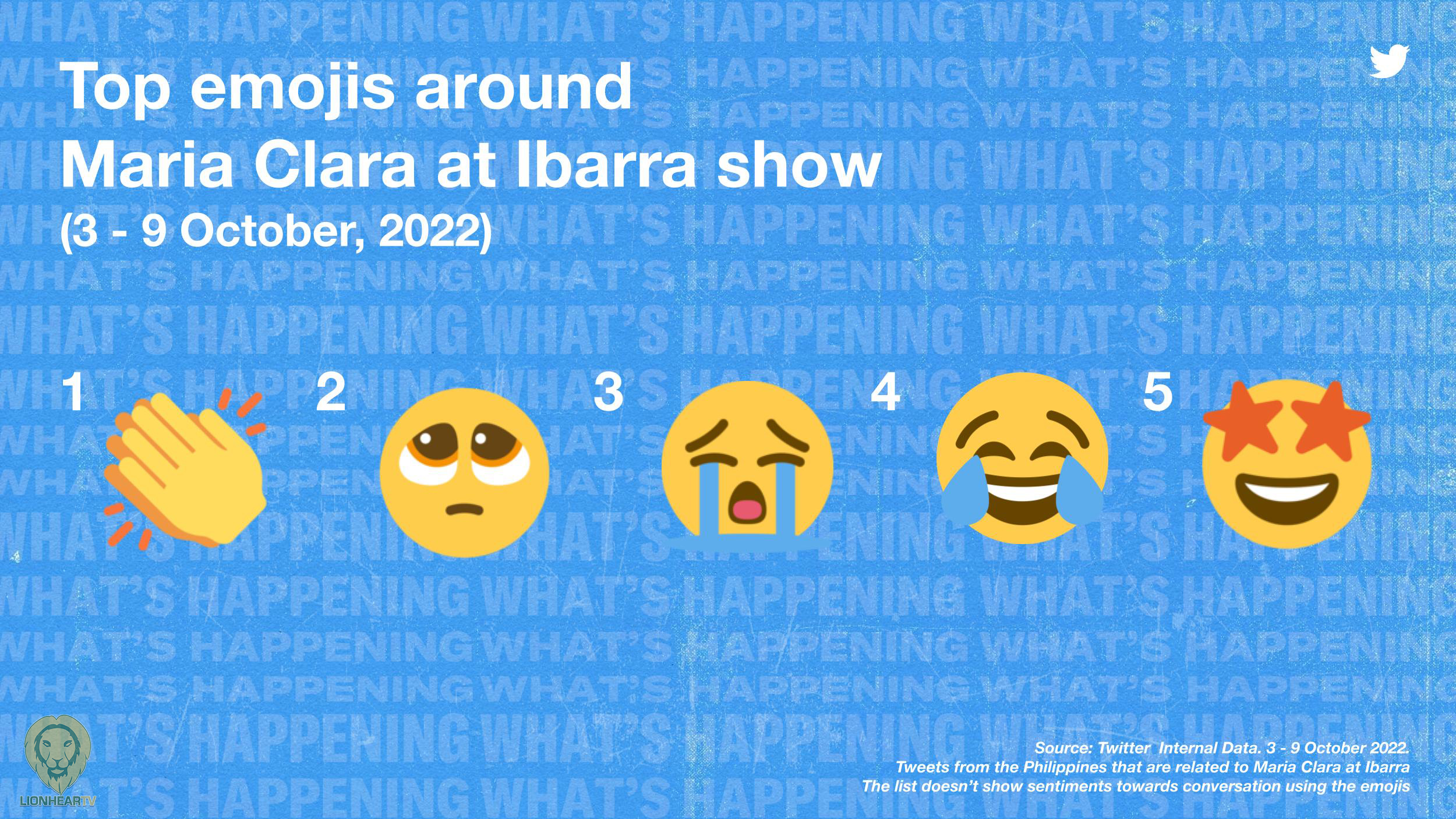 Here are the top emojis related to Maria Clara at Ibarra show
TV shows are among the entertaining and relevant conversations on Twitter in the Philippines. Twitter is where you can find the latest trends, news, and insights on a wide range of topics within different local, regional, and global communities.
Are you excited for the next episode? Be sure to check out Twitter to see the latest conversations about #MariaClaraAtIbarra and be connected with other fans!
Comments