Cebu Pacific (PSE: CEB), the Philippines' leading airline, caps off the year with another #CEBSuperSeatFest on December 12 as it gifts everyJuan with a ChristMAS SULIT sale for everyJuan who wishes to travel to domestic and select international destinations.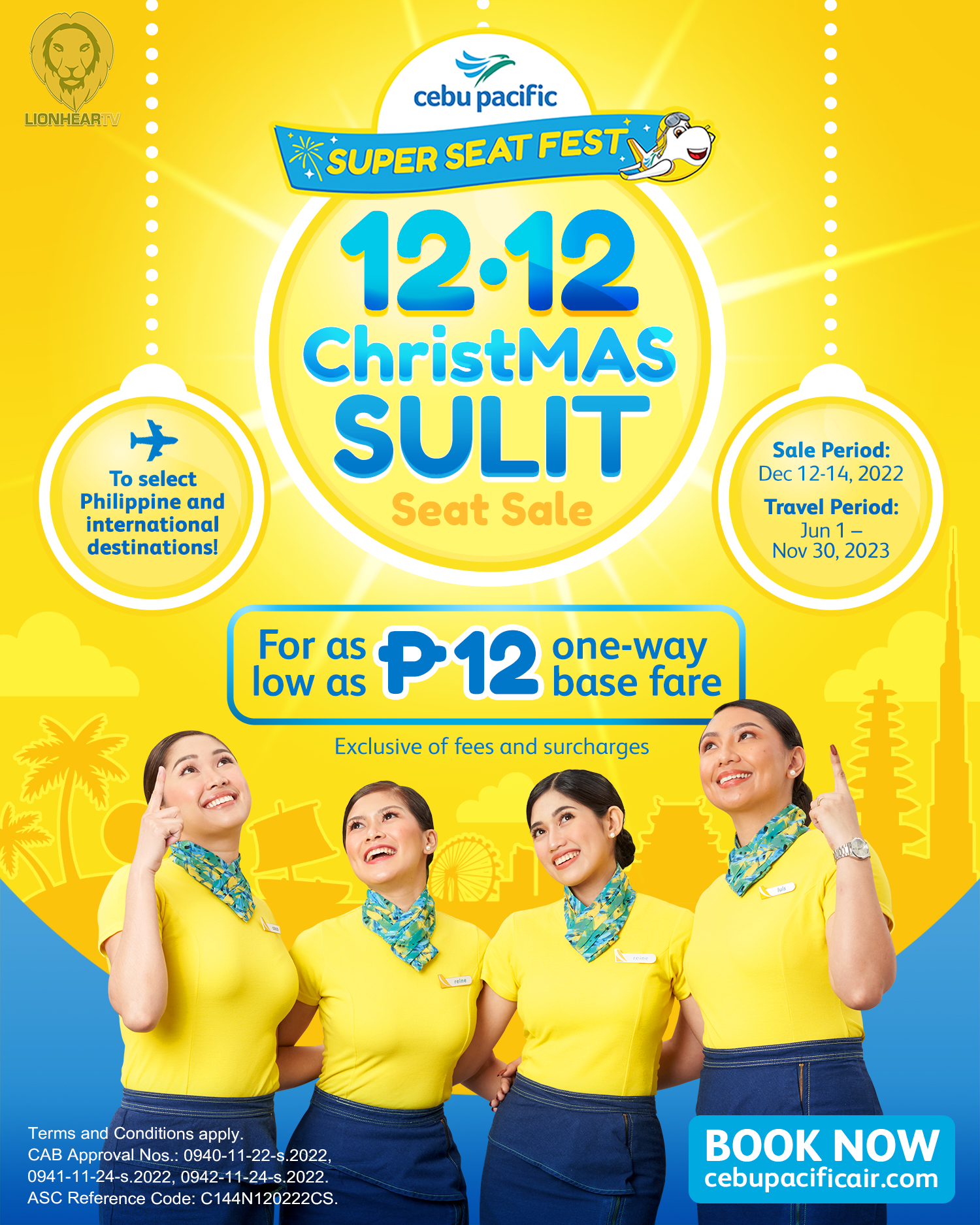 For as low as PHP 12 one-way base fare (exclusive of fees, surcharges), Cebu Pacific's three-day offer will run from December 12-14. Travel period is from June 1 to November 30, 2023.
"We want to inspire everyJuan to fly so we're holding our final seat sale for the year. Do not miss out and grab the chance to book your dream trips for you and your loved ones," said Carmina Romero, Cebu Pacific Corporate Communications Director.
The 12.12 #CEBSuperSeatFest allows everyJuan to experience the best of the Philippines – whether that's a food adventure in General Santos, Zamboanga, Manila, Davao, or Iloilo; or a beach getaway in Palawan, Siargao, Bohol, Cebu, or Boracay.
CEB also made it easier for passengers to book those much-awaited international trips of their dreams to Dubai, Bali and Jakarta in Indonesia, Kuala Lumpur and Kota Kinabalu in Malaysia, Ho Chi Minh and Hanoi in Vietnam, and Singapore.
Passengers with existing travel funds may use these to pay for flights and add-ons during CEB's seat sales. Apart from Travel Fund, other payment options may also be used, such as payment centers, credit/debit cards, and e-wallets.
To date, CEB flies to a total of 34 domestic and 19 international destinations. The airline continues to implement a multi-layered approach to safety while it operates with a 100% fully vaccinated crew, 98% of whom have been boosted – all to ensure everyJuan flies safely and conveniently on Cebu Pacific. Book your trips now at https://bit.ly/CEB121222SSFcc
Comments