Over the years, host communities and established organizations have witnessed SN Aboitiz Power Magat (SNAP-Magat) advocacy for environmental sustainability. On November 28,2022, a partnership was formed in Nueva Vizcaya with the establishment of the Aboitiz Passion for Agroforest and Reforest to Keep (A-PARK) project.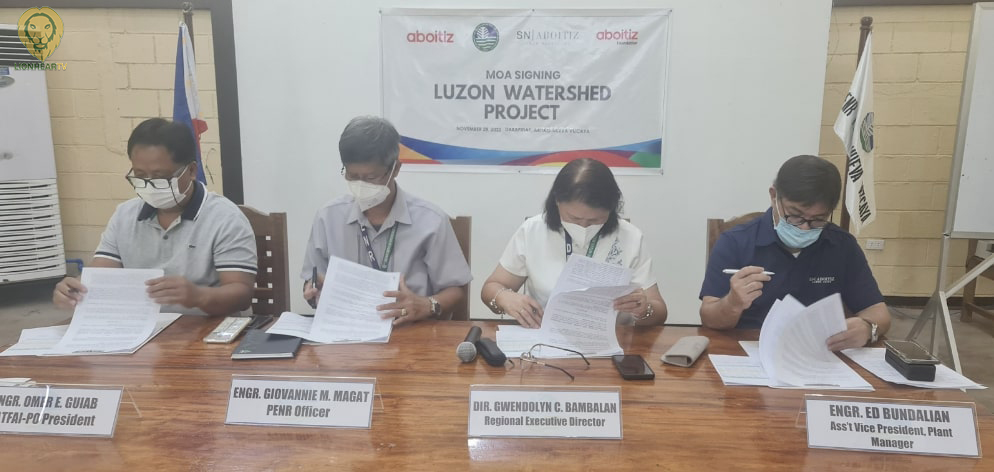 A Memorandum of Agreement (MOA) was signed at the office of the Department of Environment and Natural Resources – Community Environment and Natural Office in Darapidap, Aritao, Nueva Vizcaya by Department of Environment and Natural Resources Region 2 Regional Executive Director (DENR R2 – RED), DENR Provincial Environment and Natural Resources Office (DENR-PENRO), Ongkay Abetungan Tree Farmers Association Bufferzone Occupants, Inc. (OATFAI) and SNAP-Magat. The program is called the "Luzon Watershed Project."
The MOA expressed its support for environmental initiatives via A-PARK, which is funded by Aboitiz Equity Venture (AEV) through its social development Aboitiz Foundation, Inc. (AFI).
APARK will rehabilitate denuded and deforested areas identified by the DENR-PENRO within the Magat Watershed or adjacent to the Magat reservoir in the province.
Engr. Gwendolyn C. Bambalan, Regional Executive Director (RED), in her message she gave emphasis that the government through the DENR, local community and private sector such SNAP Magat makes a significant contribution in mitigating climate change. "This project within the protected area of Dupax Protected Forest Reserve contributes to the efforts of increasing the forest cover in the park as an ecotourism destination and with its success will be felt not only within the protected area but also will radiate to adjoining watersheds and communities contributing to environmental programs.
Engr. Giovannie Magat, the Provincial Environment and Natural Resources Officer (PENRO), expressed gratitude for this environmental collaboration. "This project has been in the works for quite some time, we are glad that it finally came to reality; [this] will greatly contribute to the region's desire to improve the watersheds in Region 02," he said.
The OATFAI, a people's organization in the province, will be the main implementing unit of the project to which the success of the partnership project significantly relies.
The project is a reforestation program that involves the planting of 18,750 forest trees and fruit bearing seedlings over a 10-hectare (ha) area within the Dupax Watershed Forest Reserve. The project will last four years and will cost Php2 million, with AFI contributing Php1.5 million and SNAP-Magat contributing Php500,000.
The Luzon Watershed Project reaffirms SNAP's commitment to promoting environmental responsibility. "It is only through collective action and cooperation that we can make progress toward our common goal of a sustainable future for future generations," said Atty. Mike Hosillos, SNAP Group Vice President for Corporate Affairs.
The project will be implemented by OAFTAI, a people's organization based in Dupax del Sur that shall primarily implement the key activities of the project.
Jhonber Castillo, SNAP Group Watershed Sr. Specialist said that SNAP is constantly implementing environmental programs to help save the planet. "This is SNAP's first environmental project in Nueva Vizcaya, and we are grateful to our government partners and community organizations for their shared commitment to environmental conservation," Castillo said.
To date, SNAP-Magat's environmental initiatives have planted over 136, 600 seedlings of various species covering an area of approximately 92 hectares (ha).
Comments