Did you know that it takes 450 years for a plastic bottle to break down naturally? For a plastic toothbrush, it's even longer at 500 years.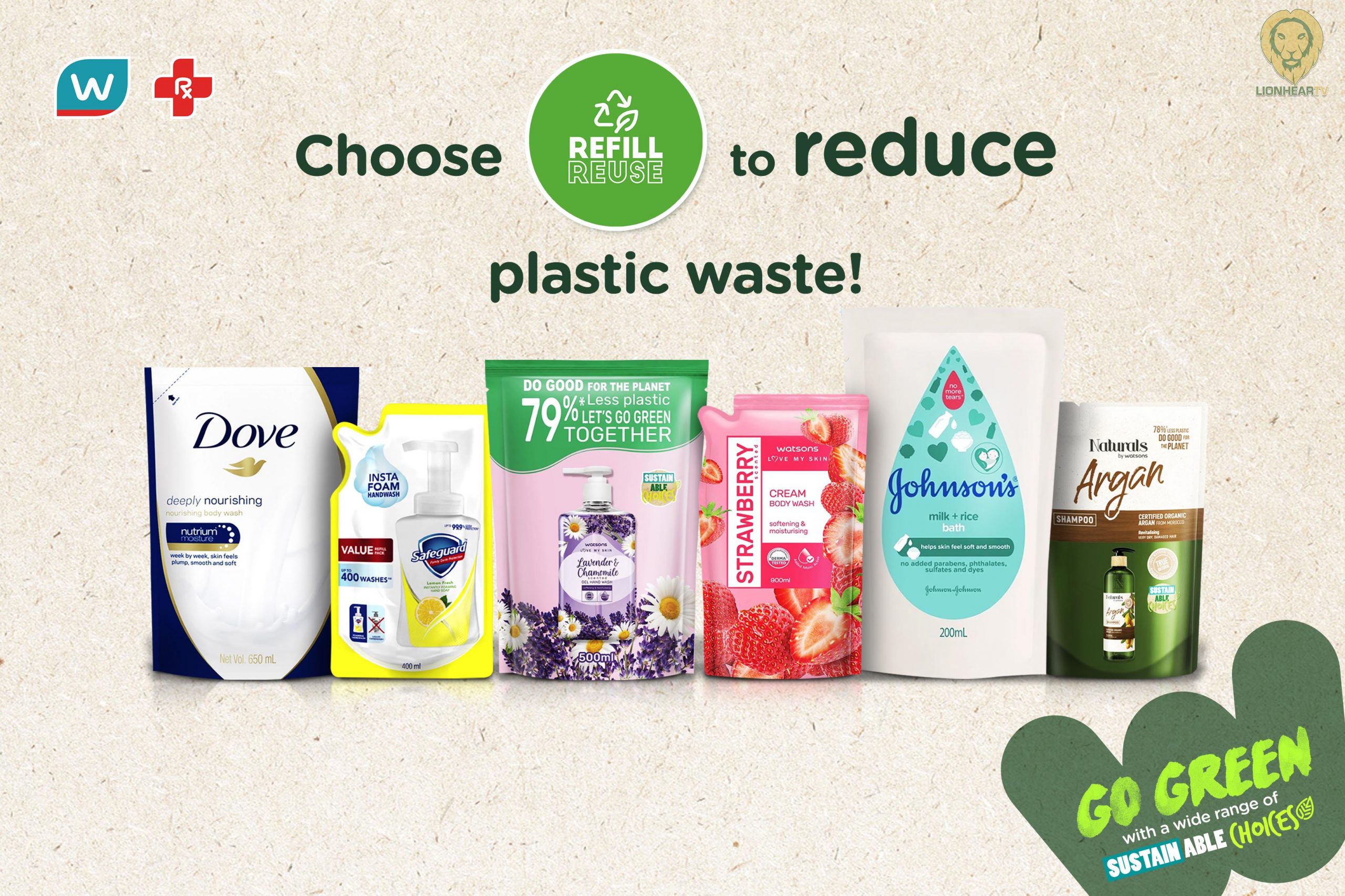 Plastic waste ends up in our oceans and this results in frequent flooding, marine life degradation, loss of certain marine species, and lower fish yields. The Philippines is estimated to emit 35% of the ocean's plastic, with 356,371 of metric tons of plastic waste annually. (1)
More and more consumers are helping minimize plastic pollution and saving the planet by refilling. Refills use 75% less plastic vs. regular bottles. Customers also save up to 40% when buying refills vs. regular bottles.
"I urge everyone to consider using refillable containers as it is one of the most effective means of protecting and preserving the environment. Less use of plastic means less plastic waste in our waterways and this will lead to the continuous preservation of our marine and avian species, as well as the reduction of flooding, among others," said Aida Esguerra. Chief, Conservation and Development Division of the Department of Environment and Natural Resources, National Capital Region.
Since the pandemic, Cristelle Corpuz, an eco-conscious Gen Z, has chosen refills and refill packs when they are available.
"Out of curiosity, I tried collecting my plastic trash for a period of time. After just a few weeks, I realized how much waste I am contributing. This made me feel guilty and I thought of ways on how I can minimize my trash, now I opt for refills." said Corpuz.
"I choose refills to avoid waste from going to landfills and further polluting the environment," said Laurice Bautista, who supports and practices sustainability.
"As a busy mom, I am always looking for ways to save time and money, but I also care deeply about the environment. Using refillable containers has allowed me to do both. I can save up to 40% compared to buying a regular bottle, and I feel good knowing that I am reducing my plastic waste," said Donna Yan, a mother of three.
Shawntel Nicole Nieto, Society of Sustainability Practitioners (SSP) President, underscored the importance of refilling as a more proactive way of addressing the problem of plastic waste.
"Refilling helps people maintain a more sustainable lifestyle by encouraging them to get rid of the excess materials they would, more often than not, discard as waste. In a sense, instead of relegating the duty of waste management to consumers as is the case now, refilling lets the manufacturers and retailers take responsibility for it, in the process making living sustainably much easier for everyone," said Nieto, who was part of Forbes' Under 30 in 2022.
Sustainability advocate and chemist Jonas Marie Dumdum, SustainablePH board member, said refilling is an old method that needed to become more common.
"Refilling is not new to the Philippines in the sense that this is still practiced in rural areas, and this was one of the norms in Filipino society before. Looking at how our lolos and lolas did it before may prove to be valuable to us. By integrating traditional methods with, let's say, digital technology, the refilling movement could transform the way we consume products in the future," said Dumdum.
Leading health, wellness, and beauty retailer Watsons has been at the forefront of responsible consumerism with a sustainability program that's anchored on four pillars: Planet, People, Community, and Customers.
Watsons has launched two Refill Stations for Naturals by Watsons at its SM Megamall and the flagship store in The Block SM City North Edsa store to encourage more consumers to do good by reusing their plastic bottles, thereby reducing the use of plastic. The Refill Stations are part of A.S. Watson Group's global commitment to encourage its customers to lead more sustainable lifestyles by offering more options for them to do so.
Watsons also offers a wide variety of refill packs of personal care products, including liquid hand soaps, shampoos, lotions, toothbrush refills, shaver cartridges, foundation, and many others. The retailer is also convincing more of its suppliers and manufacturers to join the refill revolution to help save the planet.
"Recycling helps save the planet. But refilling is definitely a better option because refills consume 75% less plastic than regular bottles. To the customer, it is also more affordable," said Viki Encarnacion, Watsons PR and Sustainability Director.
Refilling is an important part of a sustainable lifestyle. Going for refills is one of the best things you can do for the planet. Join those who have joined the refill revolution and help save the planet!
Comments