GMA Regional TV is making the festive celebration of 86th Araw ng Dabaw more vibrant as it brings the stars of "Voltes V: Legacy" to Davao City this Friday, March 17.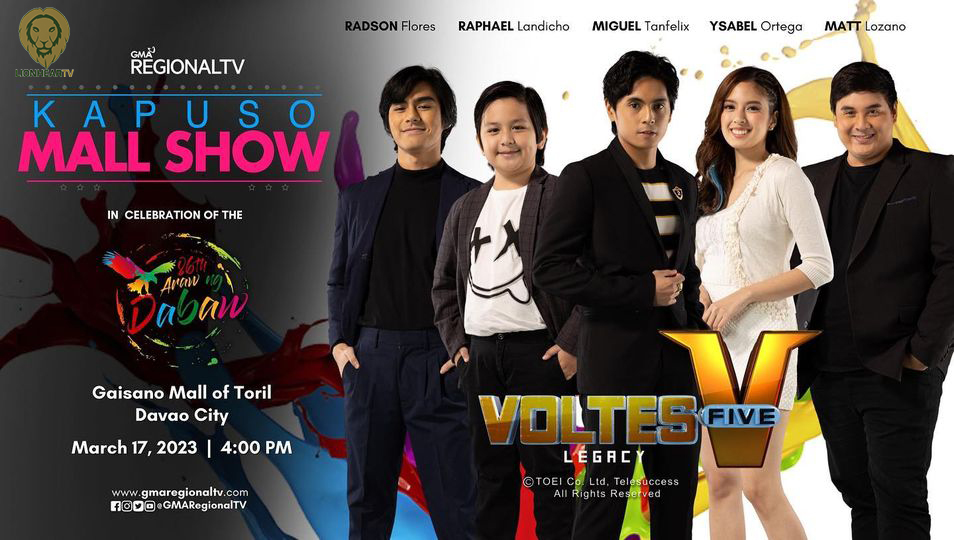 The cast of the highly-anticipated live-action series Voltes V: Legacy – Sparkle stars Miguel Tanfelix, Ysabel Ortega, Radson Flores, Matt Lozano, and Raphael Landicho – will 'volt in' and treat their fans to a thrilling Kapuso Mall Show at Gaisano Mall of Toril. The fun begins at 4pm.
The multi-cultural city of Davao is definitely back in celebrating its founding anniversary with in-person month-long festivities after a three-year hiatus due to COVID-19 pandemic.
"GMA Network continues to bring our Kapuso programs and artists closer to our viewers in the regions. We are very excited to have the cast of the Voltes V: Legacy joining us for the 86th Araw ng Dabaw celebration. This is our early summer treat to our Kapuso viewers who remain loyal to GMA. Like the rest of the country, we are looking forward to the Philippine TV debut of this highly-anticipated live-action series. We hope our Kapusong Dabawenyos will enjoy the surprises we have in store for them," said First Vice President and Head of GMA Regional TV and Synergy, and Acting Head of GMA Integrated News Oliver Victor B. Amoroso.
Ahead of its much-awaited debut on Philippine TV, Voltes V: Legacy has been making rounds all over the country. Miguel and Ysabel were warmly welcomed by their fans during the celebration of Ati-Atihan Festival in Kalibo, Aklan last January 12. Miguel, Ysabel, Radson, Matt, and Raphael were in full force as they graced the Sinulog Festival of Cebu City last January 14, the Kaisa Festival of Tarlac City last January 17, and the Dinagyang Festival of Iloilo City last January 21. The Kapuso stars also made February regional festivities extra special as they participated in the celebration of Kannawidan Festival in Ilocos Sur last February 12 and the 86th Dia de Zamboanga in Zamboanga City last February 18. Moreover, Voltes V: Legacy stars treated their fans during their Kapuso Mall Show in Angeles City, Pampanga last February 25.
All the freshest news, events, and updates about GMA Regional TV are now available on www.gmaregionaltv.com. Follow GMA on Facebook at www.facebook.com/gmanetwork and GMA Regional TV at www.facebook.com/GMARegionalTV and on Twitter and Instagram via @GMARegionalTV. For more stories about the Kapuso Network, visit www.GMANetwork.com.
Comments