So says director Julius Avery about The Pope's Exorcist, the terrifying new horror thriller opening in cinemas April 19. "There's something much bigger going on. The stakes are massive," To give the audience the feeling of how big the stakes are, Avery shot the film in larger-than-life international locations that reflected everything the characters uncover.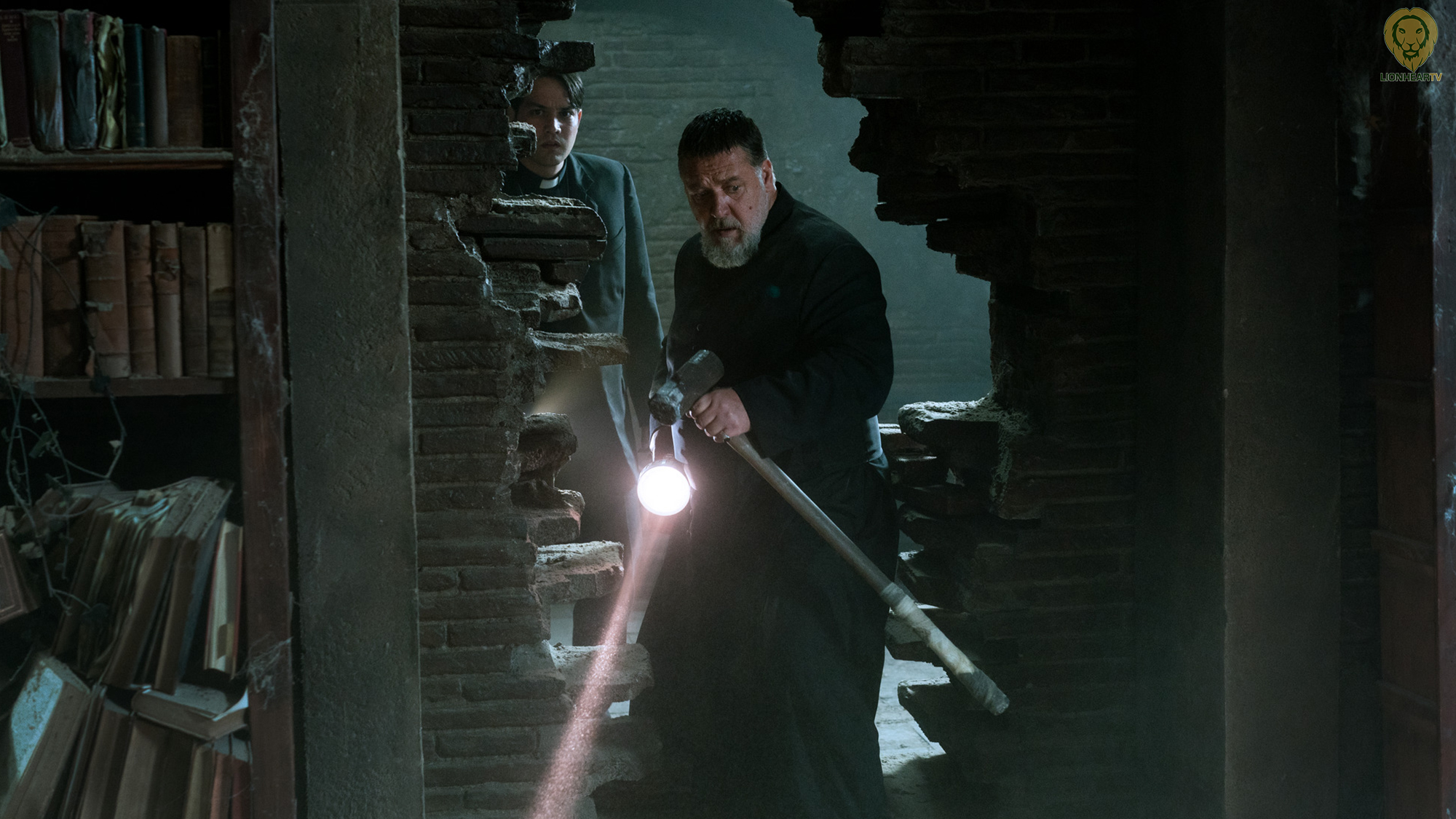 "We shot on location in Rome. We shot in Ireland. We found amazing, old architecture, where we built some of the biggest sets I've been involved in," he adds.
Building an abbey in Ireland
Central to those is the abbey. In the film, Vatican's chief exorcist Father Gabriel Amorth (played by Russell Crowe) has to cast out the demonic possession of a young boy named Henry (Peter DeSouza-Feighoney), whose family had just moved to an old and abandoned abbey in Spain, as a fresh start and a new project for his recently widowed mom Julia (Alex Essoe).
Director Avery specifically wanted a Northern European gothic milieu – grey, cold, and foreboding – and they decided to look for locations in Ireland. Following an extensive search around the country, they settled upon an abandoned castle in Limerick. "It was a gothic type building structure, deep in the woods. It offered us an elevated site, a clear skyline behind us, and an approach road," explains location manager Eoin Holohan. The design team dressed the grounds with dead vegetation and built an exterior entrance gate and a cloister.
The filmmakers captured the interiors of St. Sebastian Abbey on stages in Ardmore Studios outside Dublin, Ireland. "We created a composite set of what a Spanish abbey might have looked like, and built a huge set with multiple bedrooms, a giant entryway, a bunch of hallways, catacombs and chapel, all to create the reality of the environment," recalls producer Doug Belgrad.
Henry's bedroom, site of the demonic possession, was a crucial set at Ardmore Studios. This space incorporated a vaulted ceiling, a large window (which matched the exterior of the castle), and a mirror. "The room has the shadows of its former life as an abbey," explains production designer Alan Gilmore. "There are religious symbols on the windows, a gothic arched vault; architecture from a bygone era, 400 years ago. In the movie, poor Henry gets possessed and a horrible transformation happens to him in his bed."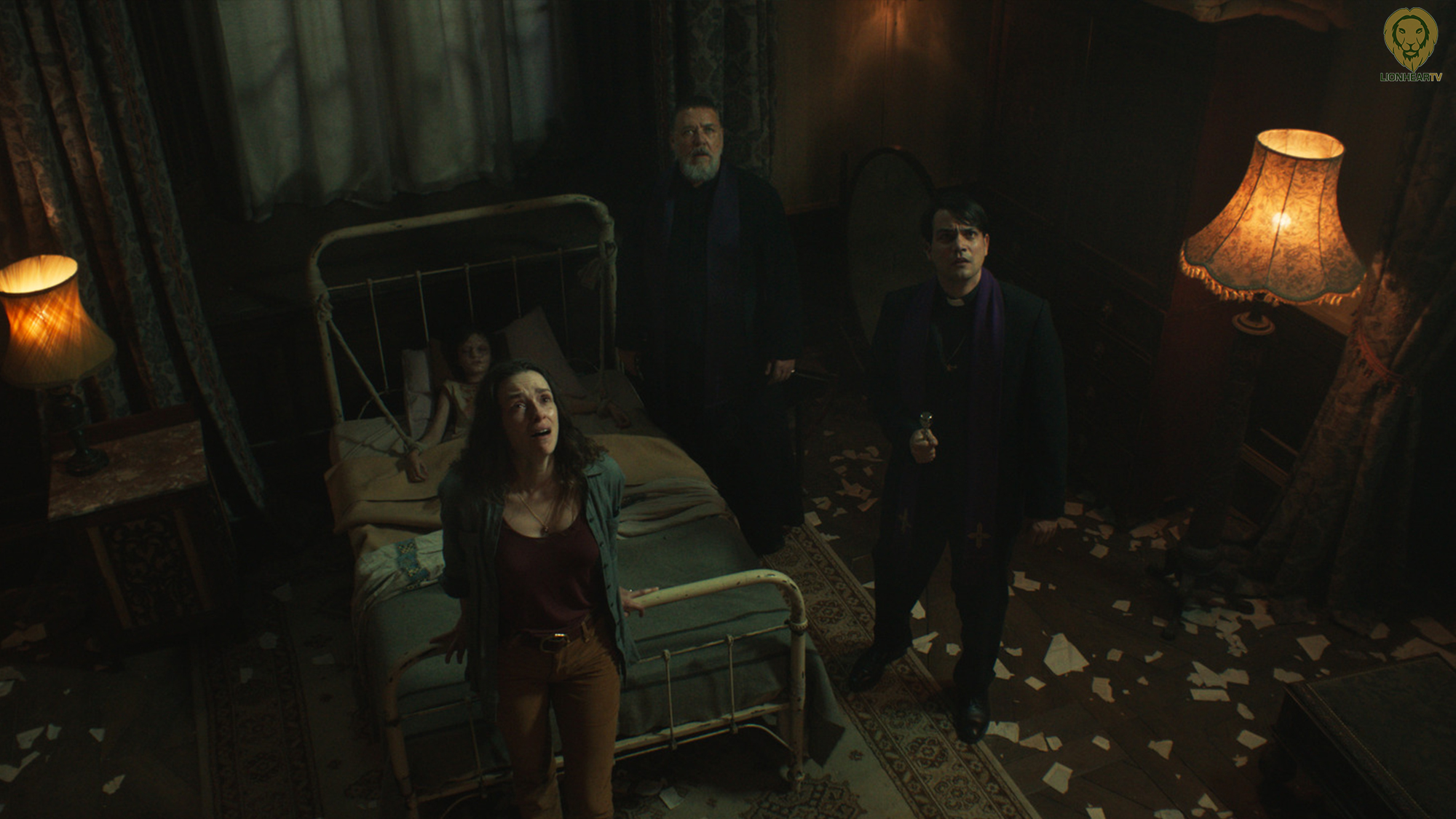 Designing for the Devil
During pre-production for The Pope's Exorcist, director Avery and director of photography Khalid Mohtaseb discussed the film's visual language, tone, color scheme, and style. He and production designer Gilmore pulled together photography references and used mood boards to craft a muted world where colors are quashed and serene.
Costume designer Lorna Mugan helped achieve this aesthetic. "Color plays a huge role in the Catholic Church," she explains. "From the humble black of priests, which represents poverty and simplicity, to the Pope in pure innocent white. In between, cardinals wear blood-red to represent shedding their blood or sacrifice for Christ. Their purple comes from the old notion of royalty."
The characters were enhanced not only with their clothing, but with prosthetics. From the beginning of his involvement with the project, director Avery did not want to rely heavily on CGI. "The hardcore horror fans and audiences can smell something fake. They know it from a mile away when it's not real," says producer Michael Patrick Kaczmarek. "It was important to make these effects grounded in reality."
Practical effects and prosthetics required DeSouza-Feighoney to spend three hours in the makeup chair, giving the young actor a crooked nose, a prosthetic forehead with no eyebrows, and a jaw glued to his neck. "I also had an evil grin prosthetic, which made me look constantly smiling," he recalls. "I loved getting the prosthetics done, because the finished product was really cool."
Comments