Led by the Social Responsibility (with Business Ethics) class, the Lyceum University Philippines Manila and CSR INSIGHTS partner in mounting a conference dubbed "Reimagining Business: A Look at CSR in the 21st Century".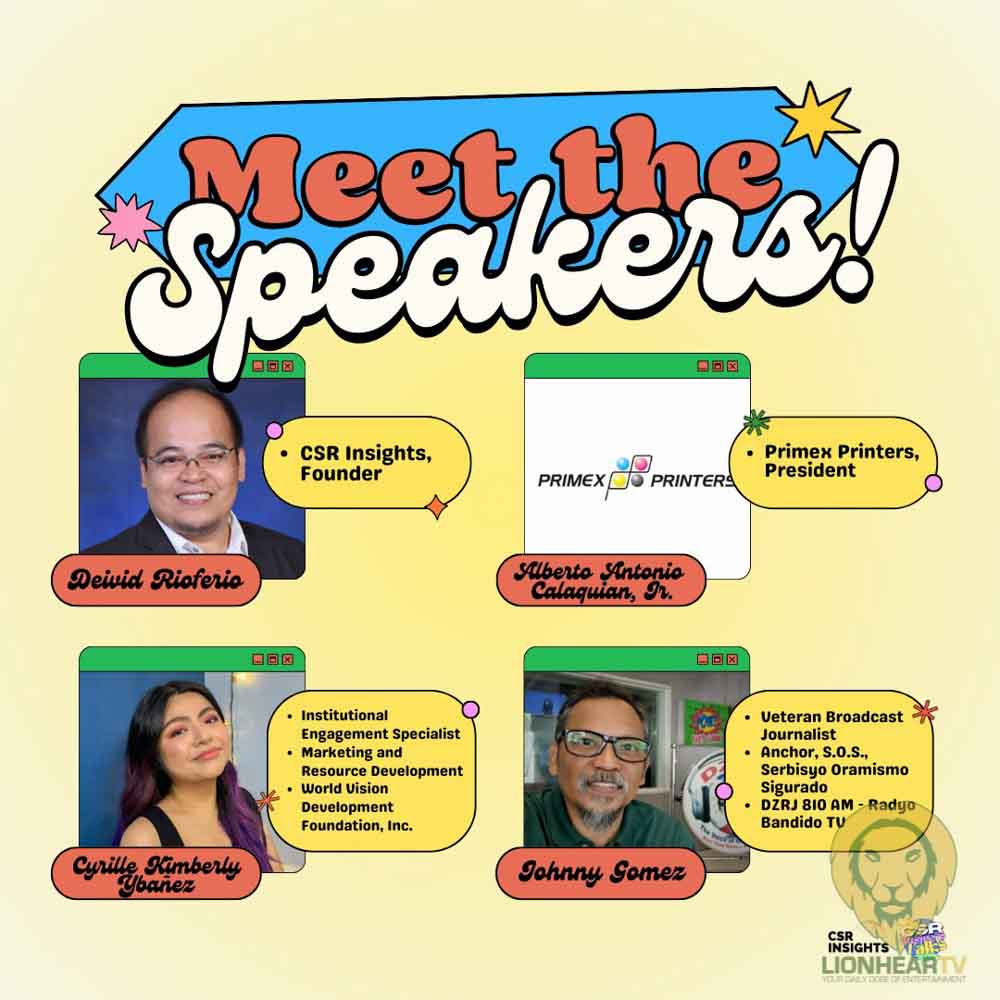 The said virtual event, which happens on May 30, 2023 from 10:00AM to 12:00PM, aims to equip students with knowledge on how companies rethink approaches to creating and sustaining positive impact to people, planet, profit through Corporate Social Responsibility (CSR).
University class adviser Prof. Lolita B. Ocampo shares the motivation for this conference by saying that "Empowering students with social responsibility cultivates a generation of compassionate leaders who understand the power of their actions in shaping a better and more equitable society."
Advocacy platform CSR INSIGHTS Founder, seasoned Public Relations practitioner Deivid Rioferio will deliver the keynote "Reimagining Business through Corporate Social Responsibility".
The roster of speakers is composed of leaders in the private, development and humanitarian sectors and the media.
Sharing Primex Printers' CSR programs is its president Alberto Antonio Calaquian, Jr. while the role of youth in CSR will be tackled by Cyrille Kimberly, Institutional Engagement Specialist, Marketing and Resource Development of World Vision Development Foundation, Inc.
Veteran Broadcast Journalist Johnny Gomez, Anchor of DZRJ 810 AM – Radyo Bandido TV public service program S.O.S., Serbisyo Oramismo Sigurado, will talk about the role of media in promoting CSR.
"As an organizer, I highly encourage everyone to join the event because it fosters awareness and knowledge pertaining on the role of businesses in the society. By this, we are learning how Corporate Social Responsibility has a significant impact on business practices," said the organizer, student Kyle Genovis, while extending his gratitude "to those people who exerted their effort and time in this event, my fellow classmates and other people who supported this event to be possible."
Recorded proceedings of "Reimagining Business: A Look at CSR in the 21st Century" will be published in its official channels.
The conference partner considers its participation to the said event as a first in a series of CSR INSIGHTS Learning Sessions.
Corporate social responsibility pro and media practitioner Deivid Rioferio is humbled to be part of this endeavor as it aligns directly with his organization's mission to support the promotion of individuals and institutions engaged in CSR, development and humanitarian works.
Established in 2021, CSR INSIGHTS, a Citizen's Xchange Force For Good partner of DNX News, aids its stakeholders through public relations, program development, and philanthropy. It writes and publishes articles and features interviews in its own online platforms, does media relations, and forges partnerships among its network and stakeholders among others.
Comments