After the success of its first Tour de McDo, McDonald's Philippines hosts its second community bike ride in celebration of World Bicycle Day. The latest ride brought together several cycling communities and personalities simultaneously in three key areas across the country – Pampanga, Intramuros, and Tagaytay.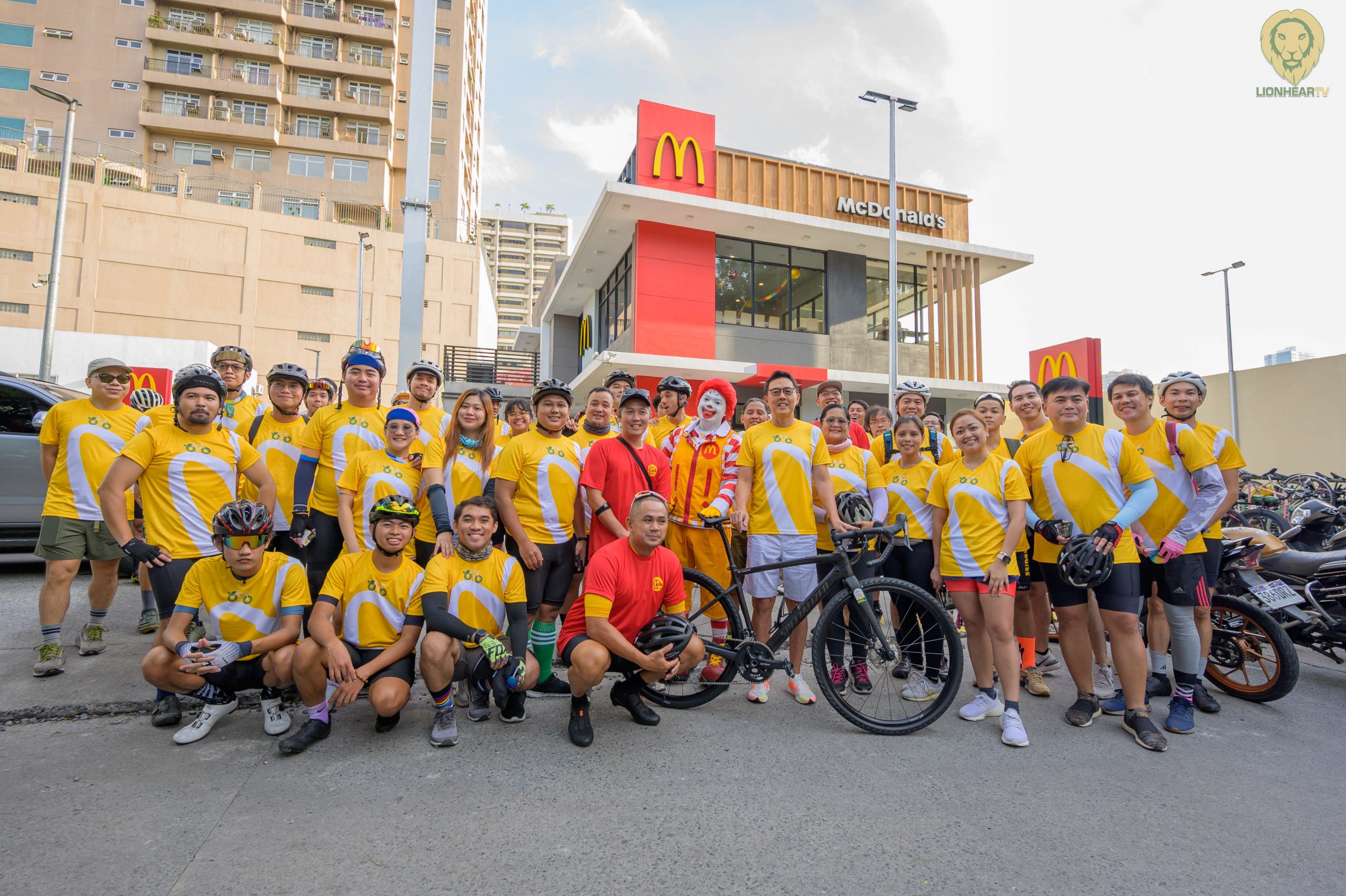 Tour de McDo is a multiple-stage bike challenge introduced under McDonald's Green and Good campaign – the QSR giant's initiative to do better for the environment by implementing sustainable and alternative solutions in their restaurants and operations. Through Tour de McDo, McDonald's encourages its customers to explore a healthier lifestyle for themselves and for the environment, while also highlighting various scenic cycling routes that pass through McDonald's stores equipped with bike-friendly features.
Earlier this year, Tour de McDo's first round highlighted McDonald's fifth flagship Green and Good store–the McDonald's Nuvali, Sta. Rosa branch. McDonald's Nuvali, the QSR giant's 700th store nationwide, boasts its bike-friendly features, utility-efficient solutions, and green building solutions. Aside from its sustainable restaurant innovations, the strategic location of the store makes it an ideal stop for the strong cycling community in Nuvali.
Celebrating World Bicycle Day with its second Tour de McDo
Following its success and strong demand from cycling communities, the sophomore ride now features three new scenic routes to cater to the different levels of cycling: Manila, Intramuros for the beginner route (20KM), Clark, Pampanga for the intermediate route (34KM), and Tagaytay for the advanced route (48KM).
Almost 100 participants joined the event and received Tour de McDo kits, which include an exclusive Tour de McDo Dri Fit shirt, Tour de McDo limited-edition stickers, and a McDonald's breakfast meal, all for free.
"For a long time, our McDonald's stores have played an integral role in many bike rides as a stopover or pit stop. This gave us an opportunity to find more ways to bring together the interests of our customers and care for the planet, under our Green and Good campaign. By promoting sustainable active mobility through Tour de McDo, we hope to encourage more people to get on a bike, so we can collectively do our part in lessening CO2 emissions," shared McDonald's Philippines President and CEO Kenneth S. Yang.
McDonald's stores featured in the various routes were: McDonald's Quirino Mabini, McDonald's Clark CM Recto Pampanga, McDonald's Porac Pampanga, McDonald's Nuvali, Sta. Rosa, and McDonald's Delos Reyes, Tagaytay all offer bike-friendly features such as a Bike & Dine facility, so that cyclists can dine in with the safety of their bikes. The stores also opened dedicated Bike Repair Stations that offer free use of tools for any basic repairs.
Introducing the Cyclists Meal for weekend bike rides this June
Extending the celebration of World Bicycle Day all throughout the month, McDonald's Philippines introduces its Cyclists Meal, a special McDonald's App offer available for all weekends of June 2023. Cyclists who go on weekend rides can pass by any McDonald's store and present the Cyclists Meal voucher on the McDonald's app to get a Cheesy Eggdesal with Sausage and a Medium McCafe Iced Coffee Original for only 99 pesos.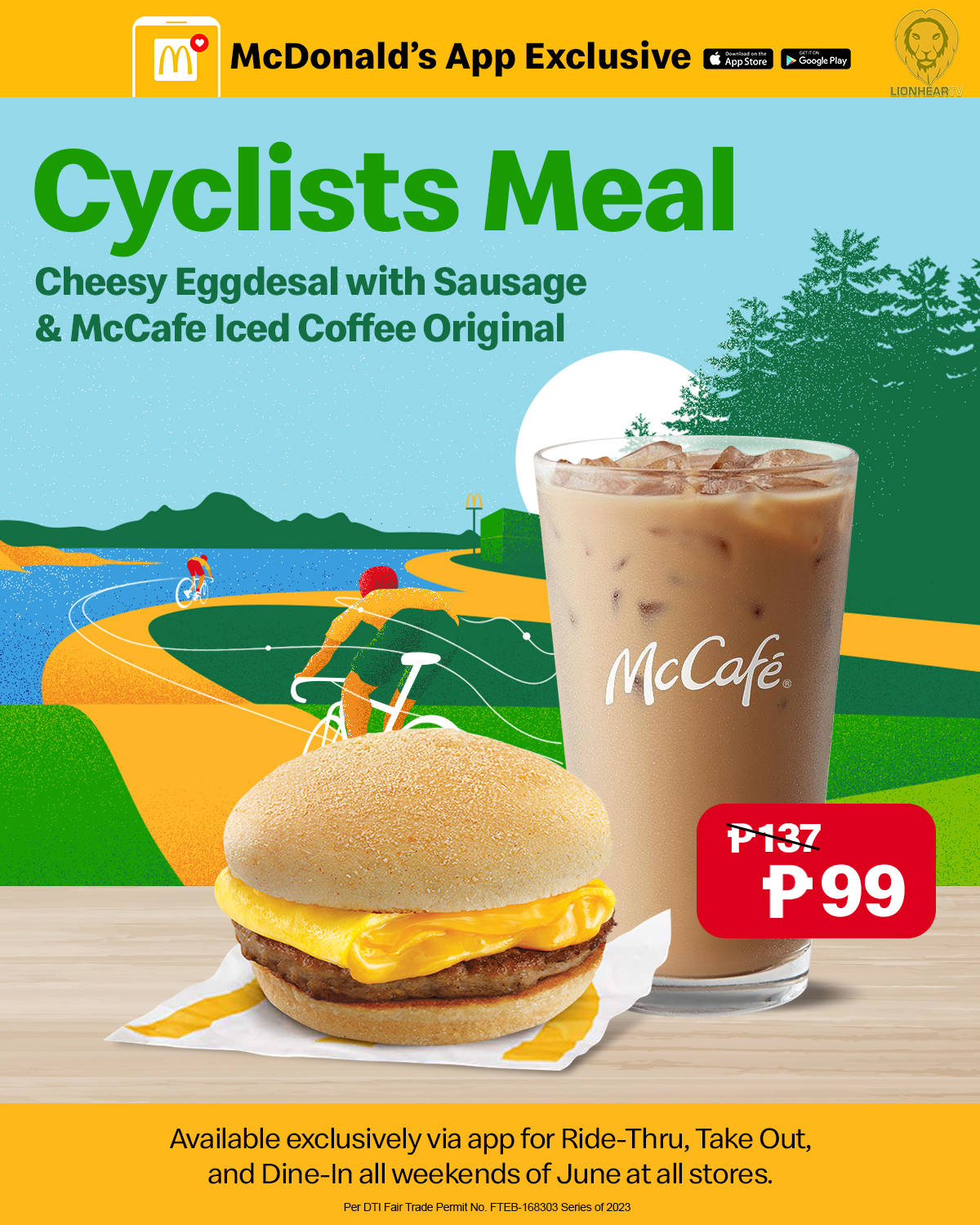 The McDonald's Promo App is available to download for free on the Google Play store for Android users and the Apple App store for iOS users. To stay updated for the next Tour de McDo and other cycling-related initiatives, follow McDonald's Facebook, Twitter, and Instagram.
Comments