It's party time and Warner Bros. is inviting everyone to Sentosa for a 17-day celebration of 100 years of memories and storytelling.
WB100 Celebrating Every Story is the only large-scale event in Southeast Asia to mark the centennial, adding to Singapore's strong pipeline of attractions to entertain both locals and tourists.
Fans of all ages can immerse themselves into the world of Warner Bros. from November 10 to 26. The event showcases the studio's humble beginnings in 1923 to becoming the producer of some of the most iconic global characters and stories on screens of all sizes. WB100 Celebrating Every Story is free of charge.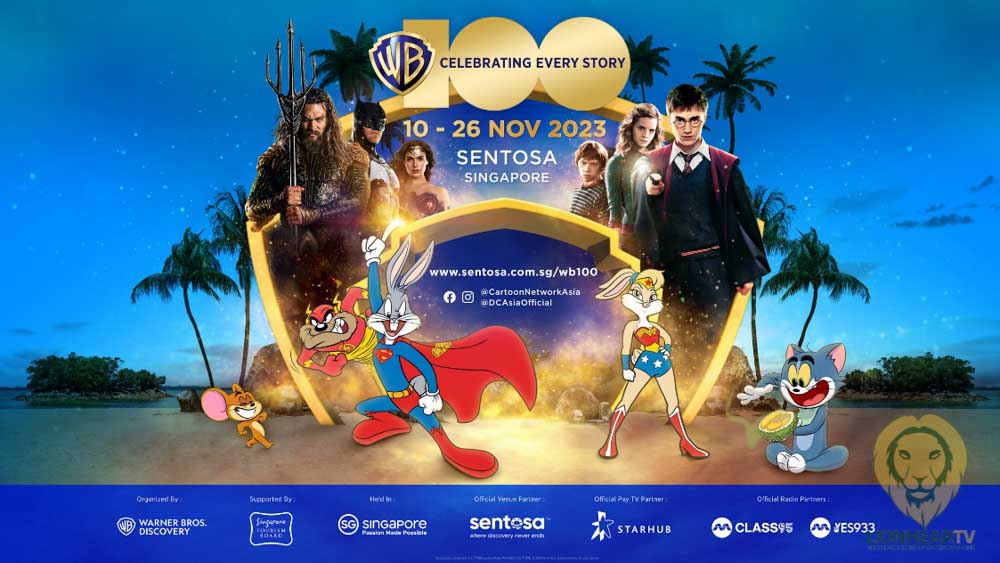 What to expect?
The event features a thrilling array of activities showcasing iconic and upcoming TV shows and movies from Warner Bros. It includes a timeline of the historic studio across three key event destinations on Sentosa: Beach Station, Emerald Pavilion and Southside – exploring different eras, genres and milestones in entertainment.
Along the way, specially created WB100 Looney Tunes mash-up characters will help direct visitors to each activation.
WB100 Central (Located at Beach Station)
At WB100 Central, fans can learn more about Warner Bros. Studio over the past century, and have the opportunity to make new memories – by taking photos alongside some of the most iconic characters in entertainment history.
They can also pick up an event passport here. Once passports are stamped at all the activity locations, there's a chance to win grand prizes including a staycation at Sentosa.
WB100 Interactive Zone (Located at Emerald Pavilion)
Commemorating a century of legendary entertainment, the WB100 Interactive Zone displays limited edition products, including an exclusive Gold Mint Bar Collection from Lotus Archi. The set features loved franchises like Scooby-Doo, and Harry Potter and the Wizarding World. Fans can also venture into the different worlds of animation and DC, with two walk-through zones.
WB Animation Zone (Located at Emerald Pavilion)
The WB Animation Zone brings to life some of the world's most loved cartoons. Visitors can spin a giant wheel to find out their inner Warner Bros. cartoon character and learn more about them.
There is a Tom and Jerry section dedicated to the iconic cat and mouse duo's latest escapade – a seven-part production currently airing on Cartoon Network and HBO GO. It's the franchise's first ever localised series, inspired by unique Singapore sights and locations.
Visitors can learn how the show came to life through exclusive storyboards and character development pieces. They can then test their agility skills with the Tom and Jerry Hawker Havoc game. Participants pick either Tom or Jerry, and try to capture as many iconic Singapore culinary delights as possible – while avoiding all other items thrown their way.
The moment can then be immortalised in a 3D photo with Tom and Jerry visiting Sentosa to eat ice kachang – a scene from one of the new episodes featuring the local delicacy.
The section ends on Siloso Beach with a great photo-op of a giant Tom and Jerry durian inflatable, as well as a sweet treat available exclusively for StarHub HBO Pak subscribers. By showing a special code (sent by email before the event launches) subscribers can redeem a free ice cream.
Comments