Ever wonder why this lady conquers the Philippine showbiz even though she doesn't appear regularly on our televisions?
What makes Angel Locsin THE Angel Locsin? Please bear with us as we explore the 10 qualities of Angel Locsin that made her the Angel Locsin we know today.
1. She is not afraid to show her bare face.
No make-up? No problem! Angel doesn't need cosmetics to be beautiful. She's naturally pretty; not even afraid to dive under water. Who cares if she doesn't wear make-up? She's confidently beautiful though.
2. She is a certified blockbuster queen!
Her movies' ticket sales, when combined, would gross more than 1.3 billion. Are you SHOOK??
3. And a certified primetime queen!
Her fantasy series "Darna" was highly regarded by the public, gaining immensely high ratings and surpassing the records set by her previous TV show. Its pilot week average is 50.08% and its highest rating was 52.1% while the lowest was 33.3%.
She received an accolade from International Emmys for best performance by an actress in her first-ever teleserye in ABS-CBN, "Lobo."
Then, the legendary "The Legal Wife" became a trending topic in the Philippines for more than 6 months! The series maintains its high ratings and became the undisputed number 1 until its final episode.
4. She is not a "feelingera."
We all know that singing is not the forte of Angel. So, she didn't push for it. Unlike some other celebrities there who have released several albums even though they are just famous and… that's all, they are just famous but talentless.
Her lip synched performance has gained more than 1 million views on YouTube. Kabogera! How many views do you think she can get if she sings in live, huh?
5. She is one of the most-followed celebrities on social media… without doing any gimmicks!
Although she has the most followers on Twitter, with more than 8.4 million, Angel used it to spread awareness and to extend help to the needy in times of crises.
Noticed her username on Twitter? "143 Red" means "Love from Red Cross." The number is also a Red Cross' hotline, not pabebe numbers just to make her username sounds cool. A true angel, indeed!
Take note, we don't regularly see Angel on our TV screens, yet she is the most-followed Pinoy on Twitter. I thought her name is Angel LAOScsin, huh?
6. She has a true angel's heart.
Angel is the kind of person who loves to help other people. She is one of Philippine Red Cross ambassadors for being selfless. And this is not publicity, guys. Angel even auctioned her luxury vintage car, a 1970 Chevrolet Chevelle, through ABS-CBN Foundation's Sagip Kapamilya just to help the Yolanda victims.
7. She is the undisputed Darna.
Whether you're a Kapuso or a Kapamilya, you still want her to play the role of Darna… today, tomorrow, and forever!
8. She has lots of iconic scenes in a series or a movie
Like this one…
And this one.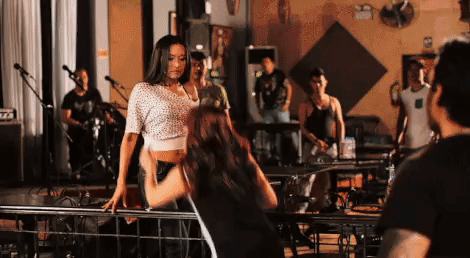 9. She can maintain her beauty even in the most provocative situation.
See? She looks like an angry angel. Uuuuugh!
10. She is the sexiest, we repeat, the sexiest woman in the Philippines.
Angel was the only celebrity in FHM Philippines' list of the "Most Sexiest Woman" who never placed under the top 10. She has maintained her sexiness for 14 consecutive years!
Who are you calling "butanding" again?
So there you have it. But before we end this blog, there are some things that we like you to see.
Like this Angel Locsin dance steps…
And this epic fight scenes of Elsa and Darna.
Follow LionhearTV for more Angel Locsin updates.
Comments