GMA Network
Presenter: Jose Manalo
Celebrity Spotters: Derrick Monasterio, Kakai Bautista
Format/Genre: Reality-Talent/Gameshow
Premise: Every week, two amateur performers will undergo training for a month under their mentors to master a certain skill. After which, each of them will perform with professional performers in front of 10 celebrity catchers (GMA Network)
Time slot: Saturdays at 7:15 PM
Why You Should See It:
A talent show with a twist, Catch Me Out will thrill viewers with jaw-dropping acts, from performers who may not really be who they say they are on stage
The greatest pretender is the main star of Catch Me Out Philippines, GMA's electrifying new show that promises to both intrigue audiences and keep them on the edge of their seats.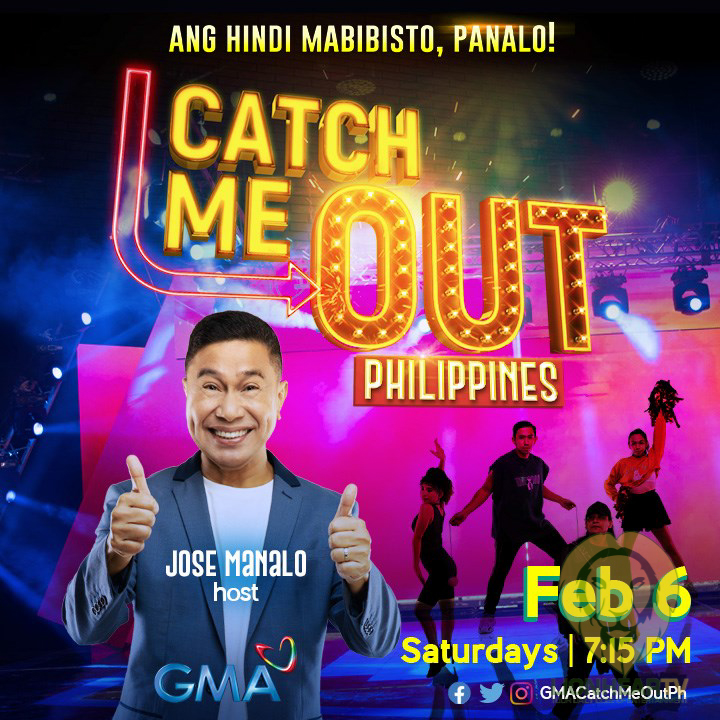 In Catch Me Out, two contenders will try to fool celebrity spotters— to which both Monasterio and Bautista belong—that they are professional performers. The show taps real professional performers to train two newbies (who come from different career fields) to learn a new skill. The skill can be anything— fire dancing, aerial dancing, or instrument playing—which contenders are needed to learn in a month before performing on stage with professional performers. Their only goal is to fool as many celebrity spotters as possible, for them to win the show.
Already intriguing with its unique format, the new Kapuso game show is made more exciting by the explosive talents its performers deliver every week. Aside from the mind-blowing delivery of the skill, they may have only tried for the sake of the show. There is also a thrill in finding out what the 'pretenders' are actually doing in real life. The peculiar talents showcased every week is also adding extra excitement which viewers will surely be eager to find out.
Manalo, having hosted a number of game shows in both GMA and TV5, finds ease in presenting the show, while Monasterio and Bautista, both complement with the much needed intrigue and humor. Aerial dancing and yoyo are among the show's maiden featured skills, which heated up the stage once the amateur performers performed with the professionals.
Fun-filled, family-friendly, and extremely awe-inspiring, the real selling points of Catch Me Out, are the talents, and of course, the mystery. Mystery has become a common denominator in many game and talent shows these days (The Masked Singer and I Can See Your Voice, right?), but the way Catch Me Out presents it, makes the show stand out.
Catch Me Out Philippines airs over GMA Network's Sabado Star Power block. Watch the teaser below: