According to President Duterte, during his latest late-night public address speech, the pandemic is just a "small thing".
Duterte has once again belittled Covid-19, which has affected the whole world and has put the Philippines in shambles–health-wise and economically.
"Kaya natin itong COVID na ito. Maliit na bagay ito sa ating buhay." 
ABS-CBN actress Angel Locsin disagreed with Duterte's claim. she posted on her Instagram story her response to Duterte's statement.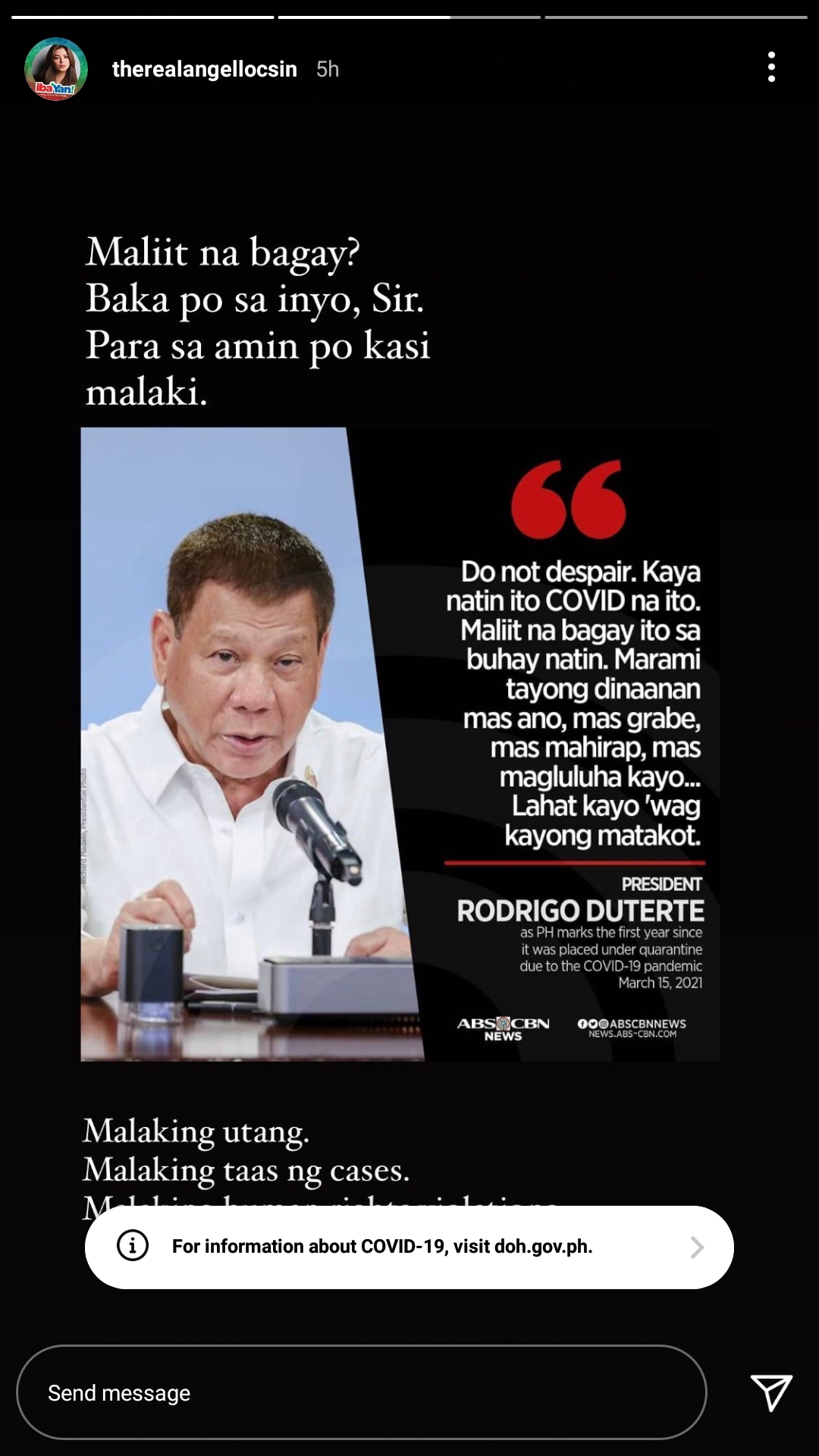 Locsin said that the only unaffected person by the pandemic him (Duterte), the President of the Philippines. Meanwhile, the entire nation is severely affected by the coronavirus.
After a year of lockdowns, Covid-19 cases have spiked in the country with a record-high of 5,054 which was recorded on Monday, March 15 alone.
On Thursday, March 18–21 deaths have been added to its already growing number, making it 12,887.
The Philippines also sunk in debt as the national government needs to settle P962.466 billion both in local and foreign debts which were acquired last year. And to acquire enough funding against the pandemic, the nation's debt has already reached P7.325 trillion in domestic debt.
With the President underestimating yet again the pandemic, his spokesperson, Harry Roque released a statement defending Duterte.
According to Roque, Duterte was not belittling Covid-19 but only giving assurance that the nation will get through this global pandemic.
"Hindi minamaliit ng President ang paghihirap ng sambayanan. Ang sinasabi po niya, babangon po tayo, at malapit na po 'yan at parating na ang mga bakuna," explained Roque last Tuesday, March 16.
The national government even allotted P126.75 billion for the vaccines. 
However, the Philippines only received the first batch of vaccines donated by China. That is why most Filipinos did not believe a word that came out from the President's spokesperson.
The Philippines was rated the 'worst' Asian country in terms of economic collapse (after a year of a pandemic), based on the organization IBON Foundation. According to the graph presented, the country's GPD has contracted to -9.5% in just one year. 
Because of the numerous lockdowns and quarantines paired with a weak pandemic response of the government. After one year of the pandemic–the combined unemployed and underemployed in the nation have reached 10.5 million, implicating that many Filipinos are edging to poverty and hunger.
The Philippines has already reached a total number of 640,984 confirmed cases, with 12,887 deaths, and 561,530 recovered.
Comments