Netizens and social media personalities can't help but compare President Rodrigo Duterte and Vice President Leni Robredo's response to the country's vaccination program.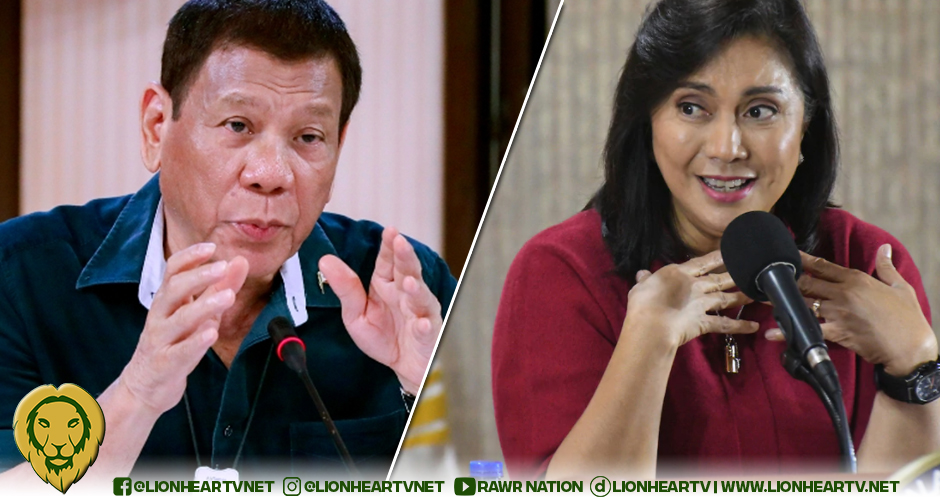 In his recent public address, Duterte has threatened to jail Filipinos who will refuse to get vaccinated with the COVID vaccine.
"Kung ayaw mo magpabakuna, ipaaresto kita at ang bakuna, itusok ko sa puwet mo. Putang ina, bwisit kayo.
"Magpabakuna kayo or ipakulong ko kayo sa selda," Duterte said.
Robredo on the other hand was lauded for her inspiring and fruitful efforts without resulting in threats and coercion.
Robredo with the OVP has recently tied up with the Manila LGU and SEAOIL Foundation to encourage tricycle drivers and grab delivery riders to get vaccinated. And it turned out to be successful with hundreds of riders lining up to get vaccinated.
With that netizens chided Malacanang, saying threatening people is not the way to encourage people to get vaccinated.
In her tweet, veteran Kapamilya broadcast journalist Ces Drilon shared Robredo's tweet regarding the vaccination driver saying this should be the right way of encouraging people and not threaten them.
Ganito ang paraan ng panghihikayat sa taumbayan na magpabakuna! Hindi sa pananakot. https://t.co/KcE8blfyLd

— Ces Oreña-Drilon (@cesdrilon) June 22, 2021
Former PTV news anchor Jules Guiang and @dumidyeypee also shared the same sentiment lauding Robredo and the OVP for thinking of ways to encourage people to get inoculated without threatening them to get jailed.
Huhu ang galing. Hindi pananakot na ikukulong kundi diskarte para mas makahikayat na magpabakuna. Ang husay. https://t.co/6MriZEgx4k

— Jules Guiang (@julesguiang) June 22, 2021
This is how you do it. You don't threaten them to be jailed, you help them to be jabbed. https://t.co/RkknQOURYw

— JP  (@dumidyeypee) June 22, 2021
Actress Kin Chiu applaud Vice President's action.
👏🏼👏🏼👏🏼👏🏼👏🏼👏🏼👏🏼👏🏼🙏🏻 https://t.co/ms6DJ0djI5

— kim chiu (@prinsesachinita) June 23, 2021
Former COMELEC commissioner Goyo Larazabal meanwhile remembered Vice President's guesting on their online show talking about the vaccination drive for tricycle drivers and delivery riders.
https://twitter.com/GoyYLarrazabal/status/1407246939406553088
Other netizens meanwhile, shared how they are inspired by Robredo's and the OVP's efforts saying that is the true sign of a true leader who has compassion for its people.
nagpabakuna na, may 500 worth of gas pa?!? masyado mo naman ginagalingan mam!!! https://t.co/F23IbV77Wz

— James Banaag (@dearscarjames) June 22, 2021
These are things we should amplify. Malasakit sa kapwa ba kamo? Check.
Makatao? Check
Hindi kelangan ng meeting kada lunes? Malaking check.@lenirobredo IS THE ONLY LEADER who is doing what the whole government should have done months ago. https://t.co/TiNapLQ7KJ

— done (@kolsenertito) June 22, 2021
This is the way. https://t.co/XIHKtzXMFa

— Abi Valte (@Abi_Valte) June 22, 2021
https://twitter.com/PinoyAkoBlog/status/1407203021012967425
Nakakaiyak to, swear to god. Deserve nila to. DESERVE.

Sila yung bumuhay satin noong panahon na bawal tayo lumabas. They were the ones exposed to the virus when all of us didn't know much about it.

I'm glad the @VPPilipinas @lenirobredo has their backs. https://t.co/0ryp8ZYvlz

— nico (@nicoquejano) June 22, 2021