"Eh ano naman kung nagpa-trend? May bilang? Wala. Maibabalik ang nawala? Hindi. Ano silbi? Wala. Lols."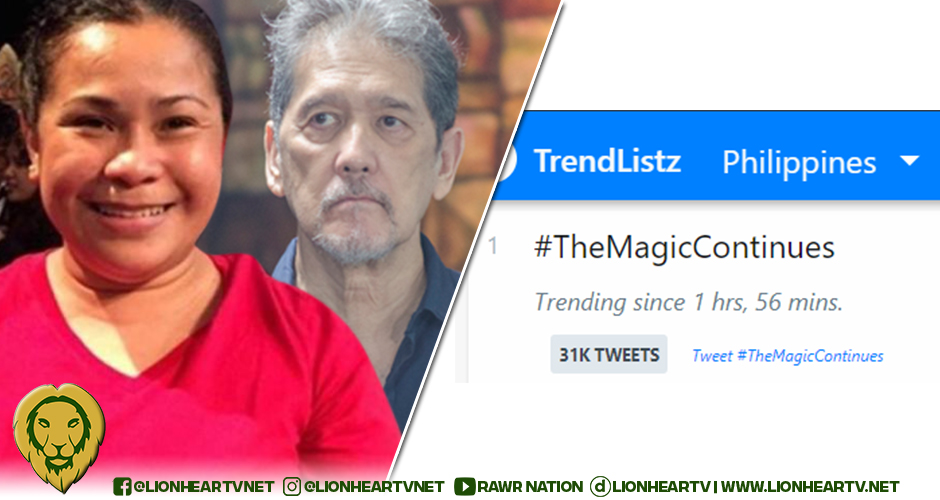 Those were the words, the Kapuso resident writer Suzette Doctolero wrote on Wednesday, July 14, after the #TheMagicContinues and #StarMagicShinesBrighter trended on twitter, following Johnny 'Mr. M' Manahan's switch to GMA Network on Tuesday, July 13.
On a separate facebook post, Doctolero then welcomed Mr. M to their midst.
"Interesting turn of events. Welcome po Kapusong Mr M. and company."
But these trending topics on twitter were meant by Kapamilyas to bid Mr. M good luck on another journey of his career.
Hello Mr. M Welcome to @gmanetwork #WelcomeToGMAMrM #TheMagicContinues

— スーパースティック (@iLoveSuperPau) July 13, 2021
A Kapamilya netizen even commended Mr. M in his contributions to ABS-CBN. But she is aware that the only thing constant in the world is change.
The netizen is certain that fresh ideas and concepts will come to the Kapamilya Network with the new Star Magic Head Direk Lauren Dyogi.
We can't deny the fact that Mr. M has greatly contributed to the success of Star Magic, but we have Direk Lauren now. Someone who has fresh ideas and concepts. For sure, he has good plans for Star Magic especially that entertainment industry is evolving.#TheMagicContinues

— anne young (@mamshiecake) July 13, 2021
Some netizens used the #WelcomeToGMAMrM to welcome the great Starbuilder.
https://twitter.com/228Mela/status/1415118170667458565
"In a way, I could not refuse that offer. It's work, I go where there's work and where people need us, where people respect us." – Mr. M.#WelcomeToGMAMrM

— Gabo (@gabeceb) July 13, 2021
Dating Kapamilya na ngayon ay Kapuso na. Kapuso talaga ako ever since sana naman malaki ang magbabago lalo na andyan na si Mr.M #WelcomeToGMAMrM

— Gelo Santos (@GeloGelomarie) July 13, 2021
Supportive and excited po sila sa inyo Mr. M #WelcomeToGMAMrM pic.twitter.com/OCnVn1ntee

— Masquerade1994 (@masquerade1994) July 13, 2021
That's why I'm proud to be a Kapuso. Welcome Mr. M to GMA #WelcomeToGMAMrM

— Masquerade1994 (@masquerade1994) July 13, 2021
Though these topics trended, Mr. M's transfer was smooth. No issues were hurled upon Manahan before switching to GMA Network, even before he left ABS-CBN to become a freelancer and create shows for TV5.
Upon Mr. M's departure from his former Network, the Kapamilya talent arm, which he co-founded with Freddie Garcia, continues.
A netizen believes that Direk Dyogi will be the one to develop a new breed of Kapamilya stars.
https://twitter.com/kowalerts/status/1415147042326777856
A netizen pointed that fans of ABS-CBN were not bitter after Mr. M left the Network.
She noted that Direk Dyogi got lambasted by Kapamilya supporters because of his earlier decisions for Star Magic; however, it became clear to her that the newly-appointed Head only wants the best for the Network and for its talents.
https://twitter.com/LoveMaeTete/status/1414834159629918211?s=20
Kapamilya or not, all wishes the best of luck for Mr. M, the great Starbuilder.