Your favorite Tune Squad is back on the hardcourt, this time teaming up with the four-time NBA champion and the king himself, LeBron James, for another out of this world high-stakes basketball game in Warner Bros.' modern take on the beloved animated hoops classic with "Space Jam: A New Legacy."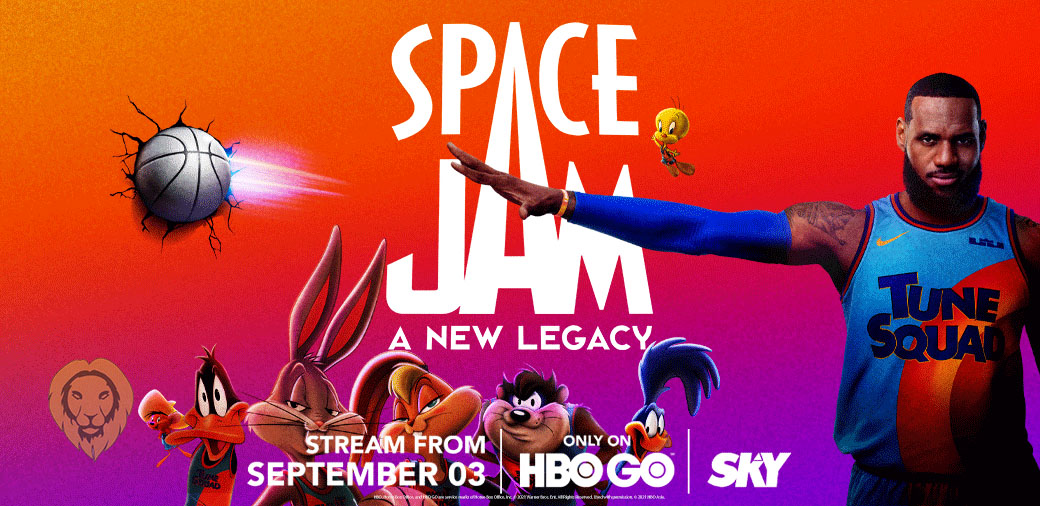 The good news to Pinoy audiences is that SKY brings the premiere of "Space Jam: A New Legacy" to the comfort of their homes via an HBO GO subscription. Before jumping into the fun hoops action, here are the first five reasons why you should get pumped for its premiere this September 3 (Friday):
1) Starting at forward, LeBron James!
Taking his talents to the revamped Tune Squad roster is arguably one of the greatest players of this generation. Born and raised in Akron, Ohio, standing at 6'9″. He is a four-time league MVP, 17-time NBA All-Star, and a four-time champion and Finals MVP from the Los Angeles Lakers… LeBron James!
Not only will he show us his guile, leadership, and highlight reel-worthy plays, LeBron is out to make audiences laugh with his antics alongside the Looney Tunes squad and show his loving side as a father, trying to save his son Dom (Cedric Joe) from the hands of their AI adversary Al-G Rhythm (Don Cheadle).
2) Meet the all-star lineup of the Goon Squad
Al-G came prepared by also assembling a team of all-star players ready to dethrone King James and thrash the Looney Tunes out of the Warner Bros. Serververse with the stacked Goon Squad.
With basketball stars Damian Lillard, Diana Taurasi, Nneka Ogwumike, Klay Thompson, and Anthony Davis in their supernatural forms based on their on-court abilities, the Goon Squad is ready to push LeBron and the rest of the Tune Squad to their limits.
3) Go out of bounds of the Warner Bros. Serververse
Hold on to your seats as "Space Jam: A New Legacy" takes you not only into the colorful and wacky world of the Looney Tunes but also into the heroic DC Comics universe, action-packed "Matrix" universe, the fiery world of "Game of Thrones," the wizarding world of Harry Potter, and more!
You read it right! Aside from all the basketball action between the Tune Squad and the Goon Squad, join LeBron in exploring the vast wonders of the Warner Bros. Serververse or the shared digital universe of the mega-studio's digital server, meeting your favorite characters, and seeing lots of Easter eggs of your favorite Warner shows.
4) Highlight reel of jaw-dropping visuals, cool soundtrack, and a bunch of must-see celebrity cameos
Making "Space Jam: A New Legacy" a cut above the rest is its stunning visual animations that give life and fun to your favorite Looney Tunes antics and so much more (with cute 3D renditions of Bugs and the gang, and an animated version of LeBron). Plus, its soundtrack of today's hottest hits pumps up the emotion in every scene.
And don't forget to also keep an eye on celebrity cameos along the way, with renowned sports broadcaster Ernie Johnson doing the commentary for the Tune Squad vs. Goon Squad matchup alongside comedian Lil Rey Howery, among many others.
5) Your beloved Looney Tunes characters are back on the Tune Squad
Of course, it won't be a "Space Jam" movie without your favorite Looney Tunes gang as they head back on the court to play the game we love, of course in a very Looney way. Wackier than ever, join Bugs Bunny, Daffy Duck, Lola Bunny, Tweety Bird, Sylvester the Cat, Taz, Wile E. Coyote, Road Runner, and more in impressing the crowd with their hilariously outrageous plays that are sure to make us rolling on the floor laughing!
All of these and more await hoops fans and young viewers in the Philippine premiere of "Space Jam: A New Legacy" on HBO GO beginning September 3.
Catch it in high-definition and commercial-free on-demand on SKY's HBO GO plan for as low as P99 a month via SKYcable or P149 a month via any SKY Fiber subscription package.
To know more about SKY's video-on-demand plans and the premiere of "Space Jam: A New Legacy," visit mysky.com.ph, or follow SKY on Facebook (fb.com/myskyupdates), Twitter, and Instagram (@myskyupdates).
Comments