There's no denying that we're making bigger steps into a whole new kind of normal. For many, that means having to move around with ease, comfort, and most of all, in utmost safety. For some, it could mean upgrading and exploring new opportunities to make the most out of the new ordinary. But beyond all these adjustments and changes, one thing is clear: we move forward and make every moment count.

This is why this September, Toyota Motor Philippines is inviting everyone to make more precious memories with incredible deals on new vehicle purchases, free maintenance services and a whole lot more, exclusively this month.
Make New Experiences Count
An entry-level hatchback that's well loved by many – the well-loved Toyota Wigo is perfect for starters, whether as a family or as a business. Drive it home for as low as PHP5,970 per month for the 1.0 E MT variant (at a 50% down payment, 60 months to pay).
Share in the new stories this year with the New Toyota Innova. Upgrade your ride with the balance of sophistication and practicality. Get it for a light monthly payment plan of PHP12,372 for the 2.8 J Diesel MT variant, or with the all-in package rate of PHP192,750 for the 2.8 E Diesel MT, that's a cash out of 15% down payment that comes with Free Insurance on the first year, Free 3-Year LTO Registration and a whole lot more. Get up PHP45,000 worth of savings for select models when you choose for outright cash transaction.
Brave the future and get that power to lead new moments with the Toyota Fortuner. It's time to take on new journeys and tread the path less taken with this crowd favorite. Get it for only the light monthly payment of PHP16,992 for the 4×2 G AT variant. Save up to PHP65,000 if you choose to for the outright cash purchase.
Whether you're venturing into new streams of income or expanding your business, it's time to make your efforts and hard work count with the Toyota Hiace. As a partner that truly delivers quality, durability, and reliability, you can also trust on the savings with a low monthly payment of PHP17,155 for the Commuter Deluxe variant (at 50% down payment, 60 months to pay).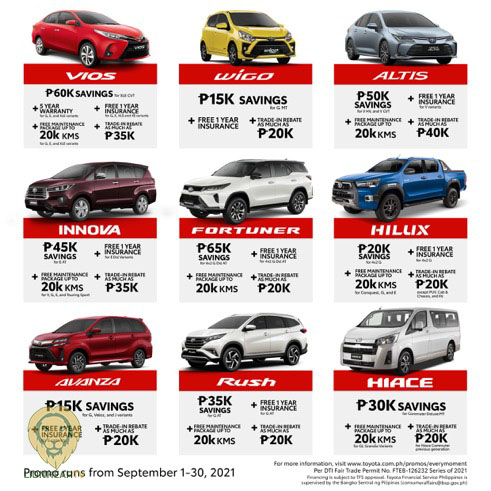 Make Every and Future Rides Memorable
Participating brand-new models are entitled for a Free Periodic Maintenance Service of up to 20,000 Kilometers. Select variants from Vios, Corolla Altis, Rush, Innova, Fortuner, Hilux, and Hiace are eligible for basic periodic maintenance service, parts and job items that use Toyota Genuine Motor Oil. Terms and conditions apply. Remember, Toyota service experts recommend booking and availing services on a calendar schedule for simpler tracking and monitoring rather than basing it on mileage. Toyota experts recommend booking and availing services on a calendar schedule for simpler tracking and monitoring rather than basing it on mileage. Having your vehicles checked and maintained regularly helps keep it in top shape, even when you're not using it.
Getting a Vios? You get a 5-Year Warranty! Beyond levelling up your drive, you can be sure of the best-selling sedan in the Philippines with a guarantee of five years based on the provisions of the warranty. The Toyota Vios G, E, and XLE variants are eligible for a warranty coverage of 5 Years of 150,000 kilometers, whichever comes first.
Make Every Point of Safety Checked
Toyota's commitment to safety goes even further with an exclusive offer this month of September. All Toyota customers are entitled for a Free Safety Inspection at All Toyota dealership nationwide from September 1 to 30, 2021. Customers who will require replacements of featured brakes and clutch parts are also entitled to a 15% discount on parts and labor. They can also enjoy 10% discount on Toyota Genuine Battery during the promotion period. Terms and conditions apply. Please contact your dealership representative for more details.
Check all other deals for more Toyota vehicles on the official website
https://www.toyota.com.ph/promos/everymoment or contact any Toyota dealership near you. Follow TMP's official pages – Toyota Motor Philippines on Facebook and Instagram, toyota.com.ph, Twitter (ToyotaMotorPH), and Viber (Toyota PH) – for regular updates on products and services, dealer operations, announcements, and events. For safely distanced viewing, you may check out your preferred Toyota model and inquire online at toyota.com.ph/showroom and choose your preferred dealership so they can revert to you on your product inquiry. Download the myTOYOTA PH app for Android and iOS for all your Toyota needs, from car selection, to car care, maintenance and upgrades.
Comments