Presidential mouthpiece Harry Roque on Monday, October 11 had personalities and netizens described him as someone with "amnesia" when he insisted that the Duterte Administration was not against press freedom.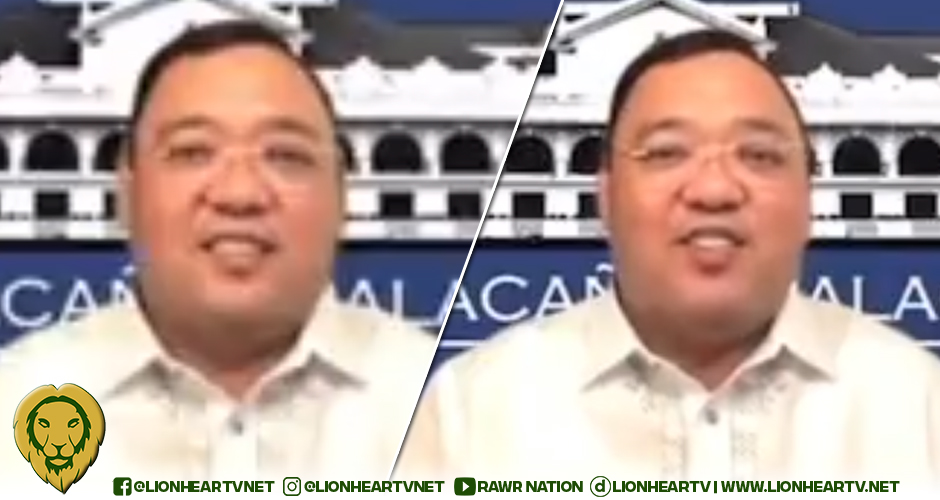 Roque's sour description went viral after he congratulated Rappler CEO Maria Ressa for winning the Nobel Peace Prize for her efforts to fight for freedom of expression in the Philippines. Ressa also shared the award with Dmitry Muratov, editor-in-chief of the Russian independent newspaper Novaya Gazeta.
When he congratulated Ressa, Roque then quipped, "Excuse me, wala po tayong pinasara. Kinakailangan po ng prangkisa ng ABS-CBN na hindi nila nakuha.
"Name a media outlet that the President has ordered closed… As of now po, press freedom is alive and the proof is the Nobel Peace Prize award given to Maria Ressa."
Over twitter, personalities and netizens slammed the Secretary for his lie.
Writer Jerry B. Grácio stressed that such lies should be enough proof to not let Pres. Rodrigo Duterte and his cronies have another government seat in this coming elections.
Ang mga ganitong lantarang kasinungalingan ang dahilan kung bakit di na dapat makabalik si Duterte at ang mga alipores niya sa 2022. #LabanKapamilya! https://t.co/KjRDfd8XPK

— Jerry B. Grácio (@JerryGracio) October 11, 2021
Journalist Atom Araullo and former PTV-4 host Jules Guiang also reminded Roque about how Ressa won the award.
He noted that the Rappler CEO was given such prestigious honor because of her "efforts to safeguard freedom of expression, which is a precondition for democracy and lasting peace."
He then pointed that Ressa's efforts were towards the government, who is attacking press freedom.
The 2021 Nobel Peace Prize was awarded to Maria Ressa and Dmitry Muratov for "their efforts to safeguard freedom of expression, which is a precondition for democracy and lasting peace." That implies said freedom is under attack. From who? Imagined monsters? https://t.co/0Mkb7hBYcn

— Atom Araullo (@atomaraullo) October 11, 2021
Roque: "A journalist who claims [that there's] a chilling effect should not be a journalist."@NobelPrize obviously this is one of the reasons why press freedom is threatened in the Philippines. Sure it is alive but to say that there is no chilling effect? That's so out of touch

— Jules Guiang (@julesguiang) October 11, 2021
Kapamilya journalist Karen Davila recalled a speech of Pres. Duterte back in July 2020 wherein he said, "Yun namang ABS-CBN binaboy ako. Pero sinabi ko kapag ako nanalo, bubuwagin ko ang oligarchy ng Pilipinas. Ginawa ko. Without declaring martial law" as an emphasis that a media outlet was shut down during his term.
President Duterte's speech in Jolo, Sulu July 2020

"Yun namang ABS-CBN binaboy ako. Pero sinabi ko kapag ako nanalo, bubuwagin ko ang oligarchy ng Pilipinas. Ginawa ko. Without declaring martial law" https://t.co/m5dbCLA8M8

— Karen Davila (@iamkarendavila) October 11, 2021
Raquel Fortun, a forensic expert [even] hoped that Roque rot after Duterte's term ends.
Mabulok ka sa kangkungan. Soon. https://t.co/7x57Zy5FhA

— Raquel Fortun (@Doc4Dead) October 11, 2021
Netizens also shared their own opinions, slammed the Secretary as he tried to gaslight the effect done by shutting down ABS-CBN.
amnesia gurl?! https://t.co/tBv4zNO1ux

— kaylee (@jaspwerrrr) October 11, 2021
So a lie told a million times becomes the truth.

– Maria Ressa https://t.co/GP7GEbr3I1

— Im feeling #LeniRobredo2022 (@JMakangkage) October 11, 2021
harry the gaslighter https://t.co/BEneNv2GuX

— maven (@im_asease) October 11, 2021
Did Duterte not threaten press freedom?
Before ABS-CBN's shutdown in May 2020, Duterte launched a series of threats and rants about closing down the network "for good."
As early as 2017, Duterte had released several threats against the embattled Network.
When ABS-CBN failed to air his campaign ad for the 2016 elections, Duterte took it personally. He then vowed to boot the media company off the air.
"Tingnan kung magslant. Ewan ko ba. But someday – hindi ko tinatakot – but someday, 'yung karma, dadating 'yan," lashed Duterte against ABS-CBN and Philippine Inquirer.
Then in 2018, he said such a similar threat as he accused the Network of estafa.
"Hindi ko palusutin. Iyong franchise niyo matatapos. But let me ask you questions first. Kasi ako talaga mag-object na ma-renew kayo. Alam mo bakit? Magnanakaw kayo, estapador," accused Duterte.
In 2019, he said, "Ang iyong franchise mag-end next year. If you expect ma-renew 'yan, I'm sorry. I will see to it that you're out."
Then came 2020, when the Network's franchise expired, the National Telecommunications Commission (NTC) issued a cease and desist order against the corporation, halting its operations.
During its countless hearings for the renewal of its franchise, ABS-CBN was accused of many allegations from Duterte's cronies including alleged unpaid taxes, citizenship of ABS-CBN Corporation Chairman Eugenio Lopez III, issuance of PDRs to foreign nationals, and violating provisions of their franchise.
However, none of the claims were proven. Even branches of the government ratified that the Network complied with the laws.
Securities and Exchange Commission (SEC) Ephyro Luis Amatong said, "As far as we are concerned… wala pa kaming basehan para sabihin na nag-violate sila ng regulations namin," he said during the joint congressional committee.
"We are not aware of any violation. No complaint has been filed with us."
Even the Bureau of Internal Revenue (BIR) testified in favor of ABS-CBN.
"ABS-CBN Corporation ay regularly paying taxes for the past years. Na-check naman po na 'yung dapat nilang i-withhold at na-remit naman nila sa gobyerno," BIR Asst. Commisioner Manuel Mapoy said.
Still, in July 2020, the Congress, with a 70-11 vote, denied the Network its franchise.
Despite remaining off-air until now, Pres. Duterte continues to make threats against the Network, spewing already settled 
issues.
"They are cheating [the] government by the billions in taxes. And they still want that frequency because 'yan ang pinag-aawayan," claimed Duterte in his final State of the Nation Address (SONA).
"I will give it to a Filipino na gustong gumawa ng tama and pay."