With only a few days away from the holiday celebrations, today couldn't be more of a perfect time to get a Toyota – for all the reasons you have, for the all the seasons you need. Continuously building upon the characteristics of quality, durability, and reliability, you know that you can always have a sure advantage. That's why this November, you're invited to your nearest dealership because Christmas will be merrier with special treats and deals you can finally check off your Toyota wish list!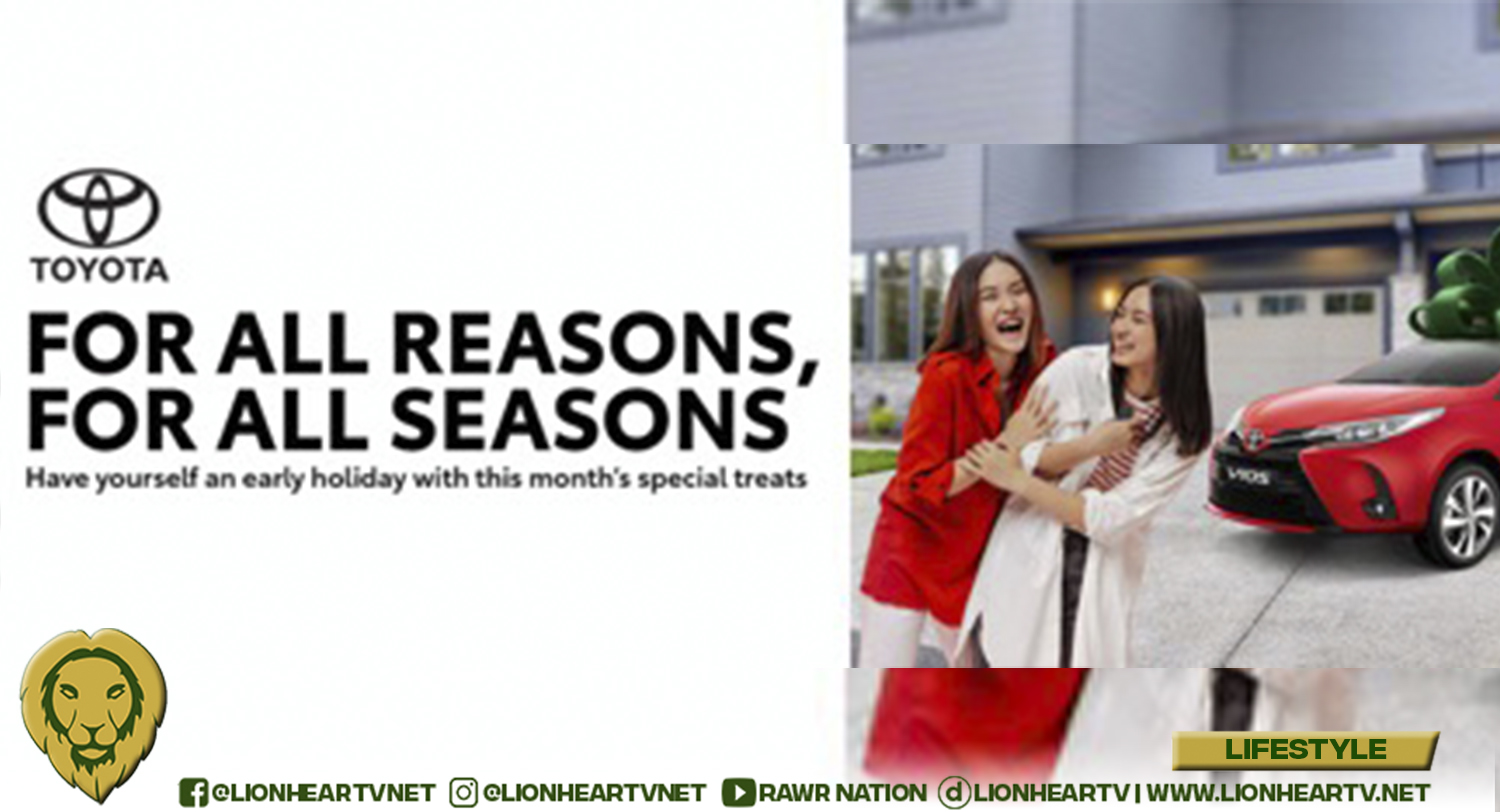 For the reasons of starting up with the family or business, the Toyota WIgo awaits. For only PHP5,970 per month for the 1.0 E MT vairant (a Pay Light payment option at 50% down payment), you can drive home the sleek entry-level hatchback. Enjoy up to PHP10,000 in savings for outright cash transactions.
For the reasons of levelling up your driving experience, an uplift from the regular, get the Toyota Vios for only PHP7,272 per month for the 1.3 XE CVT variant under Pay Light scheme. Or choose to go for an all-in Pay Low package of PHP112,950 which includes Free 1st Year of Insurance, Free 3-year LTO Registration, all for a cash out as low as 15% down payment. Plus, get to enjoy 5-year Warranty for the G, E, and XLE variants with all provisions and conditions stated in the warranty booklet applied, so you can enjoy the journeys for all seasons.
For the reasons of new stories meant to be shared by family and friends, the New Toyota Innova is yours for only PHP12,586 per month for the 2.8J Diesel MT at 50% down payment, 60 months to pay. Or if you choose to go cash transactions, you can enjoy up to PHP45,000 in outright savings.
It's the season to lead, it's time for you to enjoy that much-deserved upgrade with the Toyota Fortuner. At only PHP17,090 per month for the 4×2 G MT under the Pay Light scheme, you can now drive off with the beloved sleekness and precision featuring its premium interior finish and on-board control system with all your commands within reach.
The season of giving and receiving is coming to town! Deliver your goods or services with a vehicle that's been trusted for years. Get your Hiace Commuter Deluxe for only PHP17,583 per month at 50% down payment.
Drive with peace of mind, whatever the reason or the season with Free PMS & Insurance. Aside from discounts and exclusive deals, TMP also offers Free Periodic Maintenance Service of up to 20,000 kilometers for participating models in Vios, Altis, Rush, Innova, Fortuner, Hilux, and Hiace.
Plus, customers are entitled to Free 1 Year Insurance for select models under participating models and variants which includes 24/7 personal accident insurance, passenger auto personal accident insurance, 3-year compulsory third party liability insurance, and more.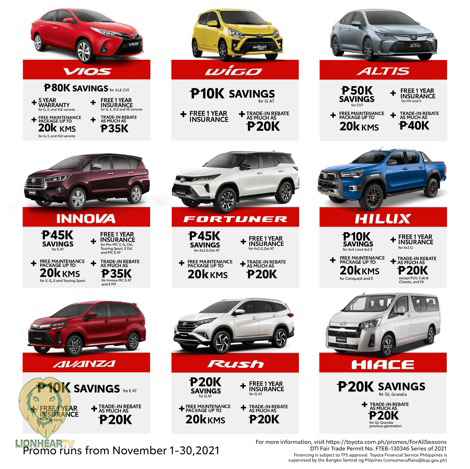 On top of these offers, customers looking to trade in their old vehicle for a Toyota can get up to a P40,000 rebate which can be used to purchase accessories or availed with other existing offers.
Check all other deals for more Toyota vehicles on the official website toyota.com.ph/promos/ForAllSeasons or contact any Toyota dealership near you. Follow TMP's official pages – Toyota Motor Philippines on Facebook and Instagram, toyota.com.ph, Twitter (ToyotaMotorPH), and Viber (Toyota PH) – for regular updates on products and services, dealer operations, announcements, and events.
For safely distanced viewing, you may check out your preferred Toyota model and inquire online at toyota.com.ph/showroom and choose your preferred dealership so they can revert to you on your product inquiry. Download the myTOYOTA PH app for Android and iOS for all your Toyota needs, from car selection to car care, maintenance, and upgrades.
Comments