Book your tickets now and witness one of the most anticipated sporting events to come to theoftheGame Philippines as the 2022 Fédération Internationale de Volleyball (FIVB) Volleyball Nations League holds several games for the first time in the country!
Get in on the action and #BePartoftheGame as some of the most storied national teams from all over the world troop to the Smart Araneta Coliseum from June 14 to June 26.
"We are honored that the Smart Araneta Coliseum has been selected as the official venue of the 2022 FIVB Volleyball Nations League," Irene L. Jose, COO, Uniprom Inc. said. "We know that Pinoy volleyball fans wouldn't want to miss this, especially as this is the first time that the Philippines is hosting this event. So we encourage them to get their tickets as early as now, because tickets are really selling out fast!"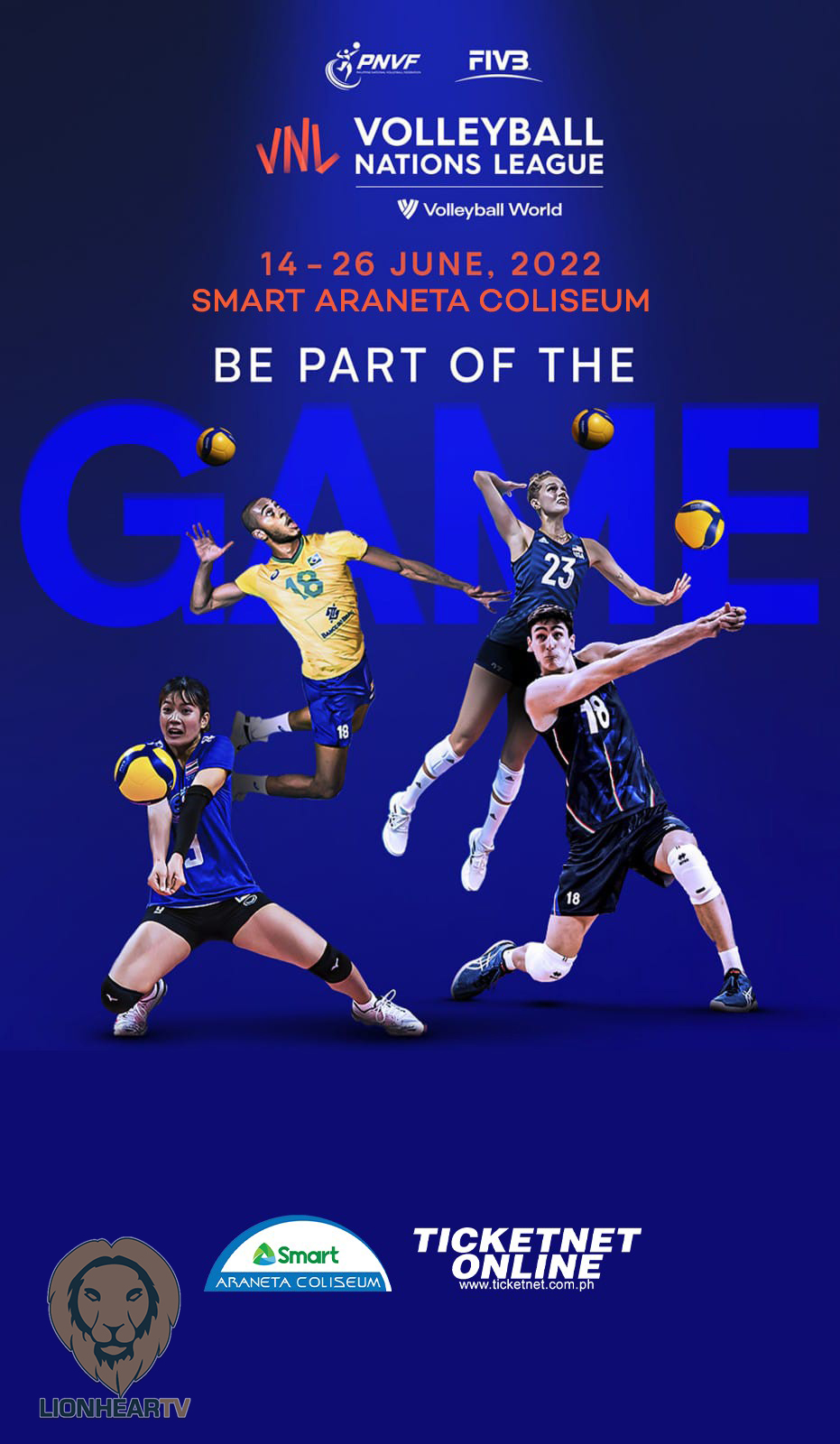 To book your tickets for any of the 16 matches for the women's games from June 14 to June 19 and 16 matches for the men's games from June 21 to June 26, you may visit ticketnet.com.ph. Tickets start from as low and ₱150 for general admission and courtside tickets are available for ₱2,000.
Some of the women's teams that will compete in the Philippine leg of the premier annual volleyball circuit are the United States which is currently the reigning Olympic champions, China which received the gold medal in Rio 2016, Asian Women's Champion Japan, and one of the most prolific teams in the Southeast Asian Region, Thailand.
Meanwhile, Tokyo 2020 Olympic gold winner France and bronze medalist Argentina are also set to slug it out with some of the world's best in the men's division.
"We are as excited as the fans who have been waiting to see these teams in person. Not only will they see some of the greatest teams in the world, they'll also see these athletes completely dominate the court. It will really be an experience of a lifetime! We know that this is such a rare event, so we encourage everyone to book their tickets through the TicketNet website now while there are still tickets left," Jose concluded.
For more information about the Smart Araneta Coliseum, please visit https://smartaranetacoliseum.com/. You may also visit https://ticketnet.com.ph/ to see all the upcoming events at the Smart Araneta Coliseum and the New Frontier Theater and book tickets for these events. You may also like and follow them on https://www.facebook.com/TicketNetPH/.
Comments