The new Kapuso drama re-imagines Rizal's well-loved novels, Noli Me Tangere and El Filibusterismo, through its rich and thought-provoking fusion of the old and the new.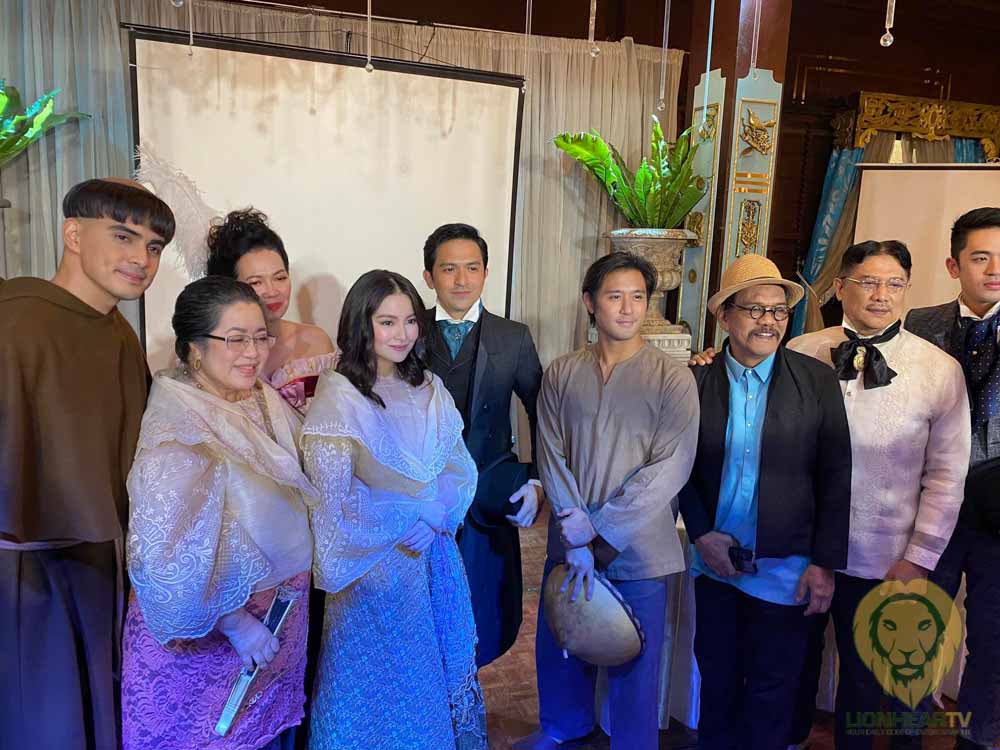 GMA ENTERTAINMENT GROUP
Actors: Dennis Trillo, Barbie Forteza, Julie Anne San Jose, Tirso Cruz III, Manilyn Reynes, Andrea Torres, Juan Rodrigo, Juancho Trivino, David Licauco, Lou Veloso, Ces Padilla, Dennis Quesada, Gilleth Sandico, Karenina Haniel
Genre: Historical, Drama, Fantasy
Premise: A young woman gets transported to 1880s Manila, after reading the pages of a magical copy of Jose Rizal's Noli Me Tangere.
Running Time: 25-28 minutes
Screenwriter: Suzette Doctolero
Director: Zig Madamba Dulay
Time slot: Weeknights, 8:50 PM
Why You Should See It:
Elements of history, time travel, romance, and drama, blend delightfully in GMA Network's first dramatization of Jose Rizal's most popular novels, on primetime. In this historical portal fantasy series, modern meets old, but not without a surprising twist. Based on the intriguing vision of Suzette Doctolero, of Rizal's timeless literary masterpieces, Maria Clara at Ibarra is a priceless cultural and historical showcase, that cannot arrive at a more perfect time.
Maria Clara, a.k.a. Klay, is a working nursing student in her graduating year at college. She intends to finish her schooling at once, so she could get a high-paying job and take her mother away from her abusive new partner. An elective class on Rizal's novels, however, keeps her from meeting her objective, with ease. Desperate, she took her best friend's advice of submitting plagiarized work. While this decision further endangers her chance to graduate, Mr. Torres (Lou Veloso), her professor, gets accommodating enough to allow her to redeem herself; she just needs to redo her final literary output. To make the task easier, Mr. Torres lends Klay his copy of Rizal's Noli Me Tangere.
The magic began in Maria Clara at Ibarra when the said book mysteriously transported Klay to 1880s Manila. After waking up inside Maria Clara's (Julie Anne San Jose) room and hearing all people around her spoke in Old Tagalog tongue, she thought she was merely dreaming. It is an assumption that quickly faded away when she started crossing paths with the characters she only read in Rizal's books.
You can tell there is an impressive level of sophistication employed, to make Doctolero and Dulay's ambition for the series, work. Costume and set designs are so far good, if not great. There is a level of meticulousness here, that is rarely found in other productions in recent years. As it is a re-imagination of Rizal's works, fused with modern sensibilities, Maria Clara at Ibarra surely demands a level of creativity and imagination, beyond the usual. The injection of humor and fantasy, of course, are among the most evident proof of such a choice.
When it comes to humor, Forteza unsurprising gets the solo credit for keeping the series' comic appeal oozing and alive, but that is not to say she displays no prowess in the drama department. Her confrontational scene with Veloso, where she uttered an impassioned speech about her struggles, is in fact, one of the pilot's most singular moments.
Maria Clara at Ibarra also stars Kapuso Drama King Dennis Trillo and Asia's Limitless Star, Julie Anne San Jose, as the titular characters, Maria Clara and Ibarra. San Jose is already impressive portraying the modest but apprehensive Maria Clara; her best moments are when she delivers her lines in full Spanish. Trillo's character, meanwhile, is yet to be get fully introduced in the upcoming episodes. Some interesting and familiar characters, we have met so far, include Tirso Cruz II's Padre Damaso, Ces Quesada as Tiya Isabel, and Juan Rodrigo as Kapitan Tiyago. Manilyn Reynes plays Klay's mother in the real world.
Maria Clara at Ibarra airs on GMA Network's Telebabad block, from Mondays to Fridays, after 24 Oras. A delayed telecast airs on GTV at 9:30 pm. Watch the official full trailer below: