Korean Pop group SHINee performed their song Don't Call Me on M Countdown. Eagle-eyed Filipino KPop fans noticed that the backdrop for their performance had easter eggs pointing to the Philippines.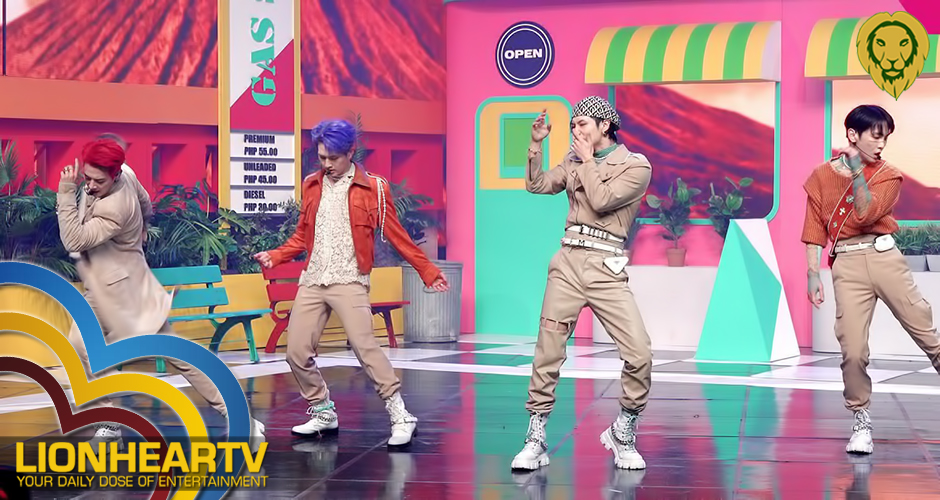 First, netizens spotted an easter egg on the gas station sign.
Philip Jamilla pointed out the gas prices on the backdrop used on SHINee's performance highlight the Philippines currency through the use of "PHP."
Are those like…. the Philippines' overpriced oil prices in the back pic.twitter.com/P2TE9CIGhm

— Philip Jamilla (@pmjamilla) March 4, 2021
After that, other netizens have started retweeting the backdrop highlighting the Philippines' representation in a South Korean program.
philippines' special appearance on m countdown: https://t.co/9rLBekdjdj

— romer guzman (@romerviss) March 6, 2021
https://twitter.com/mihax/status/1367714338228760579
MY HEAAAART HAHAHHAHA i streamed it again n it's legit omf pilipinas represent 🇵🇭🇵🇭🇵🇭🇵🇭🇵🇭🇵🇭🇵🇭🇵🇭 https://t.co/wTiGEcrPxe

— pat | ia! | soft for bunny leaders 🐰 (@gotpito) March 5, 2021
Netizens have also pointed out that the LED screen features the changing scenes of Mayon Volcano during the performance.
Is that Mt Mayon? https://t.co/pTyZJLAzrb

— ᜂ ᜎ ᜈ᜔ (@fgdmina) March 6, 2021
mayon in the background?!?? https://t.co/KK6iiauMPJ

— eiji (梅花) (@auelxxiv) March 5, 2021
One netizen noted SHINee's efforts in making a political statement.
you've just reached the political and economic side of kpop. https://t.co/49MD1jOpic

— Anxiety de Manzanilla (@kernaissance) March 5, 2021
As a result, some netizens wonder if someone from the set design team was from the Philippines.
wait i NEED ANSWERS are ther ph set designers in SM https://t.co/iVhZjXmQAq

— 97z maxi (@EatmeJinnnn) March 5, 2021
SHINee is a South Korean boy group founded by SM Entertainment in 2008. Their musical impact earned them numerous accolades and the title "Princes of K-pop." The group had five members Onew, Key, Minho, Taemin, and Jong-hyun. However, Jonghyun passed away in December of 2017.
Comments