ABS-CBN broadcaster Doris Bigornia returns to work on Monday, March 5, after heart surgery.
Last February, Bigornia suffered a heart attack. As a result, she was rushed to the hospital and was put in the intensive care unit.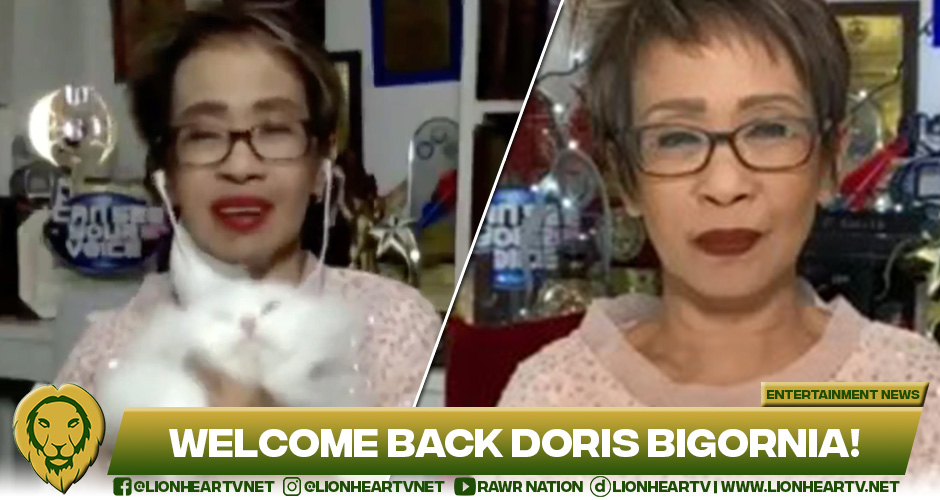 The tragedy shocked her fellow journalists as the "Mutya ng Masa" is in need to go an open-heart surgery.
Months after the incident, Bigornia appeared on her TeleRadyo show, "SRO", weeks after her successful heart surgery.
Bigornia, known as a very strong woman, shared on her show that she underwent triple heart bypass surgery. She also needs to undergo regular dialysis due to kidney failure.
Nevertheless, she emerged on her show, ready to work.
On Twitter, her fellow journalists have expressed their relief as the Mutya ng Masa is alive and well.
Bigornia's co-host, Alvin Elchico, teased their supporters as he hinted that there will be a special guest whom viewers missed. And that is none other than Mutya ng Masa herself in Monday's episode of SRO.
Sali kayo sa SRO, sa DZMM Teleradyo after TVPatrol.
Kasama ang Hiyas ng Batangas @sherieanntorres & may sisilip na "guest" na miss nyo na!😜

Punto Isang Minuto: Hanggang saan aabot ang P1,000 ayudang makukuha mo sa gobyerno ngayong may ECQ? Enumerate.

Call 34152272 loc.5671-73

— alvin elchico (@alvinelchico) April 5, 2021
Kapamilya journalist Jeffrey Hernaez has expressed his joy as Bigornia appeared on her show.
Tagging Bigornia, Hernaez wrote, "Mutya ng Masa is back!"
Mutya ng Masa @DorisBigornia is back!!! ❤️❤️❤️🙏🙏🙏 #SRO pic.twitter.com/vIyHtctBRI

— jeffrey hernaez 🇵🇭 (@jeffreyhernaez) April 5, 2021
Former ABS-CBN reporter Kevin Manalo also showed his happiness with the recovery of Bigornia. Manalo encouraged the broadcaster to keep on fighting.
Good to know she's better now! Fighting, Mam Doris!

— Kevin Manalo (@kevinmanalo_) April 5, 2021
Journalist Miles Felipe was also overjoyed by Bigornia's appearance in her show.
Thank God!🙏😊

— Miles Felipe (@miles25c) April 5, 2021
Fellow journalist Red Santiago missed the Mutya ng Masa in her show. And now that she's back, Santiago overwhelmed with joy, welcomed the broadcaster.
Welcome back! We love you miss @DorisBigornia !!! @alvinelchico @sherieanntorres

— Red Santiago  (@red_spots) April 5, 2021
Meanwhile, Fr. Jerome Ormita expressed his concern as Bigornia comes to work weeks after her surgery. The priest suggested that Bigornia needs more rest.
She needs more rest. Get well soon @DorisBigornia pic.twitter.com/XwgHWmxoCn

— Fr. J. Ormita, SVD (@iammhigs) April 5, 2021
Broadcaster JM Reyes also expressed his support to the Mutya ng Masa who went back to work after triple heart surgery.
Sending you lots of love, Ms @DorisBigornia ❤❤❤

— JM Reyes ✈ (@jmsantosreyes) April 5, 2021
Even comedian John Lapus expressed a sigh of relief as Bigornia appeared on her show on Monday's episode.
Lapus wrote, "Salamat sa Diyos!"
Salamat sa Diyos! 🙏🙏🙏 https://t.co/3HttxpBZcm

— John Lapus (@KorekKaJohn) April 5, 2021
Now that the surgery was successful, Bigornia thanked all those who supported her and prayed for her recovery.
"Hindi ko alam kung paano ko po kayo pasasalamatan," said Bigornia, addressing everyone who supported her.
"Pasalamatan ko rin… ang mga tumulong at nanalangin na ating mga Kapamilya sa lahat ng sulok ng daigdig – America man, Canada, Australia… Europa. Talagang lahat sila, nanalangin para sa atin," she added.
Comments