The Zambrano siblings ride on to Vice Ganda's joke about Chiara Zambrano.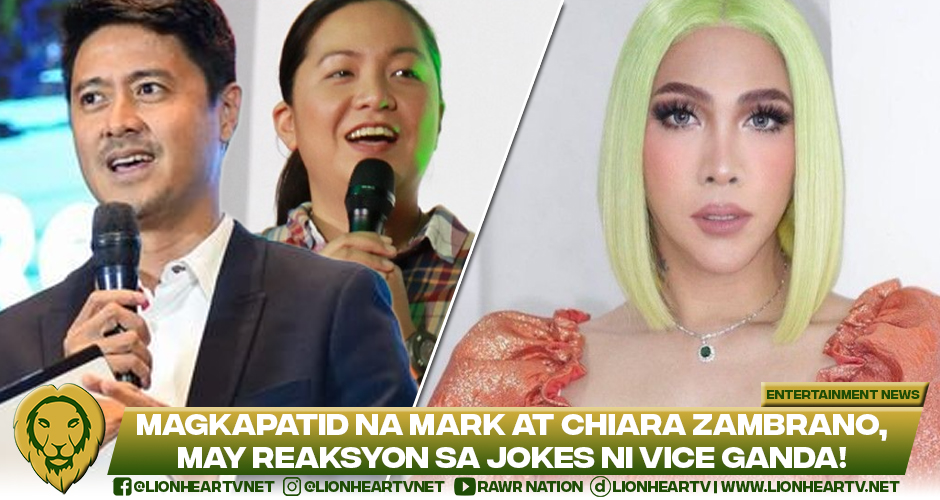 On It's Showtime's Friday episode, Vice punned about China's invasion of the Philippines' territory. He asked Vhong, "Who discovered China?"
Vhong said that he doesn't know the answer so Vice revealed that it was Chiara Zambrano.
"Si Chiara Zambrano ang nakadiscover na ang China pala ay malapit na sa Palawan, nasa Julian Felipe reef na pala sila nakakita," Vice jested.
Chiara's brother, Mark Zambrano, joined the fun as he quipped that his sister can now be compared to Magellan, the Portuguese explorer who discovered the Philippines.
Ka-level na ng kapatid ko si Magellan! Hahaha https://t.co/ILKNmpnBlY

— Mark Zambrano (@markzambrano) April 16, 2021
Chiara replied to this tweet of Mark saying that she is not a subjugator.
Hoy hindi ako subjugator nwoh. Miss you

— Chiara Zambrano (@chiarazambrano) April 16, 2021
Chiara and Mark, who are both in the field of journalism, have a strong sibling relation. Mark previously worked for GMA Network until he moved to ESPN 5 while Chiara is serving as a journalist in ABS-CBN.
Chiara also shared her reaction on Vice's joke.
mumsht paano na ba @vicegandako https://t.co/spXVu4ESKs

— Chiara Zambrano (@chiarazambrano) April 16, 2021
Chiara said that the incorporation of the West Philippines Sea in Vice's jokes helps raise awareness about the issue. It signifies that more people are talking about it.
In the absence of political satire, it's actually refreshing to see the West Philippine Sea come out as jokes in noontime programs. It shows more people are talking about it now, and more people understand it enough to make them laugh. 🙂

Also there are other jokes here teehee https://t.co/fX6x5RFYcC

— Chiara Zambrano (@chiarazambrano) April 18, 2021
ABS-CBN correspondent Chiara boldly took the risk to cover the current situation at the Ayungin Shoal in the West Philippine Sea. Reports circulated that Chinese vessels flocked over the area so Chiara, with her team, tried to gather information about it.
Her efforts and bravery were acknowledged by the Armed Forces of the Philippines (AFP) so she was awarded a Plaque of Recognition for that.
AFP believes that the journalistic efforts of Zambrano helped raise awareness to the people regarding the real situation in the turmoil-filled waters of the West Philippine Sea.