Presidential Spokesperson Harry Roque is currently earning flak after he calls retired Supreme Court justice Antonio Carpio an "ordinary lawyer".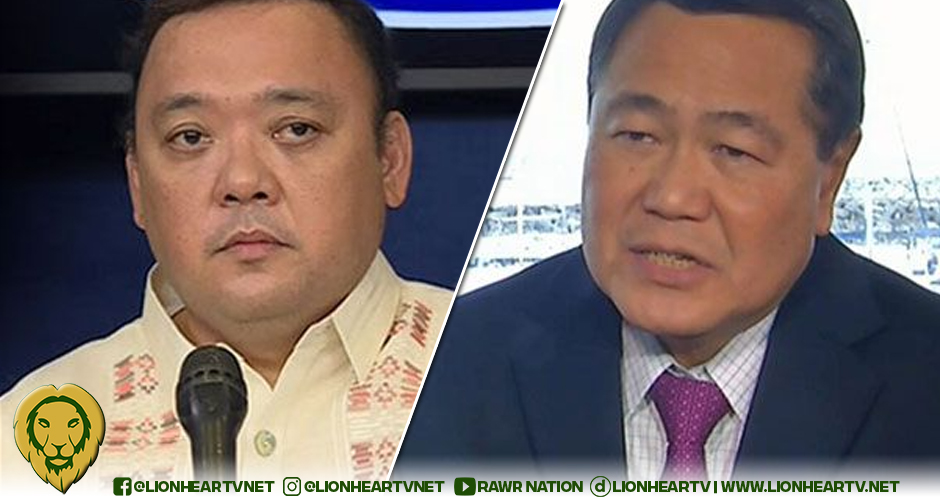 Pres. Duterte appointed Roque to represent him in the debate with Carpio, Friday, May 7. According to Roque's statement, the president will not divulge himself in the argument for it is "unfair".
"Parang hindi naman tabla na ang Presidente mismo ang haharap sa ordinaryong mambabatas, parang hindi po patas," said Roque in a public televised address.
But this remark from Roque drew criticism as he considered Carpio an ordinary lawyer.
Singer Matty Juniosa ridiculed the Secretary for calling the debate between Duterte and Carpio "unfair".
"Mama mo di patas," he tweeted.
Mama mo di patas https://t.co/SOJwvwPyfY

— Matty J. (@mattyjuniosa) May 7, 2021
A Netizen pointed out that Duterte does not enjoy such privilege. Moreover, Roque's statement, only proves that the current regime is abusing its power to intimidate the masses.
The president's privilege is not absolute nor does it make him above any of his constituents. To say na 'hindi tabla' simply tells us how this administration views power as a tool to abuse and intimidate the masses https://t.co/ubPmySSyE4

— BasicAnon (@BasicAnon0) May 7, 2021
Another ridiculed Roque since the one who made the challenge was Duterte himself.
So hindi tabla pero sino bang tungek ang naghamon?! https://t.co/wUqU4VxUEf

— Common set of facts (@epoy_chinoy) May 7, 2021
A Twitter personality noted that Duterte will not only be arguing with an "ordinary" lawyer but also give clarity for the Filipinos seeking it. He also said that Duterte should be the one to represent himself, not Roque nor anyone in his Cabinet.
No, the president will be speaking not only sa isang "ordinaryong" mambabatas but he will also be facing the filipino people who are seeking for answers and clarity.

Dahil dyan, tingin ko "tabla" lang kung ang presidente mismo ang haharap.#WeDeserveAnExplanation https://t.co/F0Du10SA1n

— ⚓wat (@AnchorWat) May 7, 2021
Twitter personality Carlos Hernandez stressed that since Duterte conceded with the debate, he showed that he is worth debating too. However, with Roque now representing the president, Hernandez pointed that it is not about "levels" but the merits of the arguments.
Fallacy committed: ad hominem. In a debate, you're supposed to assail the merits of your opponent's arguments, not his "level".

Also, by challenging J. Carpio, the President "conceded" [nevermind the hubris] that he's someone worth debating with.

Palusot. https://t.co/S9jLzI6X0V

— Carlos Hernandez (@CarlosTheFierce) May 7, 2021
Another personality even pointed that Duterte cannot speak for himself and lets his minions do the talking in his stead.
Everyone else will literally speak for him but him. #DuterteDuwag https://t.co/sMjKmRQKe1

— 𝗧𝗘𝗗 🌁 ᴬᴿᵀ (@ariessario) May 7, 2021
A Netizen agreed with Roque. However, it was because Carpio has credibility while Duterte, as per his tweet, just fooled his voters.
Nalimutan ata ni Spox na same level ang Executive and Judicial Branch ng Gobyerno.

Well, true din naman po hindi talaga patas kasi mas may credibility po si former Assoc. Justice Carpio kesa sa nambudol ng 16M voters na wala naman magandang record sa BAR. 👀

— sid 🇵🇭🏳️‍🌈 #DuterteDuwag (@sidrespetado) May 7, 2021
A Netizen fixed the Secretary's statement by rewriting it that it is unfair for a retired Supreme Court justice to face an ordinary lawyer in a debate.
'Parang hindi naman tabla na isang dating Justice of the Supreme Court mismo ang haharap sa ordinaryong abogado parang hindi po patas,'

— Aris Matawaran (@arism33) May 7, 2021
Meanwhile, Fr. Benny Tuazon insisted that it is indeed unfair for Carpio who is staking his credibility for the actual truth about what happened in the West Philippine Sea (WPS).
Hindi patas for Carpio but he is willing to stake his person for the truth. https://t.co/FIYcP1bEjM

— FrBennyTuazon (@iskrukutoy) May 7, 2021
Carpio responds
In a statement, Carpio responded that it is "pointless" to argue with Roque if the topics to be discussed are Scarborough Shoal and Mischief Reef.
"I will not engage in a useless exercise that will only detract the public's interest on the vital outstanding issues on the West Philippines Sea," said the magistrate in a statement.
Carpio argued that the Spokesperson's chosen issues were already established.
"There is no factual dispute that China seized Scarborough Shoal from the Philippines during the Aquino administration. There is also no factual dispute that China seized Mischief Reef from the Philippines during the Ramos administration," he said.
"Further, there is no factual or legal dispute that China seized Scarborough Shoal and Mischief Reef in violation of international law. Hence, it is pointless to debate about Scarborough Shoal and Mischief Reef," he added.
Nevertheless, Carpio is ready to face off with the President or anyone in his Cabinet about the claims that China already possessed WPS.
"I am ready to debate with the President or with anyone he may designate on the factual accuracy and adverse legal implications to the Philippines of the President's repeated claim that 'China is in possession of the West Philippine Sea'," Carpio wrote.
Carpio vs. Roque
The retired Supreme Court justice was the youngest ever to become an appointee in the Highest Court at age 52. Carpio also received a Medal of Merit from then-President Fidel Ramos for his "distinguished and exemplary service". Carpio also chaired the Court's Second Division and the Senate Electoral Tribunal. He also headed the High Court's Committee on the Revision of the Rules of Court.
In his advocacy, Carpio is determined "to protect and preserve Philippine territorial and maritime sovereignty specifically in the WPS." Carpio also made it his purpose to bring the nine-dash line claim of China before the UNCLOS (United Nations Convention on the Law of the Sea) tribunal.
Meanwhile, Roque before becoming the Presidential Spokesperson was part of the advocacy group Center for International Law. He represented the family of transgender Jennifer Laude, who was killed by American Joseph Scott Pemberton.
However, after Roque became Duterte's mouthpiece, he has constantly justified the president's actions. During Pemberton's absolute pardon which caused an uproar, Roque defended Duterte. According to the spokesperson, the masses should trust the president's decision.
"Magtiwala po tayo sa wisdom ng ating Presidente sa kaniyang mga desisyon sa mga bagay-bagay na tanging Presidente lang ang pupwedeng mag-desisyon," said Roque earlier in September 2020.
Furthermore, his personal opinion about Pemberton's absolute pardon is because Duterte's "higher interest" is saving lives by procuring vaccines needed to fight the pandemic.
"Higher interest is saving lives by having vaccines to fight this pandemic," said Sec Roque, stressing that this is his personal opinion. Roque believes that the grant of absolute pardon to Pemberton could be part of the President's desire to ensure that a vaccine for COVID-19 will be available to Filipinos," he explained.
Comments