Read up to hop in, CUP-wa Makakalikasan!
Showing you a glimpse of what's in store for this term's adventure for nature!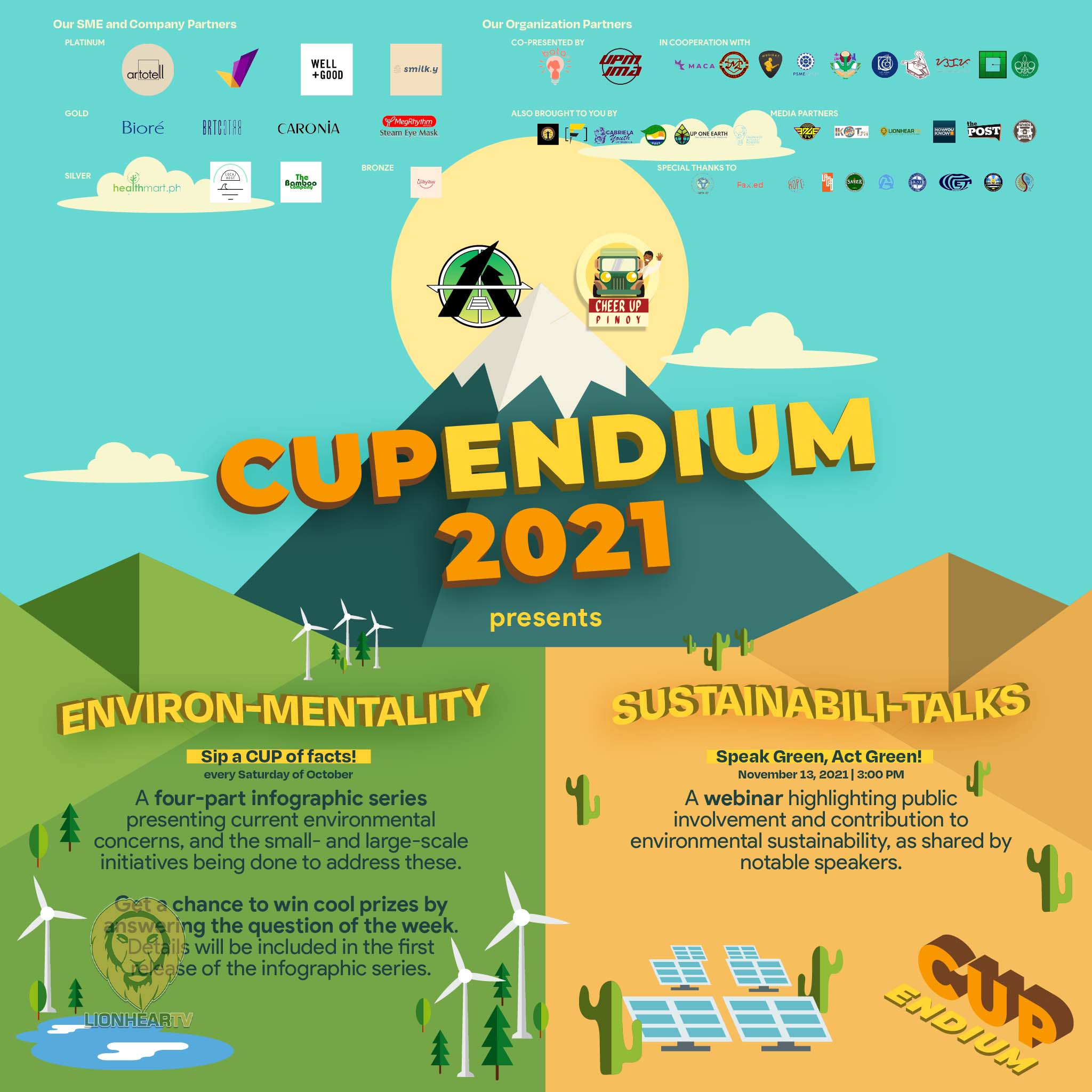 As we formally open Cheer UP Pinoy 2021 with our online campaign for environmental sustainability, we are inviting you to embark on a fun and purposeful escapade as we bring you CUPendium 2021!
Environ-MENTALITY: Sip a CUP of facts!
A four-part infographic series presenting current environmental concerns and large-scale to small-scale initiatives addressing them from different perspectives.
(every Saturday of October)
Sustainabili-TALKS: Speak Green, Act Green!
A webinar highlighting public involvement and contribution on environmental sustainability from notable speakers/professionals.
(November 13, 2021 | 3:00 PM)
Get a chance to win cool prizes also by joining the SocMed Challenge! Details are to be included in the first release of the Infographic series. Abangan!
We are looking forward to your active support and participation in conserving nature for a greener future!
Exciting prizes await you so keep posted on this page for updates. Keep safe, mga Makakalikasan!
#CheerUPPinoy2021
#CUPendium
#EnvironMENTALITY
#SustainabiliTALKS
Our SME and Company Partners
Platinum Sponsors:
Artotell Ph
ChEckBoard
Smilk.y
Well and Good PH
Gold Sponsors:
Bioré Philippines
BRTC Philippines
Caronia Philippines
MegRhythm Philippines
Silver Sponsors:
healthmart.ph
Local Host Coffee
The Bamboo Company
Bronze Sponsor:
Ulayaw Menstrual Cup PH
Our Organization Partners
Co-presented by:
bata.ph
UP Manila Junior Marketing Association
In cooperation with:
Ateneo Management of Applied Chemistry Association – Ateneo MACA
Musikang Sikat ng mga Tomasino (MUSIKAT)
Philippine Society of Mechanical Engineers – Mapúa Student Unit
PUP Psychology Students Association
UP Association of Biology Majors
UP IECEP
UP SIKAP
UP Society of Geodetic Engineering Majors – UP GEOP
UST Community Achievers Association – Science Unit: UST COMACH-Science
Also brought to you by:
CHSS Student Council of UP Mindanao
Engineers Without Borders Diliman
Fotomasino – The Thomasian Photographers Guild
UP Green League, Inc.
UP One Earth
Special thanks to:
EARTH-UST
Fax.ed
The Hope Project
United Architects of the Philippines Student Auxiliary – UP Diliman Chapter
UP SAVER
UP Aggregates Inc.
UP Delta Lambda Sigma Sorority
UP Geodetic Engineering Club
UP Variates
UST SCARLET-Science
Media Partners
Edge TV Philippines
IKOT.PH
LionhearTV
Now You Know
The Philippine Online Student Tambayan