The new Dreamscape Entertainment production serves as Loisa Andalio-Ronnie Alonte's (a.k.a. LoiNie) first lead TV series as a love team.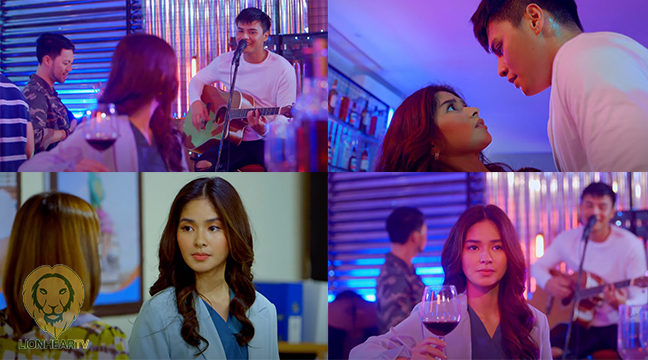 Dreamscape Entertainment
Actors: Loisa Andalio, Ronnie Alonte, Mylene Dizon, Janice de Belen, Bart Guingona, Maria Isabel Lopez, Chie Filomeno, Renshi de Guzman, William Lorenzo, Ahron Villena, Trina Legaspi, Ana Abad Santos, Leo Martinez, Raven Molina, Josh de Guzman, Andi Abaya, Kobie Brown, Vaughn Piczon, Benedix Ramos
Genre: Romance, Comedy
Premise: After getting involved in a fatal car crash, a competitive career woman arrives in an uncanny purgatory. While settling her unfinished businesses as a lingering spirit,  she meets and finds her soulmate in a rebellious scion with a third eye (iWantTFC).
Running Time: 35 minutes
Director: Emmanuel Palo, Jojo Saguin
Time slot: Weeknights, 10:00 PM
Why You Should See It:
Exploring the endless possibilities of life after death, this new iWantTFC certainly has a ton of relatable heartaches and pain to unload. Audiences have been long allured by tangible subjects like death and romance, but they too, especially when repetitive, can be boring. How Love in 40 Days deals with that is a delight.
The series follows Jane Marasigan (Loisa Andalio), a young career woman who dedicated her life to working and making sure her young brother, whom her departed mother left her, is well provided for. Because of her competitive attitude and perspective at work, Jane inevitably annoys some people, including her former boss, Marco Felipe (Ahron Villena), who is now at risk of getting relegated to a lower position, as Jane inches closer to getting her long-awaited promotion.
To keep that possibility from happening, Felipe's envy eventually leads to a nasty plan: to eliminate Jane. A fatal car accident—one Marco orchestrated, himself—brings Jane to a place called 'Evergreen Mansion'. It's a special place for souls that are yet to cross the afterlife. The uncanny hotel's manager, Mr. Patrio de Guzman (Leo Martinez), and its heartwarming staff welcome Jane, who at first, struggles to believe that she is already dead.
Like every soul welcomed by the hotel, Jane is given 40 days to resolve her unfinished business and be able to say her final goodbyes to her loved ones, before she can finally leave the material world. 
When she decides to leap earlier than scheduled, the elevator that sends a soul to their destination (to heaven, or hell), refuses to work. De Guzman explains she is not yet ready, hence the need to reconnect with the special people in her life, and other personalities who may still have a grudge against her. It is during these 40 days, that Jane is expected to find an unexpected romance with Edward Montemayor (Ronnie Alonte), a scion of a thriving life insurance business, whom she already crossed paths with when she was still alive.
 Love in 40 Days offers a lovely narrative that plays in both the real and fantasy world. The series makes no huge effort to design the latter, but it allows the characters, themselves, to become the most fascinating elements of such a world. At Evergreen Mansion, stories of souls leaving their loved ones behind, are not the only ones with fascinating and moving stories to tell. Even the staff, which includes hotel chef Diana Perez (Lotlot de Leon), and receptionists Celine (Andi Abaya) and Brock (Kobi Brown), have beautiful life lessons to impart.
The series marks a real-life couple, Loisa and Ronnie's first teleserye, where they play lead roles. It should be a testing ground of their chemistry and should signal whether a follow-up project is on the horizon. Having able to showcase relatable moments and life lessons, as well as dosages of 'kilig', it is hard to miss the blissful warmth that the pilot week has delivered, and given how lighthearted romances with charming storylines naturally appeal to viewers, it is not surprising that the series has been gathering enough attention lately. Its current standing (5th) on iWantTFC's trending shows, seems to suggest that may be the case.
Love in 40 Days air during weeknights on A2Z, TV5, and Kapamilya Channel. It also streams online via Kapamilya Online Live. Advanced and catch-up episodes are available for free on iWantTFC. Watch the official full trailer below: