Arriving ahead of their Tugatog stint on July 15, BGYO, known as the ACES of P-POP, pulled off yet another powerful storm, via a new single, Tumitigil ang Mundo.
The five-member boy band flexes their mesmerizing charm once more, and with this new single, there is that vibe that invites its listeners to dance along. The fusion of disco and pop vibes turns the new track into a certified P-POP throbber, that is hard to resist jiving along once the play button is pressed.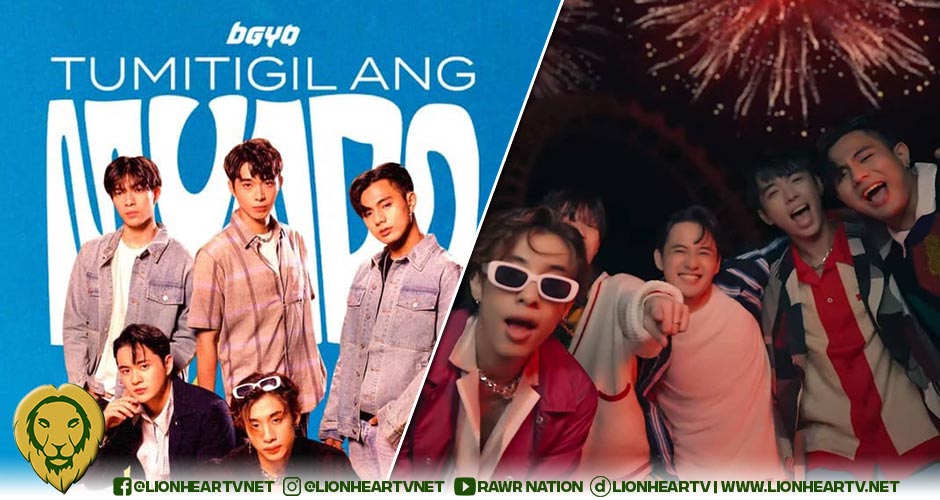 You can tell the cutesy and charming aspirations behind the music video, through its opening frame where our five boys stared at each other after collectively adoring a girl, who apparently will be part of their phantasmagorical but palpable adventure throughout the music video. It makes sense that the new track, like most of their previous singles, once again talks about what makes our world stop. That seems to be the very same motivation of When I'm With You and The Baddest, which both explored a boy's admiration of a girl he loves and adores.
But there is a certain ebullient and vivid energy in Tumitigil Ang Mundo that sets it aside from their past singles, which are all certified bangers, by the way. Narratively, there is not much to follow in the music video. The MV took us on a ride of backdrop-switching between the real and the fantasy world. In both worlds, the time-stopping vibe of the boys remains front and center; their contagious smiles and the wondrous moves they make are irresistible.
Through the explosion of candid colors, amusement park moments, and humor–Tumitigil Ang Mundo takes the ACES and the viewers through a sonic but mild escapade. The vibrant visuals did a great job of highlighting the central anthem. Accompanied by the boys' electrifying choreography–those eye-popping solo moments of JL, Nate, Gelo, Mikki, and Akira, this music video is practically the same as their past releases.
Not to be taken negatively, but hey, consistency is the key. Although, frankly, this coming from the chaps' quiet past few weeks made fans more excited about it.
Watch the official music video of 'Tumitigil Ang Mundo' below. Did it make your world stop as well? Don't forget to share your thoughts in the comment section: