The year 2021 will belong to DonBelle—Donny Pangilinan's and Belle Mariano's portmanteau as loveteam—as their faithful fans and netizens predict.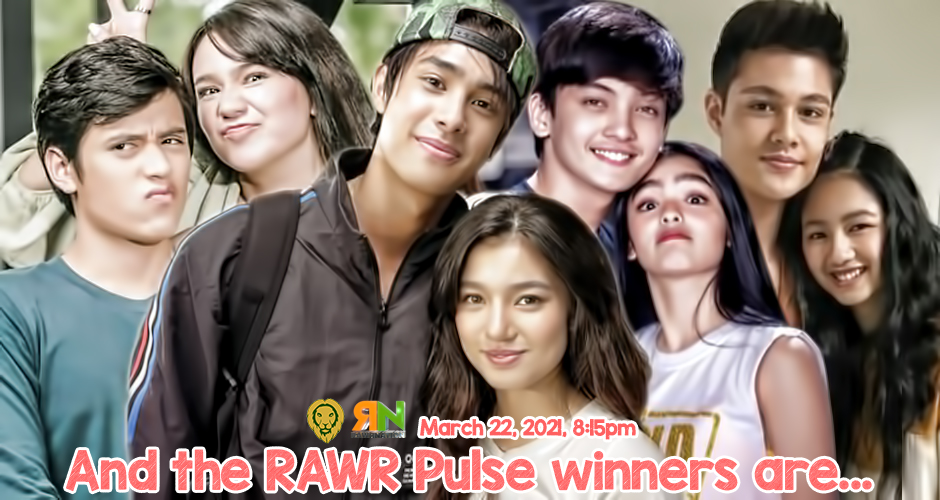 The results of the first RAWR Pulse, primarily meant to gauge the public's opinion on what's in and out in the local entertainment scene, are not at all surprising. For its maiden edition, LionhearTV asked the entire RAWR Nation which among the emerging local love teams are poised to dominate the year, and join the Big League Love Teams—currently comprised of powerhouse Kapamilya team-ups, KathNiel, LizQuen, and JaDine, and Kapuso phenomenal love team, AlDub.
The outcome of the poll perfectly underscores the overwhelming anticipation for DonBelle's upcoming big projects, slated to be released within the year. The iWantTFC series, He's Into Her, which is based on a phenomenal web novel with the same name, has been making fans both impatient and excited for quite a while now, and anticipation for its first-quarter release has been mounting. Similarly, a movie the pair is scheduled to do, is poised to please loyal fans, and is also expected for the new Kapamilya love team to gather more fans.
Based on the RAWR Pulse Poll, nearly half of the entire RAWR Nation echoed DonBelle as a response when we asked who among the likes of SethDrea, MayWard, LoiNie, and of course, DonBelle, and others, will soar higher in 2021 and become a powerhouse team-up in movies, and television. The poll also challenged the exploding boys' love phenomenon by including three of the most popular BL pairs today, and as reflected by the sizable chunk of votes made by EliKoy (Elijah Canlas and Kokoy de Santos), PangPang (Ian Pangilinan, and Paolo Pangilinan), and JC Alcantara and Tony Labrusca fans, it cannot be denied that boys' love remains to be a formidable challenge to the current domination enjoyed by traditional hetero-love teams.
New Kapuso love teams, projected to follow the leads set by previous Kapuso breakthrough love teams, also made it to the top 10, which suggests that competition between network-affiliated fandoms will still ensure this year, and probably the years to come. Excitement for new team-ups like YsaGuel (Ysabel Ortega and Miguel Tanfelix), and MiKel (Mikee Quinto and Kelvin Miranda) mount as big projects they are a part of, are set to bolster their popularity, and their chance to become their home network's most prized stars.
ABS-CBN, following its failure to secure a broadcast franchise, is undoubtedly facing challenges to keep its top position, as the biggest maker of phenomenal love teams. But as the network shifts its attention to online platforms, and on making new content intended for the exploding online market, the chance of securing its place seems to get stronger. Which gets us back to DonBelle, which may be one of the network's biggest chance of surviving, and even reclaiming its former glory, as the most powerful media entity in the country.
DonBelle's growing fanbase can be attributed to the exciting upcoming projects the two are set to do with ABS-CBN. He's Into Her is expected to make a March release, while the film Love is Colorblind  (working title), which is to be helmed by the renowned box-office director, Cathy Garcia-Molina, targets a 2021 release. Perhaps, it is more fitting to see the merits of these young artists as capable actors who both delivered in their past movies and television projects. Pangilinan's still short showbiz stint goes back to 2018 when he first appeared in various movies.
Mariano, on the other hand, has been playing roles in both movies and television since 2012. She first played a major television role, via the Zaijian Jaranilla-starrer, Lorenzo's Time. Mariano and Pangilinan's magic as an onscreen couple will be put to test through their upcoming projects, and while the mounting excitement for those projects plays as a strong indication that the team-up will succeed, strong competition with their contemporaries are still a challenge for DonBelle. However, as fans continue to gather in size—as reflected by the recently-concluded RAWR Pulse—the future remains bright for this new Kapamilya love team.
Closely following DonBelle in the poll results, is the half of the Gold Squad, 2.) KyCine—comprised of Kapamilya teen stars, Kyle Echarri and Francine Diaz, while 3.) Seth Fedelin and Andrea Brillantes (SethDrea)
4.) Mikee Quintos and Kelvin Miranda, 5.) Kaori Oinuma and Rhys Miguel (KaoRhys), 6.) Kira Balinger and Grae Fernandez (KiRae), 7.) Ken Chan & Rita Daniela,  8.) JC Alcantara and Tony Labrusca, 9.) Maymay Entrata and Edward Barber (MayWard),  10.) Kokoy de Santos and Elijah Canlas (EliKoy), complete the top 10.
The ranking is based on the combined results of the poll  (50%) and the search engine votes (50%). While the results do not, in any way, guarantee their future success in the local entertainment scene, the overwhelming support they currently get is indicative of their shot in making it big, and it is not easy to dismiss that it will happen this year.
Below is the ranking of all entries in the maiden RAWR Pulse poll: 
1. Donny Pangilinan and Belle Mariano (DonBelle)
2. Francine Diaz and Kyle Echarri (KyCine)
3. Seth Fedelin and Andrea Brillantes (SethDrea)
4. Mikee Quintos and Kelvin Miranda
5. Kaori Oinuma and Rhys Miguel (KaoRhys)
6. Kira Balinger and Grae Fernandez (KiRae)
7. Ken Chan & Rita Daniela (RitKen)
8. JC Alcantara and Tony Labrusca
9. Maymay Entrata and Edward Barber (MayWard)
10. Kokoy de Santos and Elijah Canlas (EliKoy)
11. Aljon Mendoza and Karina Bautista (KarJon)
12. Heaven Peralejo and Tony Labrusca
13. Vivoree Esclito and Patrick Quiroz (PatVoree)
14. Maris Racal and Inigo Pascual (MarNigo)
15. Loisa Andalio and Ronnie Alonte (Loinie)
16. Jane Oineza and RK Bagatsing (RKAne)
17. Jak Roberto & Barbie Forteza (JakBie)
18. Kim De Leon & Lexi Gonzales (KimLex)
19. Ian Pangilinan and Paolo Pangilinan (PangPang)
20. Kyline Alcantara and Yasser Marta (KySser)
21.Barbie Imperial and Yves Flores (BarVes)
22. Miguel Tanfelix and Ysabel Ortega (YsaGuel)
23. Migo Adecer and Kate Valdez (MigAte)
24. Jillian Ward and Vince Crisostomo (JilVin)
Comments