TVJ's noontime show, E.A.T., has maintained its unbeatable status as the top midday program, while its contenders 'It's Showtime' and 'Eat Bulaga!' continue to interchange positions for the second spot.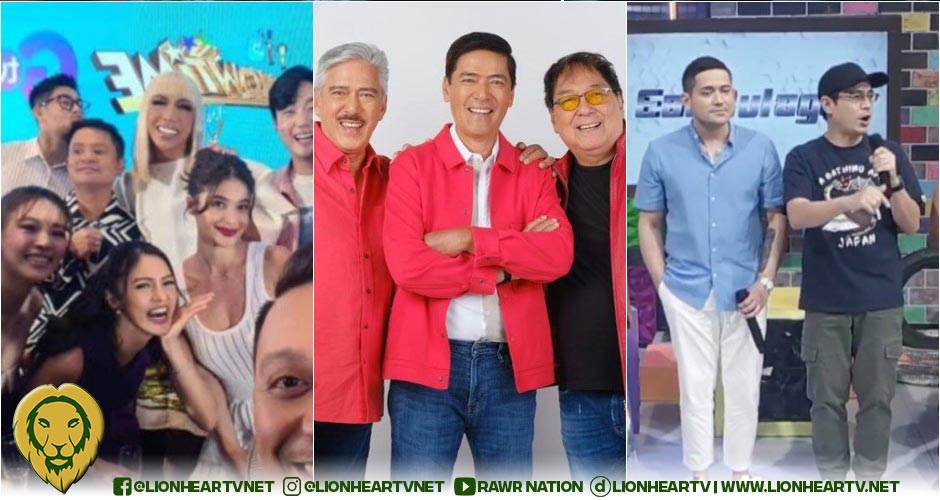 According to the most recent Nielsen NUTAM People survey ratings, E.A.T. continues to dominate the midday slot, securing the leading position in the noontime lineup.
On Monday, August 21, E.A.T. achieved a 5.1 percent rating, positioning itself at the 13th rank on the overall ratings board. Following closely, the Kapamilya midday show, 'It's Showtime,' secured a 3.7 percent rating, placing it 15th in the rating chart. Meanwhile, 'Eat Bulaga!' landed just below It's Showtime at the 16th spot, garnering a 3.3 percent rating.
As Tuesday, August 22, unfolded, E.A.T. maintained its strong 5.1 percent rating while advancing 2 places to secure the 13th position. Following suit, 'Eat Bulaga!' climbed two notches to the 14th position with a 4.0 percent rating. However, 'It's Showtime' experienced a drop to the 17th rank, recording a 3.3 percent rating.
Progressing to Wednesday, August 23, E.A.T. continued to hold its ground at the 13th spot, achieving a 4.6 percent rating. Meanwhile, It's Showtime made a swift recovery, ascending three positions to the 14th rank with a 3.6 percent rating. Conversely, 'Eat Bulaga!' slid to the 15th position, securing a 3.5 percent rating.
Thursday, August 24, saw no alteration in the lineup, as the three noontime shows maintained their respective positions on the leaderboard. E.A.T. achieved a 4.8 percent rating, It's Showtime garnered 4.0 percent, and Eat Bulaga! received 3.7 percent.
In this dynamic competition, E.A.T. stands as the consistent frontrunner, while It's Showtime and Eat Bulaga! continue their engaging tussle for the runner-up spot.
Comments