Following the Devon Seron-Kiko Estrada-Heaven Peralejo issue, netizens took notice of the consecutive Twitter posts of Chie Filomeno, Ricci Rivero, and Barbie Imperial. People claimed that the posts of the artists have a connection to the said issue.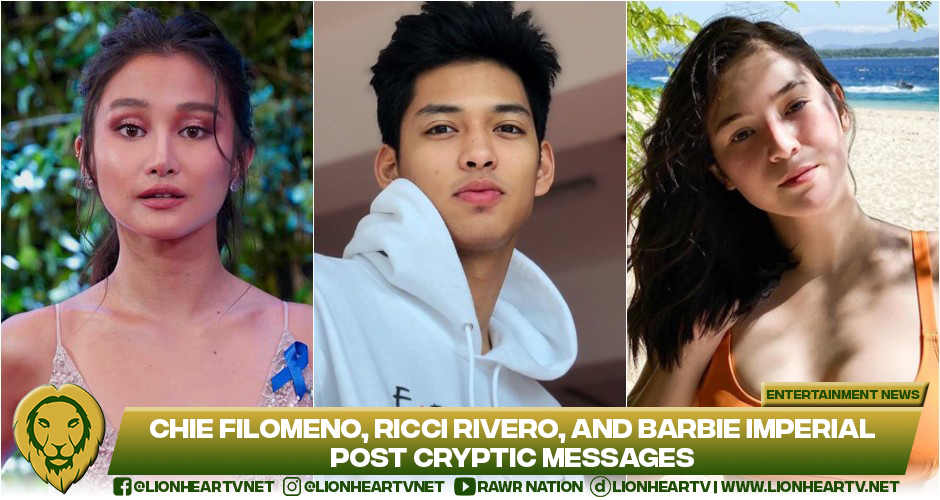 The Seron-Estrada-Peraleja issue started when longtime couple Seron, 27, and Estrada, 25, are rumored to have broken up because of a third party. It was claimed that Estrada cheated with his 'Bagong Umaga' co-star Heaven Peralejo, 21.
In her Instagram account, Devon also made a cryptic post on what seemed like her response to the third-party rumor.
She posted a photo of clasped hands with smoke coming out of them with the caption, "The tongue may hide the truth, but the eyes never. I asked God for a sign, but I witnessed it for myself."
Shortly after Devon's post, artists Chie Filomeno, Ricci Rivero, and Barbie Imperial made consecutive posts on Twitter that netizens claimed were related to the third-party issue.
Ricci posted an emoji of a monkey covering its mouth which Chie replied with a shocked emoji.
https://twitter.com/_ricciiirivero/status/1369241401788010501
https://twitter.com/ChieFilomeno/status/1369242877184851970
Ricci is the co-star of Heaven in the film 'Happy Times' in which the shooting is on hold due to the pandemic.
On the other hand, Chie is associated with Ricci as they are both a part of the youth-oriented television series 'Gen Z.'
Barbie Imperial, co-stars of Heaven and Kiko on 'Bagong Umaga', posted about being in the mood for "tea."
https://twitter.com/barbieeimperial/status/1369243221985955843
"In the mood for hot tea," Barbie wrote along with an emoji of a tea.
Tony Labrusca, also a cast of 'Bagong Umaga', replied to Barbie's Tweet with laughing with tears emojis as well as perfect score emojis.
https://twitter.com/tonythesharky/status/1369355189866610692
Netizens have poured their support for Devon as they gave the actress well wishes and prayers for her to overcome the said issue.
Even Devon's sister, Dhemy Seron, posted her reaction on the third-party issue as she Tweeted about a 'liar' which netizens claimed was directed at Heaven Peralejo.
https://twitter.com/ChriseldaSeron/status/1369280505854582792
"Tell me you're a LIAR without telling me YOU ARE A LIAR. Me:"respect" "respect," Dhemy wrote.
It can be recalled that Heaven made a "Jojowain or Totropahin" challenge on her YouTube account where one of the names included was Kiko Estrada.
Heaven revealed that Kiko was her crush before and her mother knew about it. But since the actor was already in a relationship, she admitted backing off as a show of 'respect.'
"Actually, crush ko siya dati (Kiko). Hindi alam ng mga tao 'yon. Sabi ko 'Ma, ang gwapo talaga, crush ko talaga 'to dati' Dati Pero syempre ngayon may jowa siya so totropahin. Respect, respect," Heaven said.
Last night, Heaven denied being involved in the rumored breakup of her 'Bagong Umaga' co-star Kiko Estrada and his girlfriend of two years, actress Devon Seron. She said in an Instagram Stories update, "Associating me with actors I have scenes with can be easy. At the end of the day, we're nothing more than just co-stars working with each other. I should have been dragged into the personal issue between Devon Seron and Kiko Estrada. However, I will not stay silent about it especially after being harshly accused of something I did not and would never do. To set things straight, I am not in any way romantically associated with Kiko nor am I the reason behind their breakup."
Meanwhile, Heaven's mother Luanne Peralejo defended her against naysayers spreading "lies" about her.
"I am calling out to those who are responsible for spreading LIES about my daughter, HEAVEN, with clear intent to destroy her reputation.
"They are outright FALSE and MALICIOUS.
"For days, IG posts are insinuating that Kiko Estrada has been cheating on his ex-girlfriend, unnecessarily dragging HEAVEN as the third party.
"Without even trying to know the truth, these irresponsible people took to social media with ill-intent to create a bad image out of HEAVEN.
"We exerted all efforts to reach out, and to DEMAND to PUT A STOP to these malicious acts.
"Sadly, these culprits refused to speak with me or HEAVEN and continued to malign my daughter.
"Your failure to clear the name of HEAVEN has led to the continuing spread of these LIES to which my daughter is now being the subject of social media bullying.
"You show no mercy!
"As a mother, I simply cannot allow this. If it will mean bringing this matter to court in order for these culprits to publicly apologize and admit to their fault, then so be it.
"AGAIN, I appeal to you to STOP committing these malicious acts of spreading FALSEHOOD and APOLOGIZE PUBLICLY."
PART 1 of 2 pic.twitter.com/FIioSuYhQh

— Luanne Peralejo (@LuannePeralejo) March 12, 2021
As of this writing, Kiko Estrada is still mum about the issue.
Comments